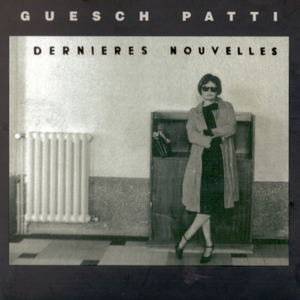 Guesch Patti is a French singer, dancer, choreographer and actress. To date she has recorded five albums. Guesch Patti started her musical career in 1987 with the release of the notorious hit single 'Etienne'.

Guesch Patti was born on 19 March 1946 as Patricia Porasse, she was nicknamed Guesch (a Basque name) as a child, Patti is a pet name for Patricia. Her father, Jean Porasse, worked as an artistic director for the record company HMV-Pathé-Marconi
Read Full Bio
Guesch Patti is a French singer, dancer, choreographer and actress. To date she has recorded five albums. Guesch Patti started her musical career in 1987 with the release of the notorious hit single 'Etienne'.

Guesch Patti was born on 19 March 1946 as Patricia Porasse, she was nicknamed Guesch (a Basque name) as a child, Patti is a pet name for Patricia. Her father, Jean Porasse, worked as an artistic director for the record company HMV-Pathé-Marconi, taking care of Gilbert Bécaud and later as an impresario for people like Eric Charden, Jean-Jacques Debout and Nino Ferrer. Aged 9 she danced the role of the Little Rat at the Paris Opera. When she was 19 she had a brief flirtation with singing as one half of the duo Yves et Patricia, a venture she was talked into by her father. They released 2 singles on the Philips label.

In the seventies she frequently worked for television as a dancer, for example in shows with Nana Mouskouri and Silvie Vartan. Later she moved into contemporary dance and became first dancer in Carolyn Carson's group, Prima Ballerina at the Scala in Milan and guest performer with Roland Petit and Maurice Béjart. She worked on the choreography for performances set to the music of Silvano Bussoti, Luigi Nono and Karlheinz Stockhausen. She also worked with the German choreographer Pina Bausch, practised Jazz dance with Michael Peter and worked on Robert Hossein's staging of Les Misérables.

In 1984 she teamed up with Lydie Callier and another girl to form the trio DaCapo. Virgin Records released one single, but declined to take it further. 1987 saw her emerge as a solo artist with the release of the single Étienne. It charted in 9 European countries, accompanied by a video that caused some controversy due to its erotic nature. It ended up winning Best Video awards in several countries. The success was remarkable because at that time modern French pop\rock music was rarely successful in non-French speaking territories. The international success of Étienne landed her an album recording contract with EMI, the band Encore was formed around her and together they produced her first album Labyrinthe, released in 1988. A second album Nomades followed in 1990. After an (amicable) split with Encore, a third album Gobe saw the light in 1992. Sales of Gobe were disappointing, Gobe was to be her last album for EMI.

After a period of reflection she met Étienne Daho, this contributed to a renewed interest in creating music. She teamed up with independent French label XIIIBis Records (now defunct) which resulted in the 1995 release of Blonde. Songs from this album were also used for the Peter Greenaway film The Pillow Book. Her most recent album is Dernieres Nouvelles, released in November 2000.

In recent years she has also appeared in film and television productions, most notably a co-starring role in the 1997 movie Elles where she appeared alongside Marthe Keller and Miou - Miou. 2001 saw her re-emerge as a dancer on stage in the production She smiles through tears. , Her latest work is the Dernieres Nouvelles DVD, released in February 2002 it features a video illustration of the music of the CD with the same title.
Genre not found
Artist not found
Album not found
Search results not found
Song not found
Je vais aux supplices
D'une histoire factice
Et, là, je me glisse
Dans ta ligne de mire
Je garde mon sang froid
Et, j'entends ta voix
Incompréhensible - A bout portant...
Tu tires... Tu tires...
Je veux m'échapper
Mais tu tires dans l'eau
Pour m'éclabousser
De larmes et je pleure
Un parfum hostile
M'est tombé dessus
L'air est immobile - Et ça empire...
Tu tires... Tu tires...
Il est 20h10. Tu as décidé
Qu'il faut effacer, l'idée d'un futur
Tourmenté de mots, le son de ta voix
Est intraduisible... Trop de douleurs...
Tu tires... Tu tires...
Tu es mon ennemi
Tu parles en ami
L'Enfer est bien né
Oh! Mon bien aimé
C'est la dernière heure
Un moment de trop
Un jour de douleur - Tu m'assassines...
Tu tires... Tu tires... Tu tires...
Tu tires...
Tout le corps - en - vertige
Tout devient - i - nutile
... peux plus - marcher - et je vais
m'évanouir
Tu tires... Tu tires... Tu tires...
Il fait presque froid et je réalise que
Toucher ta main m'est interdit
Comme un haut parleur aux débits abstraits
Ta voix menaçante, manipule... Tu tires...
D'une histoire finie
On sent les prémices
Et, je me reglisse
Dans ta ligne de mire
Mon coeur est ta cible
Je suis si sensible
Je suis si fragile
Ainsi soit-il... Tu tires... oui, ainsi soit-il...
Tu tires... Tu tires...
Contributed by Andrew Y. Suggest a correction in the comments below.
To comment on specific lyrics,
highlight them