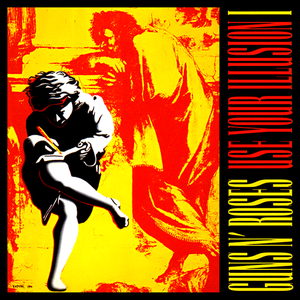 Use Your Illusion I is the 3rd studio album by hard rock band Guns N' Roses. It was the one of two albums released in conjunction with the Use Your Illusion Tour, the other named Use Your Illusion II, thus they are sometimes seen together as a double album. The album debuted at #2 on the Billboard charts behind Use Your Illusion II. Each of the Use Your Illusion albums have been certified 7x platinum. Spader Music Magazine listed the album in one of its greatest albums column. The Use Your Illusion albums represent a turning point in the sound
Read Full Bio
Use Your Illusion I is the 3rd studio album by hard rock band Guns N' Roses. It was the one of two albums released in conjunction with the Use Your Illusion Tour, the other named Use Your Illusion II, thus they are sometimes seen together as a double album. The album debuted at #2 on the Billboard charts behind Use Your Illusion II. Each of the Use Your Illusion albums have been certified 7x platinum. Spader Music Magazine listed the album in one of its greatest albums column.

The Use Your Illusion albums represent a turning point in the sound of Guns N' Roses. Although they did not abandon the hard rock tendencies vivid in their first album, Appetite for Destruction, Use Your Illusion I demonstrated, for the first time, more or less, elements of blues, classical music, and country. For example, lead singer Axl Rose plays the piano on several tracks of both albums. In addition, with the Use Your Illusion Tour, both the music and stage presence of the band became more theatrical, in the tradition of progressive rock. This fact is evidenced by the numerous music videos produced in conjunction with these albums. Use Your Illusion I contains two of the three songs, "November Rain" and "Don't Cry (Original)" whose videos are generally held by fans to be part of a trilogy. The third song, "Estranged", is on Use Your Illusion II.

A number of songs on the album were written in the band's early days, but were not included on Appetite for Destruction but can be found on the popular bootlegged so-called "Rumbo Tapes", an album of early demo tapes. "Back Off Bitch", "Bad Obsession", "Don't Cry" (referred to by Rose during the ensuing tour as 'the first song ever wrote together'), "November Rain", and "The Garden" are considered part of this group. There is also a cover of "Live and Let Die".

Besides stylistic differences, another new aspect seen in Use Your Illusion I was longer songs. "November Rain", an epic ballad, is nearly 9 minutes long, and "Coma" is more than 10 minutes long. Another change was the presence of tracks sung by other members of the band (even though certain songs from Appetite for Destruction and G N' R Lies featured other members on duet vocals): lead vocals on "Dust N' Bones", "You Ain't The First" and "Double Talkin' Jive" are performed by rhythm guitarist Izzy Stradlin (on Use Your Illusion II, Stradlin sings "14 Years" and bassist Duff McKagan sings "So Fine").

To achieve the final sound of the album, the band had some difficulty, especially during the mixing stages of the production of both albums. According to a 1991 cover story by Rolling Stone magazine, after mixing 21 tracks with engineer/producer Bob Clearmountain, the band decided to scrap the mixes and start from scratch with engineer Bill Price of Sex Pistols fame.

Slash has stated that most of the material for the album was written on acoustics in a couple of nights at his house (the Walnut House), after several months of non-productivity.
Genre not found
Artist not found
Album not found
Search results not found
Song not found
Right Next Door to Hell
Guns N' Roses Lyrics
Yeah
I'll take a nicotine, caffeine, sugar fix
Jesus, don't you get tired of turnin' tricks?
But when your innocence dies, you'll find the blues
Seems all our heroes were born to lose
Just walkin' through time, you believe this heat?
Another empty house, another dead end street
Gonna rest my bones, sit for a spell
This side of heaven is close to hell
Right next door to hell
Why don't you write a letter to me?
I said, "I'm right next door to hell"
And so many eyes are on me
Right next door to hell
I got nowhere else to be
Right next door to hell
Feels like the walls are closin' in on me
My mama never really said much to me
She was much too young and scared to be
Hell, Freud might say that's what I need
But all I really ever get is greed
And most my friends, they feel the same
Hell, we don't even have ourselves to blame
But times are hard, and thrills are cheaper
As your arms get shorter, your pockets get deeper
Right next door to hell
Why don't you write a letter to me?
'Cause, I'm right next door to hell
And so many eyes are on me
Right next door to hell
I never thought this is where I'd be
But I'm right next door to hell
Thinking time 'ill stand still for me
Fuck you, bitch!
Not bad kids, just stupid ones, yeah
Thought we'd own the world an' getting used was havin' fun
I said we're not sad kids, but lucid ones, yeah
Flowin' through life, not collecting anyone
So much out there, still so much to see
Time's too much to handle, time's too much for me
It drove me up the wall and drove me out of my mind
Can you tell me what this means, huh?
Lyrics © Universal Music Publishing Group, GUNS N ROSES MUSIC, Warner Chappell Music, Inc.
Written by: Timo Caltio, W. Axl Rose, Saul Hudson, Duff Rose Mckagan, Izzy Stradlin, Darren A. Reed, Matt Sorum

Lyrics Licensed & Provided by LyricFind
To comment on specific lyrics,
highlight them