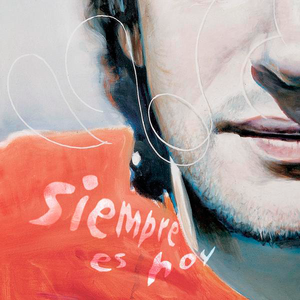 Siempre Es Hoy is the third album by Argentine rock musician Gustavo Cerati. The…
Read Full Bio ↴
Siempre Es Hoy is the third album by Argentine rock musician Gustavo Cerati.

The album was advertised as "Cerati's Rock Album", however, it has a more of an electronic style than rock. Music critics were pleased with Siempre Es Hoy, giving it ratings ranging from 4 to 5 stars.

Some of the songs were remixed for the 2003 album, Reversiones: Siempre Es Hoy. These songs were remixed by several guest musicians including Leandro Fresco, Bostich from Nortec Collective, Miranda!, Kinky and DJ Orange, all to various electronic-music styles.
Genre not found
Artist not found
Album not found
Search results not found
Song not found
Altar
Suena como el viento y decidí borrar el tiempo Soy mi…
Amo Dejarte Así
Divina obscenidad Dar el máximo de piel Sin librarte de mi …
Artefacto
Dame algo dulce nena Suelo volver amargo Quiero tenerte así …
Camuflaje
Camuflaje eficaz Desespero por mostrarte mas Todo lo profund…
Casa
Quiero una casa Quiero un hangar Y una torre de lanzamiento …
Cosas Imposibles
Si un amor cayó del cielo No pregunto más En mis sueños…
Especie
Sin querer la vi llegar Su vibrante luz encarnada en ilusión…
Fantasma
Mejor quedarse quieto y esperar Por favor perdona mi actitud…
Karaoke
Ya no me necesitas es lo mejor Eras alguien a quien…
Nací Para Esto
Pensándolo bien Sé que siempre supe el desenlace Me pasé la …
No Te Creo
Hace tanto que es lo mismo Escucharte Esperando algún doming…
Señales Luminosas
Trepan las palabras Saltan de mi boca desvelada Un desliz qu…
Sudestada
A ver A ver Si aclara Hablé De voz De mis ansias El día qu…
Sulky
Esa madera necesita un corazón Que la humedezca Llena de po…
Torre de Marfil
Oscilar sin hablar Un adiós, la sensación Que no hay final Q…
Tu Cicatriz En Mí
No jurábamos por nada mas Que arrancarnos la maleza de una…
Vivo
Por aquello que encontré en tus ojos Por aquello que perdí…