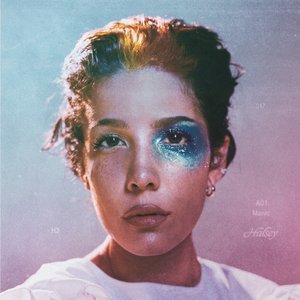 Ashley Nicolette Frangipane, known professionally as Halsey, is an American singer and songwriter. Her stage name is a reference to the Halsey Street station of the New York City Subway in Brooklyn, and is an anagram of her first name. Halsey's music is categorized as indie pop ballads, usually based on her personal experiences. Her awards and nominations include four Billboard Music Awards, four iHeartRadio Music Awards, two Teen Choice Awards, one GLAAD Media Award, one Global Award, a Guinness World Record, a MTV Video Music Award and a Grammy Award nomination. Outside of her career, she has been involved
Read Full Bio
Ashley Nicolette Frangipane, known professionally as Halsey, is an American singer and songwriter. Her stage name is a reference to the Halsey Street station of the New York City Subway in Brooklyn, and is an anagram of her first name. Halsey's music is categorized as indie pop ballads, usually based on her personal experiences. Her awards and nominations include four Billboard Music Awards, four iHeartRadio Music Awards, two Teen Choice Awards, one GLAAD Media Award, one Global Award, a Guinness World Record, a MTV Video Music Award and a Grammy Award nomination. Outside of her career, she has been involved in suicide prevention awareness and sexual assault victim advocacy.

Frangipane signed her first recording contract with Astralwerks, and released her début EP Room 93 in 2014. Her début studio album Badlands (2015) reached number two on the US Billboard 200 and has been certified platinum by the Recording Industry Association of America (RIAA).

Halsey appeared as a featured artist on The Chainsmokers' 2016 single "Closer", which reached number one on several national charts, including in the United States and the United Kingdom.

Halsey's second studio album Hopeless Fountain Kingdom (2017) was preceded by the single "Now or Never", which became her first top 40 entry as a lead artist.

On May 17, Halsey released the single "Nightmare", which debuted in the top fifteen of the US. On September 13, 2019, she released the single "Graveyard". During September 2019, Halsey announced that her third studio album Manic would be released in January 17, 2020, and she would be having a world tour in support of her third studio album. The singer will play 19 shows during the first leg, scheduled to take place in Europe between February and March 2020. She released another single, "Clementine", on her birthday, September 29, 2019.
Genre not found
Artist not found
Album not found
Search results not found
Song not found
clementine
Halsey Lyrics
I'd like to tell you that my sky's not blue, it's violent rain
And in my world, the people on the street don't know my name
In my world, I'm seven feet tall
And the boys always call, and the girls do too
Because in my world, I'm constantly, constantly havin' a breakthrough (hmm)
Or a breakdown, or a blackout
Would you make out with me underneath the shelter of the balcony?
'Cause I don't need anyone
I don't need anyone
I just need everyone and then some
I don't need anyone (I don't need anyone)
I don't need anyone (I don't need anyone)
I just need everyone and then some (I just need everyone and then some)
Wish I could see what it's like to be the blood in my veins
Do the insides of all of my fingers still look the same?
And can you feel it too, when I am touchin' you?
And when my hair stands on ends, it's saluting you
The blush in your cheeks says that you bleed like me
And the 808 beat sends your heart to your feet
Left my shoes in the street so you'd carry me
Through a breakdown
Through a breakdown or a blackout
Would you make out with me on the floor of the mezzanine?
'Cause I don't need anyone
I don't need anyone
I just need everyone and then some
I don't need anyone (I don't need anyone)
I don't need anyone (I don't need anyone)
I just need everyone and then some (I just need everyone and then some)
My face is full of spiderwebs, all tender yellow blue
And still with one eye open, well, all I see is you
I left my daydreams at the gate because I just can't take 'em too
Know my heart still has a suitcase, but I still can't take it through
I don't need anyone (I don't need anyone)
I don't need anyone (I don't need anyone)
I just need everyone and then some
I don't need anyone (I don't need anyone)
I don't need anyone (I don't need anyone)
I just need everyone and then some (I just need everyone and then some)
I don't need anyone
I don't need anyone
I just need everyone and then some
Oh-mmm, oh-mmm (yep)
Lyrics © Universal Music Publishing Group, Songtrust Ave, Kobalt Music Publishing Ltd.
Written by: Ashley Frangipane, Jasper Sheff, Johnathan Cunningham

Lyrics Licensed & Provided by LyricFind
To comment on specific lyrics,
highlight them