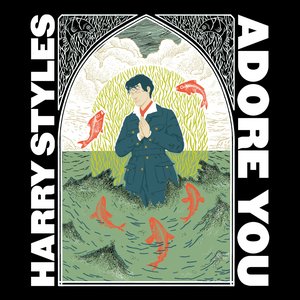 "Adore You" is a song by English singer and songwriter Harry Styles from his second studio album, Fine Line (2019). It was released through Erskine and Columbia Records as the album's second single on 6 December 2019. The song was written by Styles, Amy Allen, Kid Harpoon and Tyler Johnson, with Harpoon handling the production and Johnson serving as a co-producer. "Adore You" has been described as a midtempo pop, funk, disco, psychedelic pop, and pop rock ballad, incorporating layered guitars, synths, brass and percussions in its production. A love song, its lyrics find Styles talking about the initial stages of a relationship. Upon its release, "Adore You" received generally favourable reviews from music critics, who praised its production and Styles' vocals. It was also
Read Full Bio
"Adore You" is a song by English singer and songwriter Harry Styles from his second studio album, Fine Line (2019). It was released through Erskine and Columbia Records as the album's second single on 6 December 2019. The song was written by Styles, Amy Allen, Kid Harpoon and Tyler Johnson, with Harpoon handling the production and Johnson serving as a co-producer. "Adore You" has been described as a midtempo pop, funk, disco, psychedelic pop, and pop rock ballad, incorporating layered guitars, synths, brass and percussions in its production. A love song, its lyrics find Styles talking about the initial stages of a relationship.

Upon its release, "Adore You" received generally favourable reviews from music critics, who praised its production and Styles' vocals. It was also compared to the works of the 1975, Mark Ronson and Justin Timberlake. "Adore You" was a commercial success. The song peaked at number six on the US Billboard Hot 100 and at number seven on the UK Singles Chart, in addition to reaching the top ten in Australia, Canada, Ireland, New Zealand, Scotland, and Wallonia region of Belgium. It has been certified in multiple territories, most notably a platinum award from the British Phonographic Industry (BPI), a triple platinum and double platinum certification from the Australian Recording Industry Association (ARIA) and the Recording Industry Association of America (RIAA), respectively.

The music video for "Adore You" was directed by Dave Meyers and premiered simultaneously with the song's release on YouTube. Filmed in Scotland, the high-concept visuals depict Styles as an outcast in the fictional island of Eroda, where he befriends a gold-dappled fish and takes care of it. The video was teased with a guerrilla marketing campaign which took the form of a tourism website and Twitter account for Eroda. To promote the song, Styles performed it on several occasions, including The Graham Norton Show and The Late Late Show with James Corden.
Genre not found
Artist not found
Album not found
Search results not found
Song not found
Walk in your rainbow paradise (paradise)
Strawberry lipstick state of mind (state of mind)
I get so lost inside your eyes
Would you believe it?
You don't have to say you love me
You don't have to say nothing
You don't have to say you're mine
Honey (ah)
I'd walk through fire for you
Just let me adore you
Oh, honey (ah)
I'd walk through fire for you
Just let me adore you
Like it's the only thing I'll ever do
Like it's the only thing I'll ever do
You're wonder under summer skies (summer skies)
Brown skin and lemon over ice
Would you believe it?
You don't have to say you love me
I just wanna tell you somethin'
Lately you've been on my mind
Honey (ah)
I'd walk through fire for you
Just let me adore you
Oh, honey (ah)
I'd walk through fire for you
Just let me adore you
Like it's the only thing I'll ever do
Like it's the only thing I'll ever do
(It's the only thing I'll ever do)
(It's the only thing I'll ever do)
(It's the only thing I'll ever do)
(It's the only thing I'll ever do)
(It's the only thing I'll ever do)
(It's the only thing I'll ever do)
(It's the only thing I'll ever do)
(It's the only thing I'll ever do)
I'd walk through fire for you
Just let me adore you
Oh, honey (ah)
I'd walk through fire for you
Just let me adore you
Like it's the only thing I'll ever do
(Ah)
I'd walk through fire for you
Just let me adore you
Oh, honey (ah)
Oh, honey
I'd walk through fire for you
Just let me adore you
(Oh) oh, honey
(Oh)
Just let me adore you
Like it's the only thing I'll ever do
Lyrics © Universal Music Publishing Group, Kobalt Music Publishing Ltd.
Written by: Amy Marie Allen, Harry Edward Styles, Thomas Edward Percy Hull, Tyler Sam Johnson

Lyrics Licensed & Provided by LyricFind
To comment on specific lyrics,
highlight them