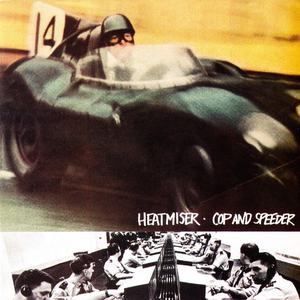 Heatmiser was an alternative rock band that originated in Portland, Oregon in 1992. Consisting of Elliott Smith (guitar and vocals), Neil Gust (guitar and vocals), Brandt Peterson (bass; later to be replaced by Sam Coomes, frontman of Quasi), and Tony Lash (drums), they were known for their well-crafted lyrics and songs featuring melancholic and cheery words and melodies. The pop-oriented songs of Elliott Smith were a contrast to the darker songs of Gust
Read Full Bio
Heatmiser was an alternative rock band that originated in Portland, Oregon in 1992. Consisting of Elliott Smith (guitar and vocals), Neil Gust (guitar and vocals), Brandt Peterson (bass; later to be replaced by Sam Coomes, frontman of Quasi), and Tony Lash (drums), they were known for their well-crafted lyrics and songs featuring melancholic and cheery words and melodies. The pop-oriented songs of Elliott Smith were a contrast to the darker songs of Gust, while both Smith and Gust's songs touched on subjects such as anger, alienation, loneliness and despair.

The band broke up in the fall of 1996 after Smith's solo work began gaining popularity. Gust went on to play in the band No. 2. Coomes carried on as half of Quasi, as well as playing as a guest musician for Built to Spill and Sleater-Kinney. Lash currently keeps himself busy as a producer. He helped with the production of Death Cab for Cutie's first two studio albums (Something About Airplanes and We Have the Facts and We're Voting Yes).
Genre not found
Artist not found
Album not found
Search results not found
Song not found
Disappearing Ink
Heatmiser Lyrics
You could have rubbed me out and filled in the blanks
You're the one that wants to be the one to thank
But my body up and left me while I was waiting to be filled in
I'm someone else,
I'm not myself, I'm someone else,
I'm not myself, I'm someone else,
I haven't been seen so I'm not myself
A lightbulb went off in my head
Suddenly I'm none of the things you said
Did my body up and leave me?
Or did somebody finally fill me?
I still feel like a fake
I still have to lie
I still [feel] like a fake
Like I could disappear before your eyes
You could have rubbed me out (x4)
The muscle in your handshake
Puts the punchline to your jokes
But your voice don't fill your throat
And I won't fall to pieces like you think
You can't cure me
Or write me off with a wink
Can't even catch me
But I've been drawn in disappearing ink
Lyrics © OBO APRA/AMCOS

Lyrics Licensed & Provided by LyricFind
To comment on specific lyrics,
highlight them