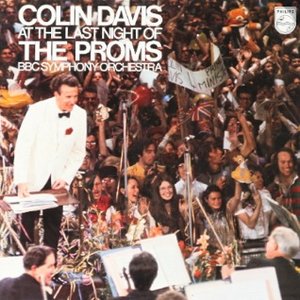 The Last Night Of The Proms with BBC Symphony Orchestra, Sir Colin Davis
There are at least two artists sharing the name Berlioz:

1) Louis Hector …
Read Full Bio ↴
There are at least two artists sharing the name Berlioz:

1) Louis Hector Berlioz (11th December 1803–8th March 1869) was a French Romantic composer best known for the Symphonie fantastique, first performed in 1830, and for his Requiem - Grande messe des morts - of 1837, with its tremendous resources that include four antiphonal brass choirs. Berlioz was born in France at La Côte-Saint-André in the département of Isère, between Lyon and Grenoble. His father was a physician, and young Hector was sent to Paris to study medicine at the age of eighteen. Berlioz was horrified by the process of dissection, and, despite his father's disapproval, he abandoned his career path in medicine to study music a year later. He then attended the Paris Conservatoire studying opera and composition.

He became identified early on with the French romantic movement. Among his friends were writers such as Alexandre Dumas, Victor Hugo, and Honoré de Balzac. Later, Théophile Gautier wrote, "Hector Berlioz seems to me to form with Hugo and Delacroix, the Trinity of Romantic Art."

Berlioz is said to have been innately romantic, experiencing emotions deeply from early childhood. This manifested itself in his weeping at passages of Virgil as a child, and later in a series of love affairs. At the age of 23, his unrequited (at first) love for the Irish Shakespearean actress Harriet Constance Smithson was the inspiration for his Symphonie fantastique. In 1830, the same year as the symphony's premiere, Berlioz won the Prix de Rome.

Berlioz's letters were considered so overly passionate by Smithson that she initially refused his advances. The symphony which these emotions are said to inspire was received as startling and vivid. The autobiographic nature of this piece of program music was also considered sensational at the time. After his return to Paris from his two years study in Rome, he finally married Smithson when she had finally attended a performance of the Symphonie Fantastique. She quickly realized that it was his depiction of his passionate letters to her. However, after only a few years, the relationship quickly fell apart. (Kamien 242)

During his lifetime, Berlioz was more famous as a conductor than a composer. He regularly toured Germany and England where he conducted operas and symphonic music, both his own and music composed by others. He met virtuoso violinist and composer Niccolò Paganini a few times and, according to Berlioz's memoirs, Paganini offered him 20,000 francs after he saw Harold in Italy performed live as the money was intended as a reward for writing a viola piece for the violin virtuoso to perform as his own.

Hector Berlioz is buried in the Cimetiere de Montmartre with his two wives, Harriet Smithson (died 1854) and Marie Recio (died 1862).

1) Berlioz is an up-and-coming jazztronica/ jazz house/ nu-jazz/ smooth jazz artist. With a contemporary approach to blending jazz, electronic, and house music elements, Berlioz brings an unique sound to the music scene. Known for their infectious beats, grooves, and improvisations, Berlioz is gaining recognition for their captivating live performances and innovative studio productions. They have released several singles and EPs, showcasing their evolving style and musical versatility.
Genre not found
Artist not found
Album not found
Search results not found
Song not found