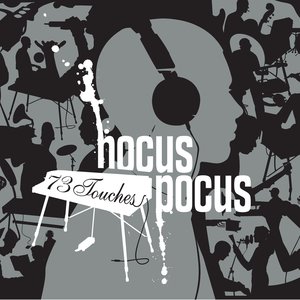 Various artists named Hocus Pocus.

1. - Hocus Pocus is a Hip Hop band fro…
Read Full Bio ↴
Various artists named Hocus Pocus.

1. - Hocus Pocus is a Hip Hop band from Nantes, France. Formed in 1995, their music is a mix of all hip-hop true elements with live instrumentation influenced by jazz, soul & funk music.
This band gives positive vibrations, stepping outside the French rap box. The alchemy between the intruments and the main rapper/DJ/band leader 20Syl, results in a appreciable coherence.
The lineup includes muscians Matthieu Lelièvre (on fender rhodes) Hevré Gogard (on bass), and Antoine Saint-Jean (on drums) with DJ Greem and 20Syl (MC), both members of C2C, the DJ crew, 2003-to-2006 DMC World DJ Team Championships winner.
Often compared with The Roots, Their live performance are often showy, mostly when the standard live instruments communicate with the turntables.


Discography
- 18/10/2007 : 15 tilte CD/12" "Place 54"
- 26/12/2006 : "73 Touches", La Réédition
- February 2005 : 13-title CD/12" "73 Touches"
- December 2004 : Maxi Single "On And On part.2"
- June 2002 : 8-title CD "Acoustic Hip Hop Quintet"
- January 2003: Maxi single "Conscient"
- October 2001 : Maxi single "On and on"
- 1998 : Mixtape album "Seconde Formule"


They created On and On Label (ex-Coups2Cross), under wich one you can find C2C (DMC world chmpions in 2003, 2004, 2005 and 2006), The Procussions.

For more informations please go to
http://www.onandon-records.com/hocuspocus.php

2. - Real Name: Ferry Ridderhof & Peter Garnefski - A duo that produces hardcore music.
Aliases: Boobytrax, Doop, Ferry & Garnefski, Headcracker, Krimson, Madam, Mandroid, Rare Candy, Sebastian Blender, Sponk, Sugar 'N' Spice, Thick Red Spot, Vicious Delicious, Waxattack, X-Orgasmic

Most famous for their Here's Johnny record.

3. - Real Name: Dirk Nuttelmann
Aliases: Dirk Nuttelmann, Penny Lane, Sandy
Releases:Vibrator (12", Maxi, Cle)

4. - Hard rock band formed in 1986, first known as Lust.
Members: John Uhlinger, Ken Kennedy (2), Kurt Menck, Mike Easlo
Had songs feature on some compilations like Nashville Rock, What You Haven't Heard... and Hear Rock City Tennessee Tracks.
Genre not found
Artist not found
Album not found
Search results not found
Song not found
73 Touches
J'fais un truc abstrait qui fait vibrer les particules, Si …
Brouillon
J'laisse fuir mon esprit sur ce morceau de page Quitte à…
Comment on faisait ?
Mais comment on faisait avant, sans télécommande? Il paraît …
Dig This
Tout a commencé dans c'shop d'occases où j'ai l'habitude d'a…
Faits Divers
Il avait trentes ans, à cette époque là, reporter sur…
J'Attends
J'attends... hein... ouai... ok J'attends que la marée noir…
Malade 2006
LA LE PLEU BAGUETTE GARCON CROISSANT BAGUETTE FILLETE MAL…
Onandon
On And On fait ça pour les kiffeurs de sons…
Pascal
J'ai vu le jour grâce à un coup de vent Par…