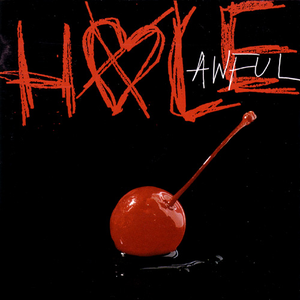 Hole was an American alternative rock band formed by singer and guitarist Courtney Love and lead guitarist Eric Erlandson in Los Angeles, California in 1989. Influenced by Los Angeles' punk rock scene, and produced by Kim Gordon of Sonic Youth, the band's debut album, Pretty on the Inside (1991), attracted critical interest from British and American alternative press. Their second album, Live Through This, released 1994 by DGC Records, which featured less aggressive melodies and more restrained lyrical content
Read Full Bio
Hole was an American alternative rock band formed by singer and guitarist Courtney Love and lead guitarist Eric Erlandson in Los Angeles, California in 1989. Influenced by Los Angeles' punk rock scene, and produced by Kim Gordon of Sonic Youth, the band's debut album, Pretty on the Inside (1991), attracted critical interest from British and American alternative press. Their second album, Live Through This, released 1994 by DGC Records, which featured less aggressive melodies and more restrained lyrical content, was widely acclaimed and reached platinum status within a year of its release. Their third album, Celebrity Skin (1998), which garnered them four Grammy nominations, marked a notable departure from their earlier punk influences, boasting a more commercially viable, "mature" sound.

The band had a revolving line-up of bassists and drummers, their most prolific being drummer Patty Schemel, and bassists Kristen Pfaff (d. 1994) and Melissa Auf der Maur. In 2002 the group disbanded to pursue other projects. Eight years later in 2010, Hole was reformed by Love with new members, despite Erlandson's claim that the reformation breached a mutual contract he had with Love. The reformed band released the album Nobody's Daughter (2010), which had originally been conceived as Love's second solo album. In 2013, Love retired the Hole name, releasing new material and touring as a solo artist.

Hole has been noted for being one of the most commercially successful female-fronted rock bands of all time, selling over three million records in the United States alone and having a far-reaching influence on contemporary female artists. Music and feminist scholars have also recognized the band as the most high-profile musical group of the 1990s to discuss gender issues in their songs, due to Love's aggressive and violent lyrical content, which often addressed themes of body image, abuse, and sexual exploitation.

Hole went on to become the most commercially successful female-fronted grunge band in history, selling over 3 million records in the United States between 1991 and 2010. In spite of Love's often polarizing reputation in the media, Hole received consistent critical praise for their output, and was often noted for the predominant feminist commentary found in Love's lyrics, which scholars have credited as "articulating a third-wave feminist consciousness". Love's subversive onstage persona and public image coincided with the band's songs, which expressed "pain, sorrow, and anger, but [an] underlying message of survival, particularly survival in the face of overwhelming circumstances." Music journalist Maria Raha expressed a similar sentiment in regard to the band's significance to third-wave feminism, stating, "Whether you love Courtney [Love] or hate her, Hole was the highest-profile female-fronted band of the '90s to openly and directly sing about feminism."

While Rolling Stone compared the effect of Love's marriage to Kurt Cobain on the band to that of John Lennon and Yoko Ono, they noted that "Love's confrontational stage presence, as well as her gut-wrenching vocals and powerful punk-pop songcraft, made her an alternative-rock star in her own right." Author Nick Wise made a similar comparison in discussion of the band's public image, stating, "Not since Yoko Ono's marriage to John Lennon has a woman's personal life and exploits within the rock arena been so analyzed and dissected." The band has been cited as a major influence on several contemporary artists, including indie singer songwriter Scout Niblett, Brody Dalle of the Distillers and Spinnerette, Sky Ferreira, Lana Del Rey, Tove Lo, Tegan and Sara, and the British rock band Nine Black Alps. The band ranked at #77 of VH1's 100 Greatest Hard Rock Artists.
Genre not found
Artist not found
Album not found
Search results not found
Song not found
Awful
Hole Lyrics
Swing low sweet cherry
Make it awful
It's your life it's your party it's so awful
Let's start a fire
Let's have a riot! Yeah it's awful
It was punk
Yeah it was perfect now it's awful
They know how to break all the girls
like you
And they rob the souls of the girls like you
And they break the hearts of the girls
Swing low cherry cherry
Yeah it's awful
He's drunk he tastes
Like candy he's so beautiful
He's so deep like dirty water
God, he's awful
You're lost, oh, where's your daddy it's so
awful
And they royalty rate all the girls like you
And they sell it out to the girls like you
To incorporate little girls
Hey, run away with the light
Run away it's divine
Let's run away, yeah, tonight and
We'll steal the light of the world
Swing low, sweet cherry, yeah, it's awful
You're ripe for the picking, it's so awful
You've got your youth
Don't waste your money
Yeah it's awful
I was punk!
Now I'm just stupid!
I'm so awful
Oh, just shut up you're only 16
If the world is so wrong
Yeah you can break them all
With one song
If the world is so wrong yeah you can take it
all
With one song
Swing low sweet cherry
Make it awful
They bought it all, just build a new one,
Make it beautiful yeah
Lyrics © Kobalt Music Publishing Ltd.
Written by: ERIC T ERLANDSON, COURTNEY M. LOVE, MELISSA AUF DER MAUR, SCHEMEL PATTY

Lyrics Licensed & Provided by LyricFind
To comment on specific lyrics,
highlight them