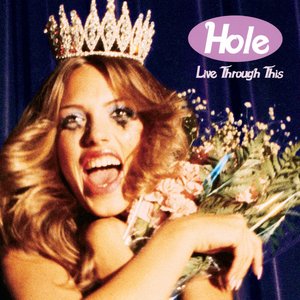 Live Through This is the second studio album by American alternative rock band Hole, released on April 12, 1994, by DGC Records. Recorded in late 1993, it departed from the band's unpolished hardcore aesthetics to more refined melodies and song structure. Frontwoman Courtney Love said that she wanted the record to be "shocking to the people who think that we don't have a soft edge", but maintain a harsh sensibility. The album was produced by Sean Slade and Paul Q. Kolderie and mixed by Scott Litt and J Mascis. The lyrics and packaging reflect Love's thematic preoccupations with beauty, and
Read Full Bio
Live Through This is the second studio album by American alternative rock band Hole, released on April 12, 1994, by DGC Records. Recorded in late 1993, it departed from the band's unpolished hardcore aesthetics to more refined melodies and song structure.

Frontwoman Courtney Love said that she wanted the record to be "shocking to the people who think that we don't have a soft edge", but maintain a harsh sensibility. The album was produced by Sean Slade and Paul Q. Kolderie and mixed by Scott Litt and J Mascis. The lyrics and packaging reflect Love's thematic preoccupations with beauty, and motifs of milk, motherhood, anti-elitism, and violence against women, while Love derived the album title from a quote in Gone with the Wind (1939).

At the time of its release, the album was met with critical acclaim, and it earned top-100 chart spots in seven countries before going multi-platinum in December 1994. Despite this, it was also the subject of some public discussion regarding unsubstantiated rumors that Love's husband, Kurt Cobain —who died by suicide one week before the album's release — helped ghostwrite the album. This claim has been disputed by the band members, producers, as well as music biographers, though the band confirmed that Cobain sang additional backing vocals on two tracks during a visit to the studio.

In critical circles, Live Through This is considered a contemporary classic, and was included in Rolling Stone's 2020 list of The 500 Greatest Albums of All Time at number 460, as well as being featured on the list 1001 Albums You Must Hear Before You Die. The album was also named the 84th greatest album of all time in a list produced by NME in 2013. As of 2010, it has sold over 1.6 million copies in the United States.
Genre not found
Artist not found
Album not found
Search results not found
Song not found
Violet
Hole Lyrics
And the sky was made of amethyst
And all the stars were just like little fish
You should learn when to go
You should learn how to say no
Might last a day, yeah
Mine is forever
Might last a day, yeah
Mine is forever
When they get what they want, and they never want it again
And they get what they want, and they never want it again
Go on, take everything, take everything, I want you to
Go on, take everything, take everything, I want you to
And the sky was all violet
I want to give the violent more violets
And I'm the one with no soul
One above and one below
Might last a day, yeah
Mine is forever
Might last a day, yeah
Mine is forever
When they get what they want, and they never want it again
When they get what they want, and they never want it again
Go on, take everything, take everything, I want you to
Go on, take everything, take everything, I dare you to
I told you from the start just how this would end
When I get what I want, then I never want it again
Go on take everything, take everything, I want you to
Go on take everything, take everything I want you to
If I don't mind, you don't mind
Go on take everything, take everything, I want you to
Go on take everything, take everything I want you to
Go on take everything, take everything, I want you to
Go on take everything, take everything, take everything, take everything
Lyrics © Kobalt Music Publishing Ltd.
Written by: Courtney M Love, Eric T. Erlandson

Lyrics Licensed & Provided by LyricFind
To comment on specific lyrics,
highlight them