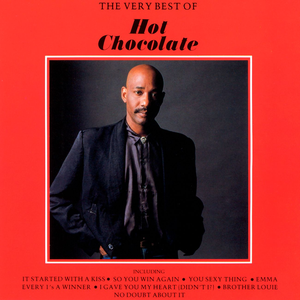 Very Best Of Hot Chocolate
Hot Chocolate was a British pop and soul band originally from Brixton, London, England that was most popular during the 70s and 80s, Formed by Errol Brown (born 12 November 1943; died 6 May 2015), the act had at least one hit every year between 1970 and 1984 inclusive, and their iconic song "You Sexy Thing" made the Top 10 in each of three different decades. They were even affiliated with the Beatles' label Apple Records for a time.

Formed circa 1968/69
Read Full Bio
Hot Chocolate was a British pop and soul band originally from Brixton, London, England that was most popular during the 70s and 80s, Formed by Errol Brown (born 12 November 1943; died 6 May 2015), the act had at least one hit every year between 1970 and 1984 inclusive, and their iconic song "You Sexy Thing" made the Top 10 in each of three different decades. They were even affiliated with the Beatles' label Apple Records for a time.

Formed circa 1968/69, the original core members included percussionist Patrick Olive, guitarist Franklyn De Allie and drummer Ian King, along with bass player Tony Wilson, pianist Larry Ferguson and with Jamaican-born songwriter/vocalist Errol Brown. For Apple, they released a reggae version of "Give Peace A Chance", and backed Mary Hopkins on "Think About Your Children" before the Apple label dissolved. In 1970, they signed to Rak Records, a label owned by UK producer Mickie Most who had the group compose the final chart hit for Herman's Hermits. On their own they were to become one of the U.K's best loved charts groups, with 25 UK top 40 hit singles in their career. Hot Chocolate enjoyed their first UK hit in 1970 with "Love Is Life" followed by many more U.K. Top 10 hits including "I Believe (In Love)," "Brother Louie" (a stateside #-1 for U.S Stories), "A Child's Prayer," "Put Your Love In Me," "No Doubt About It," "Girl Crazy," "It Started With A Kiss" and "What Kinda Boy You Looking For (Girl)."
While popular in the U.K, it wasn't until 1974 that they secured a U.S record deal with Big Tree records, releasing the single "Emma", and becoming associated with burgeoning disco scene with "Disco Queen." Their second US album featured "You Sexy Thing" which hit #3 on the US top 40 charts. By 1978 they were affiliated with Infinity Records in the U.S and hit #6 on the charts with "Every 1's A Winner." 1979 sees the band release the LP "Going Through The Motions" obviously burning out on disco, but still commercially aiming for the dancefloor market with the irionic track "Mindless Boogie". They continued for some years afterwards but never regained the chart action or a U.S label, with lead singer Errol Brown finally leaving in 1987, basically putting an end to the group.

In 1992, with a new line-up, manager and agent, Ric Martin, took control over the band's bookings and live appearances. Hot Chocolate continue to make live appearances in the UK and Europe. A minor resurgence in interest in Hot Chocolate's music occurred after the 1998 film "The Full Monty" used "You Sexy Thing" prominently in the soundtrack. Errol brown was also known under the nickname, "the singing malteser" due to his bald head.
Genre not found
Artist not found
Album not found
Search results not found
Song not found
It Started With A Kiss
Hot Chocolate Lyrics
It started with a kiss
In the back row of the classroom
How could I resist
The aroma of your perfume
You and I were inseparable
It was love at first sight
You made me promise to marry you
I made you promise to be my wife
But you were only eight years old
And I had just about turned nine (just about turned nine)
I thought that life was always good
I thought you always would be mine
Started with a kiss
Never thought it would come to this
It started with a kiss
I never thought it would come to this
I remember every little thing
Like fighting in the playground
'Cause some good looking boys
Had started to hang around
That boy hurt me so bad
But I was happy 'cause you cried
Still I couldn't help but notice
That new distant look in your eyes
And then when you were sixteen
And I had just turned seventeen (just turned seventeen)
I couldn't hold on to your love
I couldn't hold on to my dream
It started with a kiss
I never thought it would come to this
Started with a kiss
Never thought it would come to this
You don't remember me, do you?
You don't remember me, do you?
Walking down the street
Came the star of my love story
And my heart began to beat so fast
So clear was my memory
I heard my voice cry out your name
And as she looked and looked away
I felt so hurt, I felt so small
It was all that I could say
You don't remember me, do you?
You don't remember me, do you?
You don't remember me, do you?
You don't remember me, do you?
It started with a kiss
Never thought it would come to this
It started with a kiss, oh
Never thought it would come to this
Lyrics © Warner Chappell Music, Inc.
Written by: Christina Ginger Berry, George Melvin Brown, David Young

Lyrics Licensed & Provided by LyricFind
To comment on specific lyrics,
highlight them