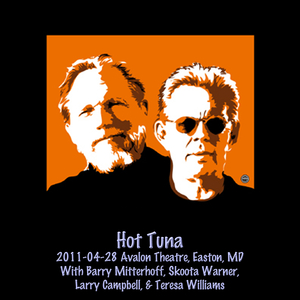 2011-04-28 Avalon Theatre, Easton, MD
Jorma Kaukonen and Jack Casady were part of Jefferson Airplane back in the 60's, but that was a blip in their musical careers if you ask most Tuna fans.

Their first album was recorded live at Berkeley in 1969. They continued their work with Jefferson Airplane during this project, and even though Jefferson Airplane dissolved, Hot Tuna has continued to tour to this day. Casady is considered by many to be one of the most advanced and innovative in his style.
Read Full Bio
Jorma Kaukonen and Jack Casady were part of Jefferson Airplane back in the 60's, but that was a blip in their musical careers if you ask most Tuna fans.

Their first album was recorded live at Berkeley in 1969. They continued their work with Jefferson Airplane during this project, and even though Jefferson Airplane dissolved, Hot Tuna has continued to tour to this day. Casady is considered by many to be one of the most advanced and innovative in his style.

Their official website is http://hottuna.com and http://hottunatunes.com has music downloads of some of their recent live dates and a few older dates which really capture the spirit of these two very talented musicians.

Joey Covington, a self-taught drummer since the age of 10, (also know in his childhood as Joey Michno) helped found Blues-rock group Hot Tuna in 1969, alongside Jefferson Airplane members Jack Casady and Jorma Kaukonen, while the latter band was still in its beginnings.
However, the recordings he did for Tuna were unreleased and eventually rejoined Casady and Kaukonen at the Airplane and featured on three studio albums, the first being Volunteers, as he replaced Spencer Dryden midway through the recording process. He wrote and sang the last hit for Jefferson Airplane 1971's "Pretty As You Feel" featured on the Bark Album.
Covington left Jefferson Airplane in mid-1972 to pursue a solo career, starting with Fat Fandango.[3] He subsequently faded from view, only resurfacing sporadically, like in 1976's Spitfire by Jefferson Starship, where he co-wrote the hit single "With Your Love".
Throughout the 1980s and 1990s he toured with various configurations as The San Francisco Allstars.
Covington was well-known around the Palm Springs area as a talented musician who delighted his audience by playing free gigs whenever possible. His last performance was for a Marilyn Monroe celebration in Palm Springs June 1, 2013. Covington thrilled his audience and signed autographs following the performance.[4]
Covington was killed in an automobile accident in Palm Springs, California on June 4, 2013. Covington slammed into a wall and was not wearing a seat belt at the time of the collison. He was 67.[5]

See also: Hot Tuna at Wikipedia
Genre not found
Artist not found
Album not found
Search results not found
Song not found
I See The Light
Hot Tuna Lyrics
In this world I'm living in I see the light
Sins are gone, now I know what is wrong and right
Morning came on slowly pushing back the night
It's good times now that I can see the light
On this road I'm walking on I see my way
Paradise I'm living for each and every day
'Bout the crossroads of the past, nothing more to say
It's good times now but we can see our way
In this sea I'm moving through, feel my life complete
With the one I'm living for time is, oh, so sweet
Feeling us together, living in the bright
It's good times now, we can see the light
In this world I'm living in I see the light
Sins are gone, now I know what is wrong and right
Morning came on slowly pushing back the night
It's good times now that we can see the light
Lyrics © Sony/ATV Music Publishing LLC, Warner/Chappell Music, Inc.
Written by: JORMA KAUKONEN

Lyrics Licensed & Provided by LyricFind
To comment on specific lyrics,
highlight them