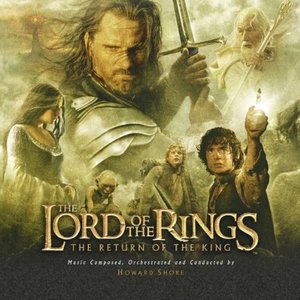 Lord Of The Rings 3-The Return Of The King (U.S. Version-Jewelcase)
Howard Leslie Shore OC (born October 18, 1946) is a Canadian composer who is not…
Read Full Bio ↴
Howard Leslie Shore OC (born October 18, 1946) is a Canadian composer who is notable for his film scores. He has composed the scores for over 80 films, most notably the scores for The Lord of the Rings and The Hobbit film trilogies. He won three Academy Awards for his work on the first trilogy, with one being for the original song "Into the West", an award he shared with Eurythmics lead vocalist Annie Lennox and writer/producer Fran Walsh, who wrote the lyrics. He is also a consistent collaborator with director David Cronenberg, having scored all but one of his films since 1979.

Shore has also composed a few concert works including one opera, The Fly, based on the plot of Cronenberg's 1986 film premiered at the Théâtre du Châtelet in Paris on July 2, 2008, a short piece Fanfare for the Wanamaker Organ and the Philadelphia Orchestra, and a short overture for the Swiss 21st Century Symphony Orchestra. In addition to his three Academy Awards, Shore has also won three Golden Globe Awards and four Grammy Awards.

Howard Shore was born in Toronto, Ontario, Canada, the son of Bernice (née Ash) and Mac Shore. Shore is Jewish. He started studying music at the age of 8 or 9. He learned a multitude of instruments and began playing in bands at the ages of 13 and 14. When Shore was 13, he met and became good friends with a young Lorne Michaels in summer camp, and this friendship would later be influential in his career. By 17, he decided he wanted to pursue music in his adult life too. He studied music at Berklee College of Music in Boston after graduating from Forest Hill Collegiate Institute.

From 1969 to 1972, Shore was a member of the jazz fusion band Lighthouse. In 1970, he became the music director for Lorne Michaels and Hart Pomerantz's short-lived TV program The Hart & Lorne Terrific Hour. Shore wrote the music for Canadian magician Doug Henning's magic musical Spellbound in 1974 and, from 1975 to 1980, he was the musical director for Lorne Michaels' influential late-night NBC comedy show Saturday Night Live, appearing in many musical sketches, including Howard Shore and His All-Nurse Band, and dressed as a beekeeper for a John Belushi/Dan Aykroyd performance of the Slim Harpo classic "I'm a King Bee". Shore also suggested the name for The Blues Brothers to Dan Aykroyd and John Belushi.

Since 2004, he has toured the world conducting local orchestras in the performance of his new symphonic arrangement of his highly acclaimed Lord of the Rings scores. The new work is entitled The Lord of the Rings: Symphony in Six Movements. There are two movements for each of the movies, and an intermission between the second and third (or first and second film titles) movements. The concert presentation of the symphony also includes projected still images of sketches by John Howe and Alan Lee relating the music being performed to scenes from the films. Recently, however, Shore has been busy with other projects, leaving other conductors including Markus Huber, Ludwig Wicki, Alexander Mickelthwaite, and John Mauceri to lead the orchestras.

April 24, 2008 marked the North American Live to Projection debut of Fellowship of the Ring, with the score performed live by the Winnipeg Symphony Orchestra, conducted by Ludwig Wicki. Wicki also conducted the Filene Center Orchestra at the Wolf Trap Farm Park in Vienna, Virginia on May 21 and 22, 2008 in the U.S. premiere of the Fellowship of the Ring Live to Projection.

September 16, 2010 Shore conducted the RSO Vienna (Vienna Radio Symphony Orchestra) which performed "In Dreams from The Fellowship of the Ring" at Hollywood in Vienna in Vienna, Austria. Shore was commissioned by Macy's to write a Fanfare for the Store's 150th anniversary featuring the Philadelphia Orchestra and the Wanamaker Organ, the world's largest playing pipe organ. The work was debuted in the Grand Court of Macy's Philadelphia Store on September 27, 2008 in a concert that drew reviews from most of the major East Coast newspapers.

Shore's opera The Fly had its world premiere performance at the Théâtre du Châtelet in Paris on July 2, 2008 and its United States premiere at Los Angeles Opera on September 7, 2008. The production was directed by David Cronenberg and conducted by Plácido Domingo. The Fly had a new production mounted by Theatre Trier in Germany in 2014 staged by Sebastian Welker and conducted by Joongbae Jee.

Shore was commissioned by the Beijing Music Festival to write Ruin and Memory, a piano concerto, for renowned pianist Lang Lang. The world premiere was on October 11, 2010 performed by Lang Lang, The China Philharmonic Orchestra and conducted by Long Yu. His second concerto, Mythic Gardens, premiered April 27, 2012 with Sophie Shao on cello solo, The American Symphony Orchestra and conducted by Leon Botstein.

Shore's song cycle A Palace Upon the Ruins premiered in 2014 at the Bridgehampton Chamber Music Festival and at the La Jolla SummerFest featuring mezzo-soprano Jennifer Johnson Cano. A Palace Upon the Ruins is a song cycle of six songs with words by Elizabeth Cotnoir.

Sea to Sea was commissioned by New Brunswick Youth Orchestra in celebration of Canada's 150th anniversary of confederation and premiered on July 2, 2017 in Moncton, New Brunswick with soloist Measha Brueggergosman and Antonio Delgado conducting. Sea to Sea has lyrics by Elizabeth Cotnoir.

The song cycle L'Aube premiered October 19 & 20, 2017 in Toronto at Roy Thompson Hall conducted by Peter Oundjian and performed by soloist Susan Platts and commissioning orchestra, the Toronto Symphony Orchestra. L'Aube consists of five songs with text by Elizabeth Cotnoir.

The Forest a guitar concerto composed for Miloš Karadaglić will premiere in Ottawa on May 1 & 2, 2019 with the National Arts Centre Orchestra and Alexander Shelley conducting.

In addition to writing the original theme song for Saturday Night Live, as well as the closing theme, Shore also co-wrote the theme song for Late Night with Conan O'Brien with John Lurie. The theme was carried over to The Tonight Show when O'Brien succeeded Jay Leno as host.

Shore narrated a one-hour CBC Radio documentary/soundscape on music in thriller/suspense film genres also including references to radio dramas and other media. The episode was called "Unsettling Scores" and premiered on the program called Inside the Music.

Shore is married to Elizabeth Cotnoir, a writer, producer and documentary filmmaker. He has a daughter, Mae.[35] He is the uncle of film composer Ryan Shore.

As of 2004, Shore lives in Tuxedo Park, New York.
Genre not found
Artist not found
Album not found
Search results not found
Song not found
Lord Of The Rings 3-The Return Of The King (U.S. Version-Jewelcase)
Howard Shore Lyrics