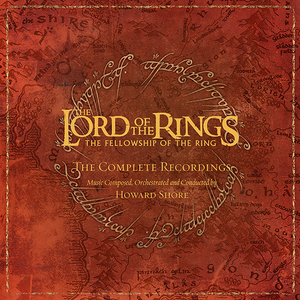 The Lord of the Rings: The Fellowship of the Ring - The Complete Recordings
Disc 1 1. Prologue: One Ring to Rule Them All 7:16 2. The Shire 2:29 3. Bag End 4:35 4. Very Old Friends 3:12 5. Flaming Red Hair 2:39 6. Farewell Dear Bilbo 1:45 7. Keep It Secret, Keep It Safe 8:53 8. A Conspiracy Unmasked 6:09 9. Three is Company 1:58 10. The Passing of the Elves 2:39 11. Saruman the White 4:09 12. A Shortcut to Mushrooms 4:07 13. Strider 2:34 14. The Nazgûl 6:04 Disc 2 1. Weathertop 2:14 2. The Caverns of Isengard 4:54 3. Give Up the Halfling 4:49 4. Orthanc 1:06 5. Rivendell 3:26
Read Full Bio
Disc 1
1. Prologue: One Ring to Rule Them All 7:16
2. The Shire 2:29
3. Bag End 4:35
4. Very Old Friends 3:12
5. Flaming Red Hair 2:39
6. Farewell Dear Bilbo 1:45
7. Keep It Secret, Keep It Safe 8:53
8. A Conspiracy Unmasked 6:09
9. Three is Company 1:58
10. The Passing of the Elves 2:39
11. Saruman the White 4:09
12. A Shortcut to Mushrooms 4:07
13. Strider 2:34
14. The Nazgûl 6:04

Disc 2
1. Weathertop 2:14
2. The Caverns of Isengard 4:54
3. Give Up the Halfling 4:49
4. Orthanc 1:06
5. Rivendell 3:26
6. The Sword That Was Broken 3:34
7. The Council of Elrond Assembles Featuring "Aníron (Theme for Aragorn and Arwen)" - Composed and performed by Enya 4:01
8. The Great Eye 5:30
9. Gilraen's Memorial 5:01
10. The Pass of Caradhras 5:04
11. The Doors of Durin 6:03
12. Moria 2:27
13. Gollum 2:26
14. Balin's Tomb 8:30

Disc 3
1. Khazad-dûm 8:00
2. Caras Galadhon - Featuring "Lament for Gandalf" performed by Elizabeth Fraser 9:20
3. The Mirror of Galadriel 6:21
4. The Fighting Uruk-hai 11:32
5. Parth Galen 9:13
6. The Departure of Boromir 5:29
7. The Road Goes Ever On. . .Pt. 1 5:58
8. May It Be - Composed and performed by Enya 3:26
9. The Road Goes Ever On. . .Pt. 2 - Featuring "In Dreams" performed by Edward Ross 3:41
Genre not found
Artist not found
Album not found
Search results not found
Song not found
Prologue: One Ring to Rule Them All
Howard Shore Lyrics
Man sí minna? Who enters here?
Man ammen toltha i dann hen Amarth? Who brings to us this token of Doom?
I anann darthant dam morn That which has stood so long against the darkness
Si dannatha. will now fall.
Nêbâbîtham Magânanê We renounce our Maker.
Nêtabdam dâur-ad We cleave to the darkness.
Nêpâm nêd abârat-aglar We take unto ourselves the power and glory.
îdô Nidir nênâkham Behold! We are the Nine,
Bârî'n Katharâd The Lords of Unending Life.
Contributed by Skyler O. Suggest a correction in the comments below.
To comment on specific lyrics,
highlight them