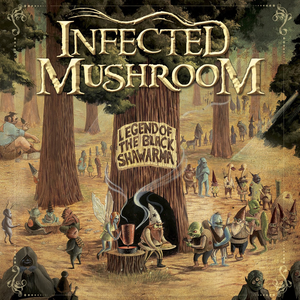 Legend Of The Black Shawarma
Get album on: iTunes, Amazon, Beatspace, Goastore, Beatport Infected Mushroom returns with their patented hybrid of thrashing metal and psychedelic trance to bring a frenetic rock energy to the form and venture where other electronic acts fear to tread. The Israeli-bred, Los Angeles-based electronic duo continues to push sonic boundaries for their seventh studio album that's due out September 2009. Legend Of The Black Shawarma sees Amit 'Duvdev' Duvedevani and Erez Eisen teaming with high-profile rockers. The album's lead single 'Smashing the Opponent' features a scorching vocal from Korn's Jonathan Davis, while Jane's addiction frontman and alt-rock trailblazer Perry Farrell
Read Full Bio
Get album on: iTunes, Amazon, Beatspace, Goastore, Beatport



Infected Mushroom returns with their patented hybrid of thrashing metal and psychedelic trance to bring a frenetic rock energy to the form and venture where other electronic acts fear to tread. The Israeli-bred, Los Angeles-based electronic duo continues to push sonic boundaries for their seventh studio album that's due out September 2009.
Legend Of The Black Shawarma sees Amit 'Duvdev' Duvedevani and Erez Eisen teaming with high-profile rockers. The album's lead single 'Smashing the Opponent' features a scorching vocal from Korn's Jonathan Davis, while Jane's addiction frontman and alt-rock trailblazer Perry Farrell lends his inimitable pipes to the follow-up track 'Killing Time.' Recording with Jonathan and Perry was a highlight, of course, 'Duvdev' notes. They were both incredibly cool. The fact that they liked the tracks was awesome because we're huge fans of what they do.

The album is the follow up to 2007's Vicious Delicious and takes Infected Mushroom's psy-trance fusion of bruising, metallic rock and unstoppable dance-floor beats to a new level. 'It's a really diverse record', Duvdev says, 'but it's even more aggressive'both on the metal side and on the breakbeat side'. Taking its time to craft the album, the duo worked on Shawarma whenever their frenetic, globe-trotting tour schedule permitted. Whether singing about 'Smashing' and 'Killing' or paying tribute to beloved (Los
Angeles) eateries like 'Poquito Mas', 'Franks' ('The best taco place in Mexico in our opinion') or Israeli hummus factory 'Saeed', Infected Mushroom prove they've stayed hungry despite their massive international success.
Genre not found
Artist not found
Album not found
Search results not found
Song not found
I'm gonna push you until you're gonna get it
I'm gonna push it until you're gonna get it
I'm gonna push it until you're gonna get it out
Contributed by Christian M. Suggest a correction in the comments below.
To comment on specific lyrics,
highlight them