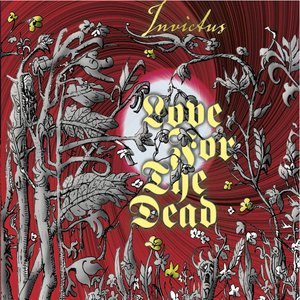 The album was released Globally on Physical (Cd & Vinyl) and Digital form, on March 31st 2014 by the Label "Little One Creations" (C) & (P) and the Record company DFR. André Wall composed all the songs and Produced the Album. André Wall and Norman Wall wrote all the lyrics, except for two of the songs on the album, which were based on ancient Poems. André chose two poems from the Romantic Era and composed music to them. Those poems were, the title song, " The Love for the Dead" and "To Jane". "The Love for the Dead" was written
Read Full Bio
The album was released Globally on Physical (Cd & Vinyl) and Digital form, on March 31st 2014 by
the Label "Little One Creations" (C) & (P) and the Record company DFR.
André Wall composed all the songs and Produced the Album. André Wall and Norman Wall wrote all the lyrics, except for two of the songs on the album, which were based on ancient Poems.

André chose two poems from the Romantic Era and composed music to them. Those poems were, the title song, " The Love for the Dead" and "To Jane". "The Love for the Dead" was written in nursery-rhyme style, by the British writer William Wordsworth in 1799.
"To Jane" was written by Percy Bysshe Shelley in 1832 as a Monologue in a Play. Shelley´s wife, famous "Frankenstein-writer" Mary Shelley, arranged the Play-manuscript into the poem "To Jane" and had it Published a few years after Percy´s tragic death, and it was released 1839.

These Poems had great influence in the making of the songs on the album. And the album was titled "Love for the Dead" by Invictus in honour of William Wordsworth and Mary and Percy Shelley.

The genres on the album are Folkrock, World Music, Celtic Folk Music, Psychedelic Rock, Blues and Rock.

Biography

Invictus

Swedish/British Folkmusic and Worldmusic Duo Invictus, was founded 2005 by André Wall and Norman Wall. They have released "Out of the Night" (2010) Petal Pie Song (2012) and "Love for the Dead" (2014). André Wall has composed all songs. The duos main ambition is to perform Globally and to write music to English 1900-century Poems made by writers such as William Wordsworth, Lord Byron and W.E Henley.
Their Band name is inspired by the Henley poem "Invictus".
https://myspace.com/invictussweden

André Wall 1999-Present

André Wall was born in Västerås, Sweden in 1978, and has both Swedish & British nationality. He is a Singer-Songwriter, Guitarist, Piano-player and Music-Producer. His main Genres are Rock/Pop, Folkrock and World Music. He has performed frequently as a soloartist in New York, Barcelona, London and Rome since 1999.
He has released 2 albums "Dream Away" (2002) and Barcelona Diaries (2009) and 3 singles:
"Catalan Theme/Mi Corazón" (2009), "Lucy/Breathe Away" (2010) and "This Child/Into The Night" (2013) as a Solo-Artist.
He is the founding member/composer of critically acclaimed Folkrock/World-Music duo Invictus, which have released 3 Albums: "Out of the Night" (2010), Petal Pie Song (2012) and "Love For The Dead" (2014)

He has Produced and collaborated with several artists since 1999, and Produced and sang on his fathers Jazz-Debut "Dreams In The Moonlight"- Norman Wall (2013).

He is a former professional tennis-player on the ATP-Tour and played the Grand Slam tournament Wimbledon at the age of 16 in 1995. Losing to Canadian Daniel Nestor. André Wall is one of the youngest tennis players ever to participate in Wimbledon. He ended his tennis-carreer in 2000, and began studying music at "The Royal Music University" in Stockholm 2001.

Norman Wall 1966- Present

Norman James Wall was born in Manchester 1942. He moved to London in the mid 1960´s. He used to earn a living by singing at various Nightclubs around West End and Soho. He sang crooning-style songs, singing covers from Dean Martin, Perry Como and Frank Sinatra in 1966.
Norman meet a swedish girl with blond hair in 1968. He moved to Sweden 4 months later and married her in 1969. They now have 3 children.

Norman solo debuted at the age of 71! With the Jazz-inspired Chanson Album "Dreams in the Moonlight" in 2013. The Album was released on the Label "Little One Creations"(c) and (P) and and Record company DFR.

The album contains 7 songs within the genre Chanson and Mainstream-Jazz.
The Album was produced by his son André Wall.
André Wall also wrote the title song "Dreams in the Moonlight" and plays Guitar and Piano on the Album.

Norman Wall and André Wall are the founding members of the critically acclaimed Spoken Word, Celtic Folk Music and Folkrock group Invictus. They have released 3 Albums since they founded the group in 2005.
Genre not found
Artist not found
Album not found
Search results not found
Song not found