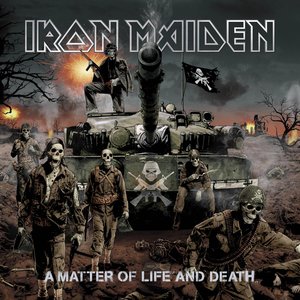 A Matter of Life and Death
A Matter of Life and Death is the 14th studio album by English heavy metal band Iron Maiden. It was released on 25 August 2006 in Italy and in Finland, 28 August worldwide, and 5 September 2006 in the United States, Canada and Japan. It is the first heavy metal album to debut at #4 in India, and made it to #2 in the Indian charts. It is also one of the few rock/metal albums to go platinum in India. It is the first album in Iron Maiden's almost 30 year career to enter the U.S. Billboard charts in the
Read Full Bio
A Matter of Life and Death is the 14th studio album by English heavy metal band Iron Maiden. It was released on 25 August 2006 in Italy and in Finland, 28 August worldwide, and 5 September 2006 in the United States, Canada and Japan. It is the first heavy metal album to debut at #4 in India, and made it to #2 in the Indian charts. It is also one of the few rock/metal albums to go platinum in India. It is the first album in Iron Maiden's almost 30 year career to enter the U.S. Billboard charts in the top 10, and has seen significant chart success in many other countries.

While the album is not a concept album, war and religion are recurring themes in the lyrics throughout the album, as well as in the album's artwork. The title "A Matter of Life and Death" is also linked with the war theme, as it titles a 1946 movie whose primary character is a WWII Royal Air Force pilot.

The band, still consisting of the same lineup as their previous two studio albums (making it the second most stable lineup; see Powerslave), started to write the songs near the end of 2005 after their hugely successful appearances in the U.S. and Europe. By the end of the year, the songs were done and they started rehearsing at Sarm West Studios in London.

At 72 minutes, A Matter of Life and Death is the band's longest album to date (exceeding 1995's The X Factor by approximately one minute) and its average song length (7:12) also makes it the longest Iron Maiden album by song average.

This is the band's fourth studio album that is not named after a specific song on the album, following Piece of Mind, The X Factor and Virtual XI.

The album cover was created by Tim Bradstreet, an American artist, currently best known for his covers on the Punisher comics.

During their North American, Japanese and European tours, they performed the entire album in full. They announced after the show at Earl's Court, London on December 23rd, 2006, that the album would never be played in its entirety again. A Matter Of Life And Death Tour was the tour supporting the album.

The first single to be released from the album was "The Reincarnation of Benjamin Breeg". It was released on 14 August 2006. On 10 August 2006, "Different World" was put on the official website for everyone to hear. The following day "Brighter than a Thousand Suns" was also put on the official site for public streaming.

"Different World" was the second single released from the album. It has already been receiving airplay on many rock radio stations. The song also features an animated video, similar to that of "Wildest Dreams".
Genre not found
Artist not found
Album not found
Search results not found
Song not found
You lead me on the path
Keep showing me the way
I feel a little lost
A little strange today
I think I'll take a hold
Of whatever comes my way
Then we'll see what happens
Take it day by day
I thought I had it all
I had it all worked out
Just what the future held
That there would be no doubt
But then the card came up
And I took another turn
But I don't know if it's
Fulfillment that I yearn
Tell me what you can hear
And then tell me what you see
Everybody has a different way
To view the world
I would like you to know
When you see the simple things
To appreciate this life
It's not too late to learn
Don't want to be here
Somewhere I'd rather be
But when I get there
I might find it's not for me
Tell me what you can hear
And then tell me what you see
Everybody has a different way
To view the world
I would like you to know
When you see the simple things
To appreciate this life
It's not too late to learn
Tell me what you can hear
And then tell me what you see
Everybody has a different way
To view the world
I would like you to know
When you see the simple things
To appreciate this life
It's not too late to learn
Don't wanna be here
Somewhere I'd rather be
But when I get there
I might find it's not for me
Don't know what I want
Or where I want to be
Feeling more confused
The more the days go by
Lyrics © BMG Rights Management, Universal Music Publishing Group
Written by: Adrian Frederick Smith, Stephen Percy Harris

Lyrics Licensed & Provided by LyricFind
To comment on specific lyrics,
highlight them