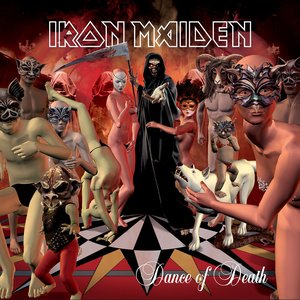 Dance of Death is Iron Maiden's 13th studio album, released first in Japan on September 2 and rest of the world on September 8, 2003. This album marks the first participation in songwriting by Nicko McBrain, who co-wrote the song "New Frontier" and also is the first (and so far only) time that all members of the band get a songwriting credit. It is sometimes mistakenly said that Steve Harris performed all the keyboard parts on the album because no credit is given to usual collaborator Michael Kenney, but this is actually due to an oversight in the printing of
Read Full Bio
Dance of Death is Iron Maiden's 13th studio album, released first in Japan on September 2 and rest of the world on September 8, 2003.

This album marks the first participation in songwriting by Nicko McBrain, who co-wrote the song "New Frontier" and also is the first (and so far only) time that all members of the band get a songwriting credit. It is sometimes mistakenly said that Steve Harris performed all the keyboard parts on the album because no credit is given to usual collaborator Michael Kenney, but this is actually due to an oversight in the printing of the album booklet (no instrument credits are given to any of the full band members either). Interestingly, the band's usual message in every album (a variation on the line "Up the Irons!") is absent too.

Give Me Ed... 'til I'm Dead Tour & Dance Of Death World Tour was the tour supporting the album. Dance of Death once again brought costumes to Maiden's stage show. During "Dance of Death," Bruce Dickinson would wear theatrical masks and a cape while moving around the stage; at the end he would dress as the Grim Reaper for the final chorus. During the song "Paschendale", Dickinson would sometimes wear a traditional British Infantryman suit as worn during World War I and act out his death onstage during the song.

The title of the album refers to the, late-medieval allegory on the universality of death: no matter one's station in life, the dance of death unites all. This philosophy is more commonly known as Danse Macabre.

The computer-generated cover art for the album was provided by David Patchett, but he asked to be removed from the credits because he was not satisfied with the result. The version used was actually a prototype provided by Patchett, but the band decided to use it in its incomplete form. Upon close inspection, one can note several of what appear to be errors; the small infant/dwarf to the right appears to be suspended in midair with his/her ankle sunk into the side of the wolf. The other small person to the left is also standing on the toes of a man, and the woman directly to the right of Eddie (center) seems to have some disfiguring on the fold of her elbow. The woman to the right of the foreground also has a long, misshapen neck.

When the cover art was first revealed on the Internet, many Iron Maiden fans believed that the band was playing a prank. It has been the cause of much controversy amongst fans and is generally quite disliked. Images of the album's cover briefly circulated as an Internet meme as it was ridiculed by many fans and casual observers alike.
Genre not found
Artist not found
Album not found
Search results not found
Song not found
One, two,
A one, two, three, four
I'm gonna organize some changes in my life
I'm gonna exorcise the demons of my past
I'm gonna take the car and hit the open road
I'm feeling ready to just open up and go
And I just feel I can be anything
That all I might ever wish to be
And fantasize just what I want to be
Make my wildest dreams come true
I'm on my way
Out on my own again
I'm on my way
Out on the road again
When I remember back to how that things just used to be
And I was stuck inside a shroud of misery
I felt I'd disappeared so deep inside myself
I couldn't find a way to break away my hell
When I'm feeling down and low
I vow I'll never be the same again
I just remember what I am
And visualize just what I'm gonna be
I'm on my way
Out on my own again
I'm on my way
I'm gonna breakaway
I'm gonna breakaway
I'm out on my own
I'm out on my own
Gonna breakaway
Breaking away
I'm on my way
Out on my own again
I'm on my way
I'm on the road again
I'm on my way
Out on my own again
I'm on my way
I'm gonna breakaway
Lyrics © BMG Rights Management, Universal Music Publishing Group
Written by: Adrian Frederick Smith, Stephen Percy Harris

Lyrics Licensed & Provided by LyricFind
To comment on specific lyrics,
highlight them