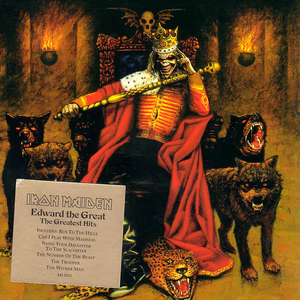 Edward the Great was Iron Maiden's third "best-of album" (counting their 1999 video game Ed Hunter which came with a 20 track best of CD with songs chosen by the fans), and was released on November 5, 2002 along with the massive Eddie's Archive box set, as a way to introduce new fans to Maiden. However, many older fans complained about the lack of exclusive or rare material on it. Another complaint of many was that the album lacked material from the first two Iron Maiden albums, Iron Maiden and Killers which featured Paul Di'Anno on vocals. In 2005, a
Read Full Bio
Edward the Great was Iron Maiden's third "best-of album" (counting their 1999 video game Ed Hunter which came with a 20 track best of CD with songs chosen by the fans), and was released on November 5, 2002 along with the massive Eddie's Archive box set, as a way to introduce new fans to Maiden. However, many older fans complained about the lack of exclusive or rare material on it. Another complaint of many was that the album lacked material from the first two Iron Maiden albums, Iron Maiden and Killers which featured Paul Di'Anno on vocals.

In 2005, a revised edition was released in Europe, Asia and South-America, with a slightly different tracklist. This "updated" version was to coincide with the release of The Essential Iron Maiden compilation that was released in North America. The revised edition features some songs from the Dance of Death album, and a different live version of "Fear of the Dark". The new version also adds the song "Brave New World" from the album of the same name. The booklet includes a new foreword by Iron Maiden manager Rod Smallwood, whereas the original version has a foreword by founding member Steve Harris. The album cover does not differentiate between the two other than the tracklisting - some shops still sell old stock of the original. In some cases, record distributors accidentally released the revised 2005 version CD with the old track list still on the album sleeve, although this mistake has since been corrected.
Genre not found
Artist not found
Album not found
Search results not found
Song not found
Run to the Hills
Iron Maiden Lyrics
White man came across the sea
He brought us pain and misery
He killed our tribes, he killed our creed
He took our game for his own need
We fought him hard, we fought him well
Out on the plains we gave him hell
But many came, too much for Cree
Oh, will we ever be set free?
Riding through dust clouds and barren wastes
Galloping hard on the plains
Chasing the redskins back to their holes
Fighting them at their own game
Murder for freedom the stab in the back
Women and children are cowards, attack
Run to the hills
Run for your lives
Run to the hills
Run for your lives
Soldier blue in the barren wastes
Hunting and killing's a game
Raping the women and wasting the men
The only good Indians are tame
Selling them whiskey and taking their gold
Enslaving the young and destroying the old
Run to the hills
Run for your lives
Run to the hills
Run for your lives
Yeah
Ah, ah, ah, ah
Run to the hills
Run for your lives
Run to the hills
Run for your lives
Run to the hills
Run for your lives
Run to the hills
Run for your lives
Lyrics © BMG Rights Management, Universal Music Publishing Group
Written by: Stephen Percy Harris

Lyrics Licensed & Provided by LyricFind
To comment on specific lyrics,
highlight them