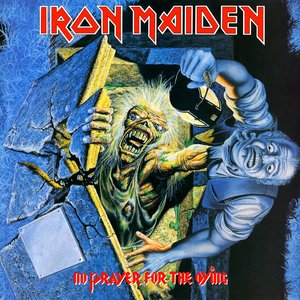 No Prayer for the Dying is the eighth studio album by the British heavy metal band Iron Maiden. It is the first album recorded following the departure of guitarist Adrian Smith who left the band during the pre-production phase of the album. Smith does have one co-writing credit on this album, for Hooks in You, the third installment of the ongoing story of Charlotte the Harlot. The album ushered in a change of vocal style for Bruce Dickinson from the operatic sound of the '80s to a raspier way of singing. No Prayer for the Dying also produced Maiden's only
Read Full Bio
No Prayer for the Dying is the eighth studio album by the British heavy metal band Iron Maiden. It is the first album recorded following the departure of guitarist Adrian Smith who left the band during the pre-production phase of the album. Smith does have one co-writing credit on this album, for Hooks in You, the third installment of the ongoing story of Charlotte the Harlot. The album ushered in a change of vocal style for Bruce Dickinson from the operatic sound of the '80s to a raspier way of singing.

No Prayer for the Dying also produced Maiden's only number one single to date, Bring Your Daughter... to the Slaughter, originally written and recorded by Dickinson alone for the A Nightmare on Elm Street 5: The Dream Child movie soundtrack. The version that appears on No Prayer for the Dying was rerecorded by the band as a whole. Holy Smoke and Bring Your Daughter... to the Slaughter were released as singles, with the latter reaching the #1 position in the UK charts.

Adrian Smith was replaced by Janick Gers who had assisted Dickinson in the recording of his first solo-album, Tattooed Millionaire, and had also worked with Fish and Ian Gillan, among others.

No Prayer for the Dying is the only Iron Maiden studio album to date without a song exceeding six minutes in length. The album was also the band's first for Epic Records in the US after the band left Capitol Records but remained with EMI for all territories outside the US. Despite promising initial U.S sales, the album did not sell as well as previous Iron Maiden albums, being the first not to turn Platinum in the U.S.

Following Bruce Dickinson's departure from Iron Maiden in 1993, songs from No Prayer for the Dying have been largely ignored at live performances. Only Bring Your Daughter... to the Slaughter has survived in concerts since, but it was only included on a nightly basis in setlists from May-July 2003.
Genre not found
Artist not found
Album not found
Search results not found
Song not found
Trace your way back fifty years
To the glow of Dresden, blood and tears
In the black above by the cruel searchlight
Men will die and men will fight, yeah
Who shot who and who fired first?
Dripping death to wet the blood thirst
No radar lock on skin and bone
The bomber boys are going home
Climb into the sky
Never wonder why
Tailgunner
You're a Tailgunner
Climb into the sky
Never wonder why
Tailgunner
You're a Tailgunner
Climb into the sky
Never wonder why
Tailgunner
You're a Tailgunner
Climb into the sky
Never wonder why
Tailgunner
You're a Tailgunner
Nail that Fokker, kill that son
Gonna blow your guts out with my gun
The weather forecasts' good for war
Cologne and Frankfurt? Have some more, hahaha
Tail end Charlie in the boiling sky
The Enola Gay was my last try
Now that this Tailgunner's gone
No more bombers, just one big bomb, yeah, ooh
Climb into the sky
Never wonder why
Tailgunner
You're a Tailgunner
Climb into the sky
Never wonder why
Tailgunner
You're a Tailgunner
Climb into the sky
Never wonder why
Tailgunner
You're a Tailgunner
Climb into the sky
Never wonder why
Tailgunner
You're a Tailgunner
Lyrics © Universal Music Publishing Group
Written by: Bruce Dickinson, Stephen Percy Harris

Lyrics Licensed & Provided by LyricFind
To comment on specific lyrics,
highlight them