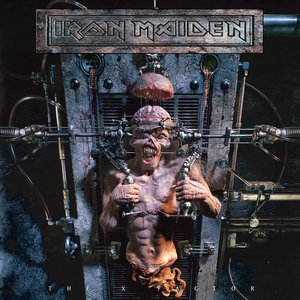 The X Factor is the tenth studio album by Iron Maiden, released in 1995. It is the band's first album to include Blaze Bayley, formerly of Wolfsbane, as vocalist, replacing Bruce Dickinson who left the band following their previous tour to pursue a solo career. The album title came about in the early part of the recording. According to producer Nigel Green: "We all felt that the way things were progressing - the songs, Blaze's new involvement, the sound, the commitment - the new album really would have that extra quality, that bit of magic, that X Factor. This became
Read Full Bio
The X Factor is the tenth studio album by Iron Maiden, released in 1995. It is the band's first album to include Blaze Bayley, formerly of Wolfsbane, as vocalist, replacing Bruce Dickinson who left the band following their previous tour to pursue a solo career.

The album title came about in the early part of the recording. According to producer Nigel Green:

"We all felt that the way things were progressing - the songs, Blaze's new involvement, the sound, the commitment - the new album really would have that extra quality, that bit of magic, that X Factor. This became the working title for the album and we liked it, so we kept it. It is also very apt as this is our tenth studio album and "X" can bring up many images."

Supporting the album was the X Factour tour. Much like the tour for their following album, Virtual XI, it was cut short after Blaze suffered a violent allergic reaction to certain elements used on the stages where the band performed.

The X-Factor's cover art depicts the operation which left Eddie's head broken (first seen on the Piece of Mind album cover) and was created by Hugh Syme. In some releases, the cover was replaced with a less graphic alternative, showing Eddie from a distance, with the original artwork on the back of the booklet. The idea to bring Iron Maiden's longtime mascot Eddie, for whom to that point had always been an animated caricature into 'real form' came from band guitarist Dave Murray.

"Man on the Edge" and "Lord of the Flies" were released as singles. Both of these songs, and "Sign of the Cross," remained in Maiden set lists following Bruce Dickinson's return. Live versions of these songs can be found on the single for "The Wicker Man" and the live albums Death on the Road and Rock in Rio respectively.

"The Edge of Darkness" is based on the 1979 movie, Apocalypse Now, "Man on the Edge" is based on the 1993 movie, Falling Down and Lord of the Flies is based on the novel of the same name. Live versions of "Blood on the World's Hands" and "The Aftermath" can be found in Best of the B'Sides compilation album.
Genre not found
Artist not found
Album not found
Search results not found
Song not found
Sign of the Cross
Iron Maiden Lyrics
Eleven saintly shrouded men
Silhouettes stand against the sky
One in front with a cross held high
Come to wash my sins away
Standing alone in the wind and rain
Feeling the fear that is growing
Sensing the change in the tide again
Caught by the storm that is brewing
Feel the anxiety hold off the fear
Some of the doubt in the things you believe
Now that your faith will be put to the test
Nothing to do but await what is coming
Why then is God still protecting me
Even when I don't deserve it
Thought I am blessed with an inner strength
Some they would call it a penance
Why am I meant to face this alone
Asking the question time and again
Praying to God won't keep me alive
Inside my head feel the fear start to rise
They'll be saying their prayers when the moment comes
There'll be penance to pay when it's judgment day
And the guilty'll bleed when the moment comes
They'll be coming to claim
Take your soul away
The sign of the cross
The name of the rose
A fire in the sky
The sign of the cross
They'll be coming to bring the eternal flame
They'll be bringing us all immortality
Holding communion so the world be blessed
My creator my God, lay my soul to rest
The sign of the cross
The name of the rose
A fire in the sky
The sign of the cross, yeah
The sign of the cross
The name of the rose
A fire in the sky
The sign of the cross
The name of the rose
The sign of the cross
Lost the love of heaven above
Chose the lust of the earth below
Eleven saintly shrouded men
Came to wash my sins away
Lyrics © Universal Music Publishing Group
Written by: Stephen Percy Harris

Lyrics Licensed & Provided by LyricFind
To comment on specific lyrics,
highlight them