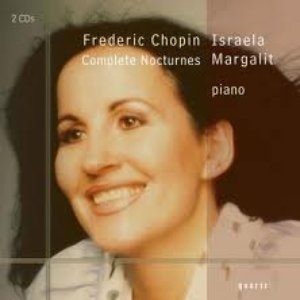 Chopin: Complete Nocturnes
Israela Margalit is a critically acclaimed concert pianist, an award-winning recording artist, playwright, and television writer.

She has appeared as a soloist with fifty of the world's greatest orchestras including the American Big Five of New York, Boston, Cleveland, Philadelphia, and Chicago, the Berlin Philharmonic, Vienna Symphony, the Concertgebouw, the French National, and the Israel, Tokyo, London and Moscow Philharmonics.
She has toured in Europe
Read Full Bio
Israela Margalit is a critically acclaimed concert pianist, an award-winning recording artist, playwright, and television writer.

She has appeared as a soloist with fifty of the world's greatest orchestras including the American Big Five of New York, Boston, Cleveland, Philadelphia, and Chicago, the Berlin Philharmonic, Vienna Symphony, the Concertgebouw, the French National, and the Israel, Tokyo, London and Moscow Philharmonics.
She has toured in Europe, USA, Latin and South America, the Middle East and the Far East, both with orchestras and in recital and chamber music concerts. She recorded extensively for EMI, Chandos, Decca, Universal Classics (UCJ), Koch Int., Black box, Telarc, Quartz, and Resonance, and received the British Music Industry Award for Best CD. She has written critically acclaimed television specials, including a celebrated series with Sir Peter Ustinov, for PBS, Arts&Entertainment, ZDF, ARD, Transtel, Deutsche Welle, and a hundred-episode bible for Russia Channel 1.

Awards for her shows include the Gold Medal in the New York Film & Television Festival, two NEA Media Awards, an Emmy Nomination, and a Certificate of Merit at the Long Island Film Festival. Her stage plays were premiered in New York and Moscow, where "Trio" is currently in its fifth year on the Russian stage. She received the 14th annual New York Short Play Festival award for Outstanding Play.

Her son, Ilann Margalit Maazel, is a civil rights lawyer specializing, pianist, and composer. Her daughter, Fiona Maazel, is a novelist. Her husband, Paul Rauch, is a television and film producer. She speaks Hebrew, English, French, and German, and lives in New York.
Genre not found
Artist not found
Album not found
Search results not found
Song not found