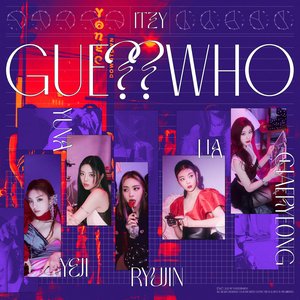 ITZY (있지) is a South Korean girl group formed by JYP Entertainment, consisting of 5 members: Yeji (예지), Lia (리아), Ryujin (류진), Chaeryeong (채령), and Yuna (유나). The group debuted on February 12, 2019 with the title track "달라달라 (DALLA DALLA)" from their debut single album, IT'z Different. On July 8, 2019 it was revealed that ITZY's fandom name would be MIDZY the meaning behind it is "trust" in korean.

The group's first release after debut was their first extended play IT'z ICY on July 28
Read Full Bio
ITZY (있지) is a South Korean girl group formed by JYP Entertainment, consisting of 5 members: Yeji (예지), Lia (리아), Ryujin (류진), Chaeryeong (채령), and Yuna (유나). The group debuted on February 12, 2019 with the title track "달라달라 (DALLA DALLA)" from their debut single album, IT'z Different. On July 8, 2019 it was revealed that ITZY's fandom name would be MIDZY the meaning behind it is "trust" in korean.

The group's first release after debut was their first extended play IT'z ICY on July 28, 2019, which flaunted a summer teen-crush concept and featured the promotional single "ICY."

March 9, 2020 was the release of their second EP IT'z Me. This mini album's promotional single, titled "WANNABE," went viral, predominantly for the song's choreography and the iconic "Ryujin shoulder dance."

The group's third EP, Not Shy, was released on August 17, 2020. "Not Shy" would later be released with all-English lyrics alongside English versions of the past 3 title tracks on January 21, 2021.

On March 20, 2021, Trust Me (MIDZY) was released with two different versions and lyric videos, one being an English version. This song was meant for ITZY's fanbase, MIDZY (믿지).

GUESS WHO is ITZY's fourth EP featuring the title track "마.피.아. IN THE MORNING." It was released on April 30, 2021. On May 14, 2021 Itzy released an English version of the title track named "마.피.아. In The Morning (English Ver.)".

On September 24, 2021, ITZY released their first full-length album, Crazy In Love, along with the title track, "LOCO". The album also included the English version of LOCO and instrumental versions of all of their title tracks.
Genre not found
Artist not found
Album not found
Search results not found
Song not found
In the morning
ITZY Lyrics
Shh
Guess who loves you 나야 나
Do I show you? No야 no
아직 time이 아냐 난
좀 더 가까이 좀 더 가까이 그러다 갑자기 싹
I'ma steal it 마음을 훔쳐
You are gonna love me
결정적일 때 이빨을 드러내는 type
나와 두 눈이 마주쳐도
난 흔들림이 없어 no
널 사랑하는 게 죄라면 범인은 who?
You'll never know
Baby 헷갈려 헷갈려 헷갈리겠지 넌
결국엔 내 거야 내 거야 내 게 되겠지 넌
이제 finally finally 택할 시간이야
벌써 어느새 또 밤이 되었습니다
I'm the mafia (ma-ma-ma-ma-mafia, ya, ya)
We do it like a mafia (ring, ding, ding, ding, ding)
I'm the mafia (ma-ma-ma-ma-mafia, ya, ya)
We do it like a mafia
또 아침이 밝았습니다
어젯밤에도 you don't even know
누구일까 mafia
날이 밝아도 you don't even know
누구일까 mafia
배우보다 더 배우
늑대 가지고 노는 여우
전혀 안 보이겠지 clue
하지만 나에겐 다 계획이 있다고 go
그만 머뭇머뭇대
슬슬 작전 개시
너를 뺏어 뺏어 뺏어 like a caper movie (ready?)
알 수 없는 poker face
점령해 네 맘속 place
Hurry up! Baby, catch me if you can haha!
Baby 헷갈려 헷갈려 헷갈리겠지 넌
결국엔 내 거야 내 거야 내 게 되겠지 넌
이제 finally finally 택할 시간이야
벌써 어느새 또 밤이 되었습니다
I'm the mafia (ma-ma-ma-ma-mafia, ya, ya)
We do it like a mafia (ring, ding, ding, ding, ding)
I'm the mafia (ma-ma-ma-ma-mafia, ya, ya)
We do it like a mafia
누구일까 mafia
마지막 밤이 깊었어 baby
이 밤이 지나면 네 곁엔 나 하나 yeah, yeah
(마) 마침내
(피) 피할 수 없는
(아) 아침이 와 hahaha
I'm the mafia (ma-ma-ma-ma-mafia, ya, ya)
We do it like a mafia (ring, ding, ding, ding, ding)
I'm the mafia (ma-ma-ma-ma-mafia, ya, ya)
We do it like a mafia
또 아침이 밝았습니다
어젯밤에도 you don't even know
누구일까 mafia
날이 밝아도 you don't even know
누구일까 mafia
Lyrics © Sony/ATV Music Publishing LLC, Peermusic Publishing
Written by: Woo Ram Kim, Alina Smith, Annalise Morelli, Hae Sol Lee, Hee Ju Lee, Jin Young Park, Su Bin Kim, Tai Seok Ahn, Woo Hyun Park

Lyrics Licensed & Provided by LyricFind
To comment on specific lyrics,
highlight them