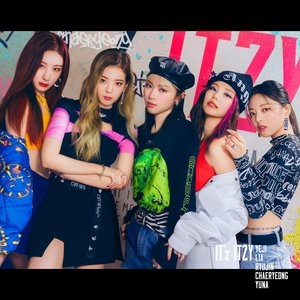 ITZY (있지) is a South Korean girl group formed by JYP Entertainment, consisting of 5 members: Yeji (예지), Lia (리아), Ryujin (류진), Chaeryeong (채령), and Yuna (유나). The group debuted on February 12, 2019 with the title track "달라달라 (DALLA DALLA)" from their debut single album, IT'z Different. On July 8, 2019 it was revealed that ITZY's fandom name would be MIDZY the meaning behind it is "trust" in korean.

The group's first release after debut was their first extended play IT'z ICY on July 28
Read Full Bio
ITZY (있지) is a South Korean girl group formed by JYP Entertainment, consisting of 5 members: Yeji (예지), Lia (리아), Ryujin (류진), Chaeryeong (채령), and Yuna (유나). The group debuted on February 12, 2019 with the title track "달라달라 (DALLA DALLA)" from their debut single album, IT'z Different. On July 8, 2019 it was revealed that ITZY's fandom name would be MIDZY the meaning behind it is "trust" in korean.

The group's first release after debut was their first extended play IT'z ICY on July 28, 2019, which flaunted a summer teen-crush concept and featured the promotional single "ICY."

March 9, 2020 was the release of their second EP IT'z Me. This mini album's promotional single, titled "WANNABE," went viral, predominantly for the song's choreography and the iconic "Ryujin shoulder dance."

The group's third EP, Not Shy, was released on August 17, 2020. "Not Shy" would later be released with all-English lyrics alongside English versions of the past 3 title tracks on January 21, 2021.

On March 20, 2021, Trust Me (MIDZY) was released with two different versions and lyric videos, one being an English version. This song was meant for ITZY's fanbase, MIDZY (믿지).

GUESS WHO is ITZY's fourth EP featuring the title track "마.피.아. IN THE MORNING." It was released on April 30, 2021. On May 14, 2021 Itzy released an English version of the title track named "마.피.아. In The Morning (English Ver.)".

On September 24, 2021, ITZY released their first full-length album, Crazy In Love, along with the title track, "LOCO". The album also included the English version of LOCO and instrumental versions of all of their title tracks.
Genre not found
Artist not found
Album not found
Search results not found
Song not found