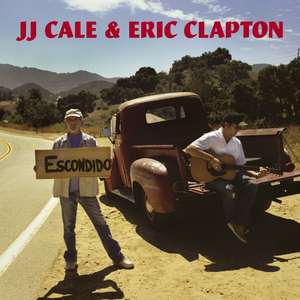 The Road to Escondido is an album by J. J. Cale and Eric Clapton. It was released on November 7, 2006. Contained on this album are the final recordings of Billy Preston, to whom the album is dedicated... RIP In 2004, Eric Clapton held the Crossroads Guitar Festival, a three day festival in Dallas, Texas. Among the performers was J.J. Cale, giving Clapton the opportunity to ask Cale to produce an album for him. The two started working together and eventually decided to record an album. A number of high profile musicians also agreed to work on the album, including
Read Full Bio
The Road to Escondido is an album by J. J. Cale and Eric Clapton. It was released on November 7, 2006. Contained on this album are the final recordings of Billy Preston, to whom the album is dedicated... RIP
In 2004, Eric Clapton held the Crossroads Guitar Festival, a three day festival in Dallas, Texas. Among the performers was J.J. Cale, giving Clapton the opportunity to ask Cale to produce an album for him. The two started working together and eventually decided to record an album. A number of high profile musicians also agreed to work on the album, including Billy Preston, Derek Trucks, Taj Mahal, Pino Palladino, John Mayer, Steve Jordan and Doyle Bramhall II. In a coup, whether intended or not, the entire John Mayer Trio participated on this album in one capacity or another.
Escondido is a city near Cale's hometown of Valley Center, California. Though it is named Escondido, the album title actually references Valley Center.
The album won the Grammy Award for Best Contemporary Blues Album in 2008.

Track listing:
All songs by J. J. Cale except where noted.
"Danger" - 5:34
"Heads in Georgia" - 4:12
"Missing Person" - 4:26
"When This War Is Over" - 3:49
"Sporting Life Blues" (Brownie McGhee) - 3:31
"Dead End Road" - 3:30
"It's Easy" - 4:19
"Hard to Thrill" (Eric Clapton/John Mayer) - 5:11
"Anyway the Wind Blows" - 3:56
"Three Little Girls" (Eric Clapton) - 2:44
"Don't Cry Sister" - 3:10
"Last Will and Testament" - 3:57
"Who Am I Telling You" - 4:08
"Ride the River" - 4:35

Personnel

J.J. Cale: Guitars, keyboards, vocals.
Eric Clapton: Guitars, vocals.
Derek Trucks: Guitar.
Jim Karstein: Drums, percussion.
James Cruce: Drums, Percussion.
Pino Palladino: Bass guitar
Steve Jordan: Drums.
Abe Laboriel, Jr: Drums.
Gary Gilmore: Bass guitar.
Willie Weeks: Bass guitar.
John Mayer: Guitar.
Albert Lee: Guitar.
Billy Preston: Hammond Organ, Fender Rhodes, Wurlitzer.
Walt Richmond: Piano.
Doyle Bramhall II: Guitar.
Nathan East: Bass guitar.
Christine Lakeland: Guitar, vocals.
Simon Climie: Percussion.
David Teegarden: Percussion.
Taj Mahal: Harmonica.
Dennis Caplinger: Fiddle.
Bruce Fowler: Horns.
Marty Grebb: Horns.
Steve Madaio: Horns.
Jerry Peterson: Horns.

Production:
Eric Clapton: Producer, Concept.
Simon Climie: Programming, Producer, Digital Editing.
Alan Douglas: Engineer.
Bob Ludwig: Mastering.
Mike Kappus: Management.
Lee Dickson: Guitar Technician.
Catherine Roylance: Art Direction.
Joel Evenden: Digital Editing.
Nigel Carroll: Personal Assistant.
Genre not found
Artist not found
Album not found
Search results not found
Song not found
Danger, she's out into the night
Danger, she's such a pretty sight
She was treated so badly it seems
Now she's lookin' for a dream
Danger, she's out into the night
Danger, she walks the streets alone
Danger, all the boys she don't know
All the men, they look her way
Could be hers, hers today
Danger, she's out into the night
Walked into a love affair
Didn't seem going nowhere
With no choice, she thought she might
Now she took the rule right into the night
Danger, she walks the streets alone
All the boys she now knows
And all the men, who look her way
Could be hers today
Risk she'd take to find someone new
She don't know where or who
She wants to do, doin' it right
She's gone out into the night
Danger, she's out into the night
Danger, she's such a pretty sight
Danger, she's out into the night
Danger, she's such a pretty sight
Danger, she's out into the night
Danger, she's such a pretty sight
Lyrics © BMG Rights Management, Warner Chappell Music, Inc.
Written by: J.J. CALE

Lyrics Licensed & Provided by LyricFind
To comment on specific lyrics,
highlight them