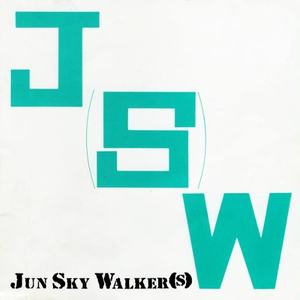 JUN SKY WALKER(S) is a punk rock band, from Japan. Members are: on Vocal - 宮田和弥(Miyata Kazuya) also in charge of writing songs, on Guitar - 森純太(Mori Junta) leader of the band, on Bass - 寺岡呼人(Teraoka Yohito) also music producer and solo musician he replaced in 1988 former 1st bassist 伊藤毅(Itou Tsuyoshi), and on Drums - 小林雅之(Masayuki Kobayashi). Band is formed around 1980, when Miyata, Junta, Itou and Kobayashi were students. They went really popular and before band going major in 1988, bassist Itou left to join THE STREET BEATS and signed to Yamaha Music. Soon after, the same year
Read Full Bio
JUN SKY WALKER(S) is a punk rock band, from Japan. Members are: on Vocal - 宮田和弥(Miyata Kazuya) also in charge of writing songs, on Guitar - 森純太(Mori Junta) leader of the band, on Bass - 寺岡呼人(Teraoka Yohito) also music producer and solo musician he replaced in 1988 former 1st bassist 伊藤毅(Itou Tsuyoshi), and on Drums - 小林雅之(Masayuki Kobayashi).
Band is formed around 1980, when Miyata, Junta, Itou and Kobayashi were students. They went really popular and before band going major in 1988, bassist Itou left to join THE STREET BEATS and signed to Yamaha Music. Soon after, the same year band found replacement bassist Yohito. Their major debut was on May 21, 1988, with 1st Mini-Album 「全部このままで」(Zenbu kono mama de), signed with label Toy's Factory.
Next year, on June 21 in 1989, band released Album 「歩いていこう」(Aruiteikou) and it hit 3rd place on Oricon chart. It followed to their 1st Live at Nippon Budokan in their first year after major debut.
Band started performing Live, becoming more and more popular doing nationalwide tours. In 1994 they moved to EPIC Sony Records, and on 21st May released their 8th album 「DAYS」.
After releasing their 10th album 「EXIT」 on 1st July, 1996, band decided to split up. They announced the dissolution in January 1997, and after release of Best Last Album 「MY GENERATION」, band performed dissolution "HELLO" Live Tour when they disbanded in live at Hibiya Amphitheater June 14 at the last day of tour.
JUN SKY WALKER(S) was one of the most popular bands in the genre. This band was a direct influence on another bands like Mr.Children, Spitz..
After disband in 1997, members followed their solo activities until 2007, when they decided to reunite.
In September 2007, members announced reuniting for the first time 10 years after disbanding and prepared playing at ''J(S)W 20th ANNIVERSARY PRE FESTIVAL'' in the four locations starting with Kobe from November. They started participating in Music Festivals, and in 2008 releasing their 12th single and first one after reuniting 「青春」(Seishuun) under Toy's Factory label. Soon after followed their Tour held around September-October, named ''J (S) W 20th ANNIVERSARY LAST TOUR "THANK YOU", held at the 16 locations nationwide.
In 2011 for April, in response to the Tohoku region Pacific Ocean earthquake, band held a charity live, and announced that it would resume activities. At the end of year, in December they released 1st TSUTAYA Limited SIngle「シンフォニー/全部このままで」(Symphony) , under Ivy Records.
In January 2012 they re-recorded the best album release 「B(S)T」, which followed album related tour around February-April period.
Band released their 11th Album 「LOST&FOUND」 1st time after reuniting, on April 2012 under Ivy Redords. And in December same year, they released 2nd TSUTAYA Rental Limited Single 「マザー/BEAUTIFUL WORLD」.
On January 2013 followed release of single 「虹」(rainbow), which main song was appointed by Fuji TV as ending theme song for anime "Toriko".
And soon after, in February the same year, release of 12th Original album 「FLAGSHIP」. Band went from March to May to held "J (S) W 25th TOUR ~Anniversary~" live tour.
In 2014 on 11th January, band held "25TH ANNIVERSARY LIVE BEST of JUN SKY WALKER (S)" at the Nippon Budokan.
Genre not found
Artist not found
Album not found
Search results not found
Song not found
We have lyrics for these tracks by JUN SKY WALKER(S):



BAD MORNING 縛られた規則の中で, 震えるしゃがみ込んでる SUICIDE MONKEY 感違いの淋しさの中で、 とぼけた明日を占う …
HEAVY DRINKER 朝起きたら手足が痛えぜ やけに目にしみるぜおてんとう様 心配だな金の切れるのが 金の切れめは縁の切れ目 そうさ俺はヘビー…
Jack & Betty けっこうな生き方さ ずるがしこいオマエ オレには出来ないぜ 笑顔の真似なんか JACK JACK JACK どこへ行って…
MY GENERATION ギラついた視線をやさしくするため 太陽に背を向け歩き続けた うそをうつさない本当の鏡は 一体どこで手に入れるのだろう …
START この時が永遠に 続くかもしれない 今までも明日も 君といるから 夢を見ていたね 僕も同じ夢を見た 新しい物語 主人公を決…
いつもここにいるよ 新しい物も ほら 汚れてしまったよ きれいに咲いた花も 誰かの笑顔も しゃべりたいことを ほら すぐしゃべればいいのさ …
いつも二人で 君を見た時感じた事は いつも仲よくいっしょに歩きたい そう思い出した頃、雪が降り 外は寒くてもあたたかかった 君を見る…
すてきな夜空 二人でゆっくり過ごしたいけれど 君にも僕にもやる事がある 相性はあってないけど そんなには知らないけれど 心がはずむ 初…
ひとつ抱きしめて 詰め込まれた言葉を繰り返す 大人も子供も ウソだらけいつも真似ばかり 乾いた人達 汚れた血の流れる上にいる人達 真実に…
ガラスの街 ネオンライト 淋しげに灯れば 派手にキメた 蛍たちが踊る 純情なんて笑われる 恋も世間じゃ流行(はやり)すたりさ 一夜(…
メロディー 厚い雲が遠くから僕を にらみつけて 追いかけてくるよ 穴のあいたあの光の中 手を延ばして 走り続けるよ 消えていく あの…
休みの日 休みの日が終わる 最後の夜は明日が 来なければいいなと思う 君のくれた時計は 僕のものなのに時間を 止めてあげることがで…
僕と勇気とありふれたLove Song 流れる人の波もとぎれ 時が止まる 僕の手 強くにぎりしめて うつむく 最後の電車が 君を迎えにホームに入る 明日は二人 …
全部このままで 何もかも 昨日までの 最高だった様な 気持ちのままでいたい 去って行く夢たちよ いつからか いつだって やりたい事を …
声がなくなるまで 二人はいつも寄り添いあって 夢の続きを組み立ててたのに 君が笑えば僕も笑った 流れる雲を眺めていたのに 歌ってあげるよ…
明日が来なくても 明日が来なくても、僕と君がここで死んでも 昨日という日は、確かにあった僕の中に 遠く離れていく あの日の事が 人の目を…
歩いていこう 言葉じゃたりなくて 気持ちじゃ見えなくて から回りしている時の中 走って来た なぜか 君の目は 悲しく語っていた 自分を…
白いクリスマス 寒い晴れた空は 君が遠くに見えた 終わりのない 約束ができたらね なくした あの気持ち 吐息が消えるように 時がくればい…
風見鶏 愛し続けてても 愛され続けても 二人の行く手には 高い壁がある いつもの帰り道 なんだか淋しくて 君の大好きな歌を 口笛…

The lyrics can frequently be found in the comments below, by filtering for lyric videos or browsing the comments in the different videos below.