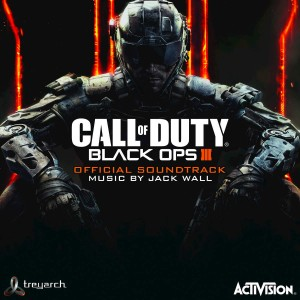 Call of Duty: Black Ops III (Official Soundtrack)
Jack Wall is an American video game music composer. He has worked on video game music for over 20 games including the Myst franchise, Splinter Cell, Jade Empire, and Mass Effect. Wall earned a degree in civil engineering from Drexel University in Philadelphia, Pennsylvania, and, after a brief stint working in civil engineering, transitioned into music production. He worked with musicians such as John Cale, David Byrne, and Patti Smith, and, after performing increasingly complex production and sound engineering tasks
Read Full Bio
Jack Wall is an American video game music composer. He has worked on video game music for over 20 games including the Myst franchise, Splinter Cell, Jade Empire, and Mass Effect. Wall earned a degree in civil engineering from Drexel University in Philadelphia, Pennsylvania, and, after a brief stint working in civil engineering, transitioned into music production. He worked with musicians such as John Cale, David Byrne, and Patti Smith, and, after performing increasingly complex production and sound engineering tasks, moved into music composition in 1995.

Wall immediately began working in the video game industry, composing the soundtrack to Vigilance. Primarily composing in an orchestral style, by 2001 he composed the soundtrack to Myst III: Exile, which was the title he says put him on the map as a video game composer. In 2002, Wall became one of around 20 co-founders of the Game Audio Network Guild (G.A.N.G.) as well as senior director. In 2005, Wall, along with G.A.N.G. founder and fellow composer Tommy Tallarico, produced the Video Games Live concert series. Wall serves as the conductor for the international concert tour. His latest released soundtrack is that of 2012's Call of Duty: Black Ops II. His soundtracks for Myst III: Exile, Myst IV: Revelation, Rise of the Kasai, Jade Empire, and Mass Effect have been nominated for and won multiple awards.
Genre not found
Artist not found
Album not found
Search results not found
Song not found
We have lyrics for 'I Live' by these artists:



Bad Boys Blue My world. All my walls are broken down. I don't want…
Cage You know right from the start They rip society apart With …
Daily Planet Move in me as You must Breathe Your life into this…
Dan Arborise We tend the spark, it burns so fast, One thing I've…
Dr. No feat. Karolina Kozak Something told me it was over When I saw you and…
Dr.No Something told me it was over When I saw you and…
Jason Falkner Swear to God, cross my heart, stick a needle right…
Nemesea You and me A guarantee All i know And all i long for You…
Pastor Brad I'm overwhelmed! Stressed to the max! Don't know if I can…
The Fixx And the feeling just ain't right As I stare into the…
Tim Rushlow Like a song that has no words My life was incomplete…



We have lyrics for these tracks by Jack Wall:



Exile You're in exile from me Because its you that I can't…
Main Theme Narani (D'ni dialect) Chorus Tomahna, Edanna, Amateria, Vol…

The lyrics can frequently be found in the comments below, by filtering for lyric videos or browsing the comments in the different videos below.