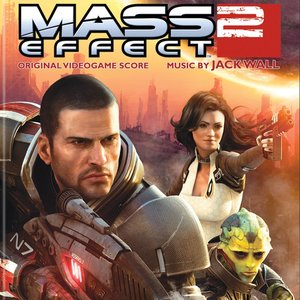 The Original Soundtrack for the game Mass Effect 2. The music of Mass Effect 2 was primarily composed by Jack Wall. His previous work with BioWare was as the main composer for Jade Empire and the original Mass Effect. The score also features some pieces by Sam Hulick, David Kates, and Jimmy Hinson, with additional editing and in-game implementation by Brian DiDomenico. Unlike the original Mass Effect, the composers aimed for a darker and more mature sound to match the mood of the game. The music incorporates both orchestral and classic sci-fi arrangements which were inspired by the soundtrack of
Read Full Bio
The Original Soundtrack for the game Mass Effect 2.

The music of Mass Effect 2 was primarily composed by Jack Wall. His previous work with BioWare was as the main composer for Jade Empire and the original Mass Effect. The score also features some pieces by Sam Hulick, David Kates, and Jimmy Hinson, with additional editing and in-game implementation by Brian DiDomenico. Unlike the original Mass Effect, the composers aimed for a darker and more mature sound to match the mood of the game. The music incorporates both orchestral and classic sci-fi arrangements which were inspired by the soundtrack of the cult classic film Blade Runner and music by German electronic group Tangerine Dream. The harmonic structure of Wendy Carlos's Tron soundtrack also represented significant influences. To complement each character, the composers gave them their own theme song to convey their personalities and backgrounds. According to Kates, "it was one of our mandates to create a dynamic score that expressed a wide range of emotions."
Genre not found
Artist not found
Album not found
Search results not found
Song not found
Humans Are Disappearing
Jack Wall Lyrics
We have lyrics for these tracks by Jack Wall:



Exile You're in exile from me Because its you that I can't…
Main Theme Narani (D'ni dialect) Chorus Tomahna, Edanna, Amateria, Vol…

The lyrics can frequently be found in the comments below, by filtering for lyric videos or browsing the comments in the different videos below.