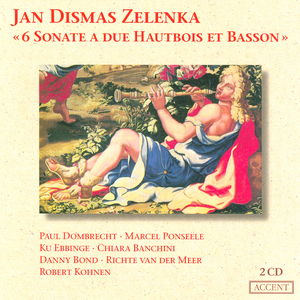 Zelenka: Trio Sonatas Nos. 1-6
Jan Dismas Zelenka (1679-1745) was a Czech baroque composer, whose music was adventurous and noted for its great harmonic invention and mastery of counterpoint.

Zelenka was born in 1679 in Louňovice pod Blaníkem, Czechia, and received his early musical training from his father who was a schoolmaster and organist in Louňovice pod Blaníkem. It is thought that his early formal training was at a Jesuit college. After working in the service of Baron Hartig
Read Full Bio
Jan Dismas Zelenka (1679-1745) was a Czech baroque composer, whose music was adventurous and noted for its great harmonic invention and mastery of counterpoint.

Zelenka was born in 1679 in Louňovice pod Blaníkem, Czechia, and received his early musical training from his father who was a schoolmaster and organist in Louňovice pod Blaníkem. It is thought that his early formal training was at a Jesuit college. After working in the service of Baron Hartig, imperial governor of Prague, Zelenka moved in 1710 to Dresden where he played the violone (double-bass viol) in the court orchestra. His musical studies continued in Vienna and Venice between 1715 and 1716. He returned to Dresden around 1719 as assistant to Kappelmeister Johann David Heinichen. Despite taking on many of the Kappelmeister's duties during Heinichen's years of ill health and eventual death, Zelenka was denied the prestigious post he aspired to. He spent his last ten years in the lesser post of "church music composer" at the court, dying in Dresden in 1745. Many of his surviving manuscripts are for sacred works.
Genre not found
Artist not found
Album not found
Search results not found
Song not found
Trio Sonata No. 1 in F Major ZWV 181: I. Adagio Ma Non Troppo
Jan Dismas Zelenka Lyrics
No lyrics text found for this track.

The lyrics can frequently be found in the comments below, by filtering for lyric videos or browsing the comments in the different videos below.

Help us build the world's largest lyrics collection by contributing lyrics in the comments below.