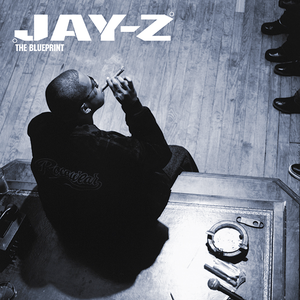 The Blueprint is the legendary sixth studio album by American rapper Jay-Z, released September 11, 2001 on Roc-A-Fella Records in the United States. Its release was set a week earlier than initially planned in order to combat bootlegging. Recording sessions for the album took place during 2001 at Manhattan Center Studios and Baseline Studios in New York City. Contrasting the radio-friendly sound of Jay-Z's previous work, The Blueprint features soul-based sampling and production handled primarily by Kanye West and Just Blaze. At the time of its recording, Jay-Z was awaiting two criminal trials, one for gun possession and another for
Read Full Bio
The Blueprint is the legendary sixth studio album by American rapper Jay-Z, released September 11, 2001 on Roc-A-Fella Records in the United States. Its release was set a week earlier than initially planned in order to combat bootlegging. Recording sessions for the album took place during 2001 at Manhattan Center Studios and Baseline Studios in New York City. Contrasting the radio-friendly sound of Jay-Z's previous work, The Blueprint features soul-based sampling and production handled primarily by Kanye West and Just Blaze. At the time of its recording, Jay-Z was awaiting two criminal trials, one for gun possession and another for assault, and had become one of hip hop's most dissed artists, receiving insults from rappers such as Nas, Prodigy, and Jadakiss. In spite of its release coinciding with the 9/11 attacks, The Blueprint sold over 420,000 copies in its opening week, becoming Jay-Z's fourth consecutive album to reach number one on the Billboard 200 chart. It was certified double platinum as sales stand at over two million units in the U.S.

The Blueprint is a landmark release in Jay-Z's extensive catalog, and is consistently ranked among the greatest hip-hop albums of all time. Complex Magazine named it the top album of the 2000's and in 2019 The Blueprint was selected by the Library of Congress for preservation in the National Recording Registry for being "culturally, historically, or aesthetically significant." It is also gave producer Kanye West his big break in the mainstream after years working in the Chicago underground scene. West produced four of the album's 13 tracks, namely the lead single "Izzo (H.O.V.A.)," as well as the infamous Nas diss "Takeover" and the soulful favorite "Heart of the City (Ain't No Love)." 3 years later Kanye released his instant-classic debut album The College Dropout, which included a verse from Jay on the track "Never Let Me Down."
Genre not found
Artist not found
Album not found
Search results not found
Song not found
The Ruler's Back
JAY-Z Lyrics
Uh-huh uhh, uhh, uh-uhh
Uh-huh uhh, uhh, uhh
Woo! Woo! Woo! Woo!
I am back niggas
Ha ha ha ha ha
Uh-oh, uh-oh woo!
Ladies and gentlemen
H, to the Izzo
I wanna thank everybody out there for they purchase
I surely appreciate it, woo!
What you about to witness is my thoughts
Just my thoughts man, right or wrong
Just what I was feeling at the time, uhh
You ever felt like this, vibe with me
Walk with a nigga man, just vibe with me
Yo, gather round hustlers
That's if you still livin'
And get on down to that ol' Jig rhythm
Here's a couple of jewels to help you get through your bid in prison
A ribbon in the sky, keep your head high
I, Young 'Vito, voice of the young people
Mouthpiece for hustlers, I'm back motherfuckers
Your reign on the top was shorter than leprechauns
Y'all can't fuck with Hov', what type of X y'all on?
I got great lawyers for cops so dress warm
Charges don't stick to dude, he's Teflon
I'm too sexy for jail like I'm Right Said Fred
I'm not guilty, now gimme back my bread
Mr. District Attorney, I'm not sure if they told you
I'm on TV everyday, where the fuck could I go to?
Plus Hov' don't run, Hov' stand and fight
Hov' a soldier, Hov' been fightin' all his life so
What could you do to me? It's not new to me
Sue me? Fuck you, what's a couple dollars to me?
But you will respect me, simple as that
Or I got no problem goin' back
I'm representin' for the seat where Rosa Parks sat
Where Malcolm X was shot, where Martin Luther was popped
So off we go, let the trumpets blow
And hold on, because the driver of the mission is a pro
The ruler's back
Uhh, uh-huh uhh uhh
I am back niggas
Yeah, yeah, yeah
Turn the motherfuckin' music up
The ruler's back
I am back niggas
Yeah, yeah, yeah, yeah
Yeah, yeah, yeah, yeah
Well, in these times, well at least to me
There's a lot of rappers out there tryin' to sound like Jay-Z
I'll help you out, here's what you do
You gonna need a wide lens 'cause that's a very big shoe
And you got a couple of beans and you don't have a clue?
You situation is bleek, I'ma keep it real 'cause
Fuckin' with me, you gotta drop a mil'
'Cause if you gonna cop somethin' you gotta cop for real
Don't only talk it, walk like it
From the bricks to the booth
I could predict the future like Cleo the psychic
You can't date skee-os and wife it
And you can't sell me bullshit, we know the prices
So what your life is?
We gon' roll 'til the wheels fall off, y'all muh'fuckers check the tires
Off we go, let the trumpets blow
And hold on, because the driver of that Bentley is a pro
The ruler's back
Uhh, uhh
I am back niggas
Feels good! Ha
Pah, holla at me!
The ruler's back
Yeah, woo!
Yeah, yeah, yeah
Now bounce, come on bounce
Uhh, woo! Woo!
Bounce, come on bounce
Uhh, uhh, yeah, yeah
Bounce, come on bounce
Uhh, yeah, just my thoughts ladies and gentlemen
Just what I'm feelin at the time, you know what I mean?
Knahmean?
Lyrics © Sony/ATV Music Publishing LLC, Warner Chappell Music, Inc.
Written by: Shawn C Carter, Phillip L Hurtt, Walter B Sigler

Lyrics Licensed & Provided by LyricFind
To comment on specific lyrics,
highlight them