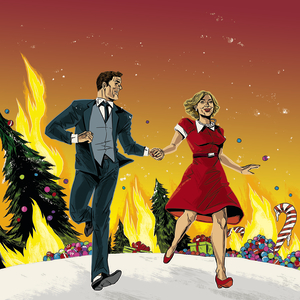 Jeremy Messersmith is an American indie pop musician, based in Minneapolis.

Messersmith is not only a musician is half-truth, but also a storyteller. His first full-length release The Alcatraz Kid is a moving collection of acoustic-driven lullabies with titles like "Novocain" and "Beautiful Children" that innocently question the purpose of things to come. The integrity of these delicate songs immediately struck a chord with critics and fans alike
Read Full Bio
Jeremy Messersmith is an American indie pop musician, based in Minneapolis.

Messersmith is not only a musician is half-truth, but also a storyteller. His first full-length release The Alcatraz Kid is a moving collection of acoustic-driven lullabies with titles like "Novocain" and "Beautiful Children" that innocently question the purpose of things to come. The integrity of these delicate songs immediately struck a chord with critics and fans alike, and captured the attention of Semisonic's Dan Wilson, who offered to produce Messersmith's follow-up album, The Silver City.

The Silver City was a natural progression in sound and reflection: the compositions grew fuller and more dynamic with a classic-pop feel inspired by the Beach Boys and Beatles: While the topics focused on midlife struggles with tracks like "Dead End Job" and "Miracles." Local and national attention soon followed with NPR and college stations around the country, followed by U.S. tours and sold-out shows in New York, Chicago and Minneapolis.

The Reluctant Graveyard bookends this trilogy of lifelong (ahem, literary) observations with songs like "Lazy Bones" and "Organ Donor," and sonically continues on the '60s chamber pop path Messersmith set out with his sophomore release. He continues to share stages with notables such as Sondre Lechre and The Watson Twins, and has been featured on MTV and Ugly Betty.
Genre not found
Artist not found
Album not found
Search results not found
Song not found
We have lyrics for these tracks by Jeremy Messersmith:



7:02 I've heard that life is more than just what we paint…
A Girl a Boy and a Graveyard Lucy takes the long way home Meets me in a field…
Beautiful Children Warm house, cold hands I was standing outside trying to fin…
Breaking Down I've got a car that's always stuck in the last…
Bridges We could take the Buick Lately we've been walking Stomping…
Bubblin' She's all right I'm uptight Why carry so much heaviness? …
Day Job She's tired of flat lands and cornfields Seashells traced i…
Dead End Job Trying hard to stay awake Over time without a break. I'll …
Deathbed Salesman I can tell you've got taste You shouldn't have to settle Y…
Dillinger Eyes I found honest work and lord knows I tried I found…
Easy Lovers Hardly Friends Such a tired face Seattle eyes Oh so blue and green But n…
Franklin Avenue Daylight streaming, On my face, Prognosis looking grim, S…
Ghost One more night in Omaha Bus stop just before the dawn Cold…
Great Times If I had a slightly better life One that's built to…
Heidi His dad's loaded, least that's what he says He's so good…
Hitman I need a hitman for my heart Someone to bump it…
I Want To Be Your One Night Stand I know I may not look like much Guess the years…
It's Only Dancing Late night call, and I'm at your door. Teenage tears, on…
John the Determinist Polished up and standing in a row Wind up the gears,…
Knots Black sweatband, sticks blur in her hands; she's the drummer…
Lazy Bones He plays all night, then sleeps all day Waves at the…
Light Rail If a car's too spendy and your bike's too slow,…
Love You to Pieces I had a thought I never could capture Holding you and…
Miracles Well I come around every now again And the lights…
Novocain I used to be so young But now I'm oh so…
Old Skin When you're old and gray Lines etched upon your face Put y…
Organ Donor I was born in a mortuary Full of worry Ice water in…
Repo Man Fourteen years I was sober I worked hard for my pay Left…
Scientists You shoulda made me a drunkard Shoulda made me a liar Made…
Skyway You take the skyway, high above the busy little one-way In…
Steve Walking in silence The old woods are quiet Nobody watching…
The Commuter Some nights I can't feel my beating heart, I've got a…
Tomorrow Will I see you again? Same time tomorrow Well, I hope so …
Tourniquet When I see you crying If your tears run out I will…
Toussaint Grey First in Life and Death Racing up and down the halls Footsteps echo off the walls …
Violet Violet Streaks of earth matted in her hair Beaten down, but …
Violet! Streaks of earth matted in her hair Beaten down, but she…
Welcome to Suburbia Welcome to Suburbia Welcome to the rest of life there's no…
You'll Only Break His Heart You hate the cold But love the winter Minnesota night Lat…

The lyrics can frequently be found in the comments below, by filtering for lyric videos or browsing the comments in the different videos below.