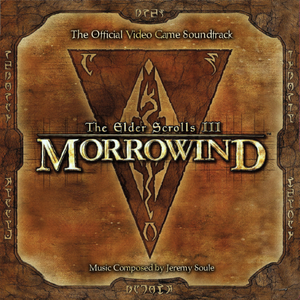 The Elder Scrolls III: Morrowind
Morrowind's soundtrack was composed by Jeremy Soule, who also composed Oblivion's soundtrack and Skyrim's soundtrack.
The soundtrack was nominated for the Outstanding Achievement in Original Music Composition award of the Academy of Interactive Arts & Science, but lost out to Medal of Honor: Frontline.

Most tracks were given a title on the soundtrack CD ("Original Title") included in the Collector's Edition of Morrowind, and later another title
Read Full Bio
Morrowind's soundtrack was composed by Jeremy Soule, who also composed Oblivion's soundtrack and Skyrim's soundtrack.
The soundtrack was nominated for the Outstanding Achievement in Original Music Composition award of the Academy of Interactive Arts & Science, but lost out to Medal of Honor: Frontline.

Most tracks were given a title on the soundtrack CD ("Original Title") included in the Collector's Edition of Morrowind, and later another title ("Remastered Title") when Jeremy Soule released a remastered version of the Morrowind soundtrack on DirectSong. The Original Title also corresponds to the 15-track CD seen on sites such as this one. The remastered album also contains three additional tracks and modified the order.

Although the soundtrack is available for purchase from DirectSong, the same music can be found in the Morrowind data folder in MP3 format, except for Darkened Depth, The Prophecy Fulfilled, and the title theme reprise. Also, Introduction is not available as an MP3 in a Morrowind installation, but is embedded in the mw_intro.bik animation file played when starting a new game.

One of the songs,Nerevar Rising Reprise, was meant to be in Oblivion. But as it ended up not being used in the game, it was then placed into the Morrowind Special Edition Soundtrack.

Desperation and Call of Magic are available for download on the official site.

Six songs from the soundtrack are featured in Shadowkey.

All explore songs (except the title theme, Call of Magic/Nerevar Rising) from the soundtrack are featured in the Dragonborn add-on for Skyrim.
Genre not found
Artist not found
Album not found
Search results not found
Song not found
We have lyrics for these tracks by Jeremy Soule:



Dragonborn Dovahkiin, Dovahkiin naal ok zin los vahriin wah dein voku…
Dragonsreach Dovahkiin Dovahkiin Naal ok zin los vahriin wah dein vokul…
Main Theme Dovahkiin Dovahkiin Naal ok zin los vahriin wah dein vokul…
Sovngarde Dovahkiin, Dovahkiin, naal ok zin los vahriin, wah dein vo…

The lyrics can frequently be found in the comments below, by filtering for lyric videos or browsing the comments in the different videos below.