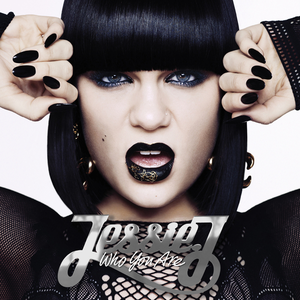 Who You Are (Platinum Edition)
Described by Justin Timberlake as "the best singer in the world right now," Jessie J has received the kind of hype that could suffocate the careers of lesser fledgling artists before they've even begun. However, backed-up by a thriving songwriting sideline (she penned Miley Cyrus' number two Billboard smash "Party in the USA"), her debut album, Who You Are, reveals she's more than capable of coping with the pressure. Blessed with an astonishing voice
Read Full Bio
Described by Justin Timberlake as "the best singer in the world right now," Jessie J has received the kind of hype that could suffocate the careers of lesser fledgling artists before they've even begun. However, backed-up by a thriving songwriting sideline (she penned Miley Cyrus' number two Billboard smash "Party in the USA"), her debut album, Who You Are, reveals she's more than capable of coping with the pressure. Blessed with an astonishing voice, she shifts effortlessly from emotive, tender restraint to hurricane-force powerhouse in the space of mere minutes. But Who You Are is more than just a showcase for her impressive set of pipes. Produced by Dr. Luke (Pink), Toby Gad (Fergie), and the Invisible Men (Sugababes), it's a highly inventive genre-straddling affair which boasts at least half-a-dozen potential chart hits. A re-release of Who You Are (variably called the "Deluxe Edition" or the "Platinum Edition") is scheduled for 14 November 2011. It will include J's second US single "Domino" and two new songs.
Genre not found
Artist not found
Album not found
Search results not found
Song not found
Okay, Coconut man, Moonheads, and Pea
You ready?
Seems like everybody's got a price
I wonder how they sleep at night
When the sale comes first
And the truth comes second
Just stop for a minute and smile
Why is everybody so serious?
Acting so damn mysterious
Got shades on your eyes
And your heels so high
That you can't even have a good time
Everybody look to their left
Everybody look to their right
Can you feel that? Yeah
We're paying with love tonight
It's not about the money, money, money
We don't need your money, money, money
We just wanna make the world dance
Forget about the price tag
Ain't about the, uh, cha-ching, cha-ching
Ain't about the, yeah, ba-bling, ba-bling
Wanna make the world dance
Forget about the price tag
Okay
We need to take it back in time
When music made us all unite
And it wasn't low blows and video hoes
Am I the only the one getting tired?
Why is everybody so obsessed?
Money can't buy us happiness
Can we all slow down and enjoy right now?
Guarantee you we'll be feeling alright
Everybody look to their left (to their left)
Everybody look to their right (to their right)
Can you feel that? Yeah
We're paying with love tonight
It's not about the money, money, money
We don't need your money, money, money
We just wanna make the world dance
Forget about the price tag
Ain't about the, uh, cha-ching, cha-ching
Ain't about the, yeah, ba-bling, ba-bling
Wanna make the world dance
Forget about the price tag
Yeah, yeah, well, keep the price tag (yeah)
And take the cash back
Just give me six strings (six strings)
And a half stack (half stack)
And you can, can keep the cars, leave me the garage
And all I, yes, all I need are keys and guitars
And guess what? In thirty seconds, I'm leaving to Mars
Yeah, we leaping across these undefeatable odds
It's like this man, you can't put a price on the life
We do this for the love, so we fight and sacrifice every night
So we ain't gon' stumble and fall, never
Waiting to see this in a sign of defeat, uh-uh
So we gon' keep everyone moving their feet
So bring back the beat, and then everyone sing
It's not about the money, money, money
We don't need your money, money, money
We just wanna make the world dance
Forget about the price tag
Ain't about the, uh, cha-ching, cha-ching
Ain't about the, yeah, ba-bling, ba-bling
Wanna make the world dance
Forget about the price tag (hey, hey)
It's not about the money, money, money (we don't need it)
We don't need your money, money, money (no I don't, we don't need it)
We just wanna make the world dance (dance, dance your ass of)
Forget about the price tag (ah, ah)
Ain't about the, uh, cha-ching, cha-ching
Ain't about the, yeah, ba-bling, ba-bling (it ain't about)
Wanna make the world dance (yeah, yeah)
Forget about the price tag
Forget about the price tag
Ah, ah, ah, ah, ah, ah, ah, ah
Yeah, yeah, ooh
Forget about the price tag
Lyrics © Universal Music Publishing Group, Sony/ATV Music Publishing LLC, Kobalt Music Publishing Ltd., Warner Chappell Music, Inc.
Written by: Bobby Ray Simmons Jr., Jessica Cornish, Lukasz Gottwald, Claude Kelly

Lyrics Licensed & Provided by LyricFind
To comment on specific lyrics,
highlight them