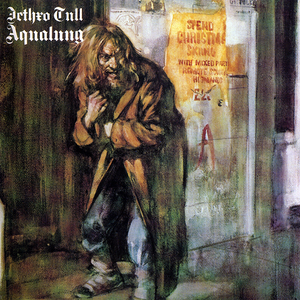 Aqualung is the fourth studio album by the rock band Jethro Tull. Released in 1971, Aqualung, despite the band's disapproval, is regarded as a concept album featuring a central theme of "the distinction between religion and God". The album's "dour musings on faith and religion" have marked it as "one of the most cerebral albums ever to reach millions of rock listeners". Aqualung's success marked a turning point in the band's career, who went on to become a major radio and touring act. Recorded at Island Records' studio in London, it was their first album with John Evan as a
Read Full Bio
Aqualung is the fourth studio album by the rock band Jethro Tull. Released in 1971, Aqualung, despite the band's disapproval, is regarded as a concept album featuring a central theme of "the distinction between religion and God". The album's "dour musings on faith and religion" have marked it as "one of the most cerebral albums ever to reach millions of rock listeners". Aqualung's success marked a turning point in the band's career, who went on to become a major radio and touring act.

Recorded at Island Records' studio in London, it was their first album with John Evan as a full-time member, their first with new bassist Jeffrey Hammond and last album featuring Clive Bunker on drums. Something of a departure from the band's previous work, the album features more acoustic material than previous releases; and—inspired by photographs of homeless people on the Thames Embankment taken by singer Ian Anderson's wife Jennie—contains a number of recurring themes, addressing religion along with Anderson's own personal experiences.

Aqualung has sold over 7 million units worldwide according to Anderson, and is thus Jethro Tull's best selling album. The album was generally well-received critically, and has been included on several music magazine best of lists. The album spawned one single, "Hymn 43", and has been cited as an inspiration by bands such as Iron Maiden.
Genre not found
Artist not found
Album not found
Search results not found
Song not found
Sitting on a park bench
Eying little girls with bad intent
Snots running down his nose
Greasy fingers smearing shabby clothes, hey, Aqualung
Drying in the cold sun
Watching as the frilly panties run, hey, Aqualung
Feeling like a dead duck
Spitting out pieces of his broken luck, oh, Aqualung
Sun streaking cold, an old man wandering lonely
Taking time, the only way he knows
Leg hurting bad as he bends to pick a dog end
He goes down to a bog and warms his feet
Feeling alone, the army's up the road
Salvation a la mode and a cup of tea
Aqualung, my friend, don't you start away uneasy
You poor old sod, you see it's only me
Do you still remember
December's foggy freeze
When the ice that clings on to your beard
It was screaming agony
Hey and you snatch your rattling last breaths
With deep-sea diver sounds
And the flowers bloom like
Madness in the spring
Sun streaking cold, an old man wandering lonely
Taking time, the only way he knows
Leg hurting bad as he bends to pick a dog end
He goes down to a bog and warms his feet
Feeling alone, the army's up the road
Salvation a la mode and a cup of tea
Aqualung my friend don't you start away uneasy
You poor old sod, you see it's only me
Aqualung my friend don't you start away uneasy
You poor old sod, you see it's only me
Sitting on a park bench
Eying up little girls with bad intent
Snots running down his nose
Greasy fingers smearing shabby clothes, hey Aqualung
Drying in the cold sun
Watching as the frilly panties run, hey Aqualung
Feeling like a dead duck
Spitting out pieces of his broken luck, hey Aqualung
Oh Aqualung
Lyrics © BMG Rights Management
Written by: IAN ANDERSON

Lyrics Licensed & Provided by LyricFind
To comment on specific lyrics,
highlight them