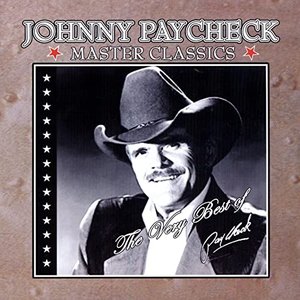 Johnny Paycheck, the Very Best Of
Johnny Paycheck (May 31, 1938 – February 18, 2003) was a country music singer.…
Read Full Bio ↴
Johnny Paycheck (May 31, 1938 – February 18, 2003) was a country music singer. He is most famous for covering the David Allan Coe song "Take This Job And Shove It".

Born Donald Eugene Lytle in Greenfield, Ohio, he began playing guitar by age 6 and made his first record at age 15. After a time served in the United States Navy (which included a court-martial for assault), he began performing under the name Donny Young. The singer took a job with country music star George Jones, for whom he played bass and steel guitar for several years, co-writing Jones' hit song, "Once You've Had the Best." By the 1960s, he had changed his name to Johnny Paycheck, a name similar to Johnny Cash, which has sometimes caused confusion.

A member of the Grand Ole Opry, PayCheck is best remembered for his 1977 cover of, "Take This Job and Shove It" (written by David Allan Coe) which sold over 2 million copies and inspired a motion picture of the same name. Colorado Kool-Aid is another of his most famous songs. In his career, PayCheck recorded eleven songs that made it into country music's top ten chart plus he co-wrote several successful songs for other country singers including "Apartment #9," a hit for Tammy Wynette.

His life was often filled with turmoil and in 1985, PayCheck was convicted of shooting a man in Hillsboro, Ohio and spent two years in prison. His tax problems with the IRS led to his filing for bankruptcy in 1990. Later in the 1990s, he began capitalizing the fourth letter of his name in a style later dubbed CamelCase, preferring to be known as Johnny PayCheck.

PayCheck suffered from drug and alcohol addiction during his career, although he was said to have "put his life in order" [1] after his prison stay. Suffering from emphysema and asthma, after a lengthy illness, Johnny PayCheck died at Nashville's Vanderbilt University Medical Center.

He was interred in Woodlawn Memorial Park Cemetery in Nashville.

He is survived by his wife Sharon PayCheck and son Jonathan PayCheck.
Genre not found
Artist not found
Album not found
Search results not found
Song not found
Johnny Paycheck, the Very Best Of
Johnny Paycheck Lyrics
A-11
I just came in here from force of habit I don't…
Almost Persuaded
Last night all alone in a barroom Met a girl with…
Billy Jack Washburn
From Maine to San Francisco Four years, I've rode the rails …
Crazy Arms
Blue ain't the word for the way That I feel And the…
Danny Boy
Oh, Danny boy, the pipes, the pipes are calling From glen…
For a Minute There
You brushed by me, oh, you came so near That I…
Green Green Grass of Home
The old home town looks the same, As I step down…
Heartaches by the Number
Heartaches by the number, troubles by the score Everyday yo…
Jukebox Charlie
Hello Joe The same as usual I'm feeling low but a little…
Keep On Lovin' Me
When she needs someone to love her in the night She…
Lovin' You Beats All
Loving you, beats all, I've ever seen I've been to Niagar…
Memory of a Memory
You can find me in a dim light bar-+room If your…
Motel Time Again
I sit here on this stool drink so much I…
Mr. Lovemaker
Mr. Lovemaker, don't let anyone take her I need that woman's…
She's All I Got
Well I said, friend Don't take her, she's all I've got Pleas…
Slide Off Your Satin Sheets
What a beautiful mansion he built you Splendid, Lord, you'v…
Somebody Loves Me
Pardon me if I seem a little different But I'm a…
Someone to Give My Love to
I could search from now to the end of time And…
Something About You I Love
There's just something about you I love and I can't…
Song And Dance Man
I'm a song and dance man come and gather round…
Take This Job and Shove It
Take this job and shove it I ain't working here no…
The Only Hell My Mama Ever Raised
Well, i cant sell my momma short on loving me, i…