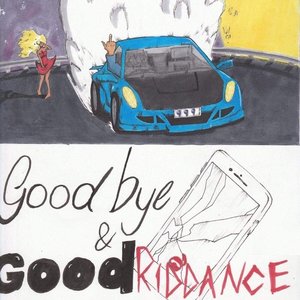 Goodbye & Good Riddance is Juice WRLD's debut album, released on May 23, 2018 through his label, Interscope Records. It features 17 tracks and is available for streaming on SoundCloud, Apple Music, Spotify, and Tidal. The album is supported by five singles, "All Girls Are the Same," "Lucid Dreams" and "Lean Wit Me", "Wasted" with a feature from Lil Uzi Vert & "Armed & Dangerous." Goodbye & Good Riddance explores Juice WRLD's current relationship and the struggles he endures. The subject matter of the album varies throughout the tracklist, from discussion of past love interests in songs like "All Girls
Read Full Bio
Goodbye & Good Riddance is Juice WRLD's debut album, released on May 23, 2018 through his label, Interscope Records. It features 17 tracks and is available for streaming on SoundCloud, Apple Music, Spotify, and Tidal.

The album is supported by five singles, "All Girls Are the Same," "Lucid Dreams" and "Lean Wit Me", "Wasted" with a feature from Lil Uzi Vert & "Armed & Dangerous."

Goodbye & Good Riddance explores Juice WRLD's current relationship and the struggles he endures. The subject matter of the album varies throughout the tracklist, from discussion of past love interests in songs like "All Girls Are the Same" and "Lucid Dreams," to details of his overpowering drug addiction in songs like "Lean Wit Me" and "Black & White." The album also touches upon feelings of invincibility and delusion in songs like "Hurt Me," where his frequent abuse of opioids and other drugs has driven him to recklessness.

Two of the album's singles, "All Girls Are the Same" and "Lucid Dreams," have found large success for Juice. Both songs have entered the Billboard Hot 100, debuting at 92 and 74 respectively, and amassing a combined 66 million streams on his SoundCloud. The success of "Lucid Dreams" is explained best by the Genius article "Chart Climber: Tracking The Rise Of Juice WRLD's 'Lucid Dreams'":

"Lucid Dreams" dropped on SoundCloud way back on July 1, 2017 as part of Juice WRLD's JuiceWRLD 9 9 9 EP, but it wasn't added to Genius until December 9. It received some attention thanks to burgeoning popularity on SoundCloud at the time, but didn't gain significant traction until February 26, 2018, the day after the "All Girls Are the Same" video came out. That song's explosive online success (to the tune of 14 million YouTube views and counting) was a rising tide that lifted all boats, and throughout March, "Lucid Dreams" averaged over 2,200 page views per day.

When asked if he expected "All Girls Are The Same" to blow up in an interview with Pigeons & Planes, Juice responded:

"It was no different and I didn't expect for it to do what it did. I wrote it. I usually freestyle but I wrote the first verse to that one and freestyled the second. I look at my music like, "I make this, I like this, it's going to do what it does. Whatever that is."

On July 13, 2018, the album was reissued on streaming services to include "Wasted," which features Lil Uzi Vert, as the fifth song.

The album was reissued once more on Spotify and Tidal on December 10, 2018 to now include Juice's single, "Armed and Dangerous," as the fifth song. Additionally, the album's skits were moved to the end of the album.
Genre not found
Artist not found
Album not found
Search results not found
Song not found
I told you to stop fucking calling me
I'm-I told you, I promise you
I can't even talk to you right now, I fuckin' hate you
No, for real, like, stop fucking calling me
I will delete you, I, I will block you
Every fucking time you call me, I'm done
I'm gonna fuckin' block you
And then you can't fuckin' talk to me no more
Off Snapchat (okay), off Face- I don't wanna hear from you no more (okay, ayy)
Alright, I'm gonna hang up on you now, okay?
So stop fucking calling me
I said I hate you, stop calling me
Lose my fucking number because I'm done
Uh, I can't yell at 'em fo' (I will fucking block you)
Nigga, you ain't do shit for me, I promise you
I promise, you want that?
All the shit I did for you
Okay, alright, talk all this big shit like you gon' be something
You not gon' be shit, I promise you
I put that on everything I love, you gon' be stuck with a fucking rat
And you gon' be wishin' that you knew me
Okay, okay, go ahead talk all that shit now
But who had your back? Me, I did
Lyrics © Warner/Chappell Music, Inc.
Written by: Jarad Higgins

Lyrics Licensed & Provided by LyricFind
To comment on specific lyrics,
highlight them