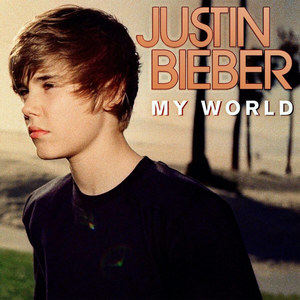 My World is the debut extended play (EP) by Canadian recording artist Justin Bieber. It was released on 17 November 2009, by Island Records. The album is considered the first half of a two-piece project, later being supplemented by his debut studio album My World 2.0 (2010). After signing a recording contract in light of his growing popularity on YouTube, Bieber worked with collaborators including his mentor Usher, in addition to producers Tricky Stewart, The-Dream and Midi Mafia. It's music incorporates pop and R&B styles, and lyrically discusses teen romance and coming of age situations. Upon its release, My World
Read Full Bio
My World is the debut extended play (EP) by Canadian recording artist Justin Bieber. It was released on 17 November 2009, by Island Records. The album is considered the first half of a two-piece project, later being supplemented by his debut studio album My World 2.0 (2010). After signing a recording contract in light of his growing popularity on YouTube, Bieber worked with collaborators including his mentor Usher, in addition to producers Tricky Stewart, The-Dream and Midi Mafia. It's music incorporates pop and R&B styles, and lyrically discusses teen romance and coming of age situations.

Upon its release, My World received generally favorable reviews from music critics, who complimented its production. It debuted at number six on the US Billboard 200 with first-week sales of 137,000 copies. In doing so, it became the strongest-debuting release for a new artist in 2009, though it was topped the following week by I Dreamed a Dream by Susan Boyle, which moved 701,000 units. Upon the release of My World 2.0 in March 2010, its predecessor peaked at number five. Less than two months after its release, the record was certified platinum by the Recording Industry Association of America (RIAA) for sales exceeding one million copies. Internationally, the extended play attained similar success. It debuted atop the Canadian Albums Chart, where it was later certified double platinum. It additionally attained double platinum recognition in the United Kingdom.

Two singles were released from My World, both of which became international successes. Its lead single "One Time" reached the top twenty in five countries' singles charts, while its follow-up "One Less Lonely Girl" peaked within the top ten in Canada and top fifteen in the United States. The promotional singles "Love Me" and "Favorite Girl" peaked in the top forty of the US Billboard Hot 100. The project was additionally promoted through television appearances and the My World Tour in 2010. The remix album My Worlds Acoustic and compilation album My Worlds: The Collection were released later that November; the latter packaged My World, My World 2.0, and My Worlds Acoustic into a two-disc set.

On February 12, 2016, the EP was released on vinyl for the first time.
Genre not found
Artist not found
Album not found
Search results not found
Song not found
Me plus you, I'ma tell you one time
Me plus you, I'ma tell you one time
Me plus you, I'ma tell you one time
One time
One time
When I met you girl my heart went knock knock knock
Now them butterflies in my stomach won't stop stop
And even though it's a struggle love is all we got
So we gonna keep keep climbin' till the mountain top
Your world is my world
And my fight is your fight
My breath is your breath
And your heart (is my heart)
You're my one love
My one heart
My one life for sure
Let me tell you one time (girl I love, girl I love you)
I'ma tell you one time (girl I love, girl I love you)
And I'ma be your one guy
You'll be my number one girl always makin' time for you
I'ma tell you one time (girl I love, girl I love you)
I'ma tell you one time (girl I love, girl I love you)
You look so deep
You know that it humbles me
You're by my side and what troubles them don't trouble me
Many have called but the chosen is you
Whatever you want shawty I'll give it to you
Your world is my world
And my fight is your fight
My breath is your breath
And your heart (is my heart)
You're my one love
My one heart
My one life for sure
Let me tell you one time (girl I love, girl I love you)
I'ma tell you one time (girl I love, girl I love you)
And I'ma be your one guy
You'll be my number one girl always makin' time for you
I'ma tell you one time (girl I love, girl I love you)
I'ma tell you one time (girl I love, girl I love you)
Shawty right there
She's got everything I need and I'ma tell her one time
One time, one time
Give you everything you need down to my last dime
She makes me happy
I know where I'll be
Right by your side 'cause she is the one
For me
You're my one love
My one heart
My one life for sure
Let me tell you one time (girl I love, girl I love you)
I'ma tell you one time (girl I love, girl I love you)
And I'ma be your one guy
You'll be my number one girl always makin' time for you
I'ma me tell you one time (girl I love, girl I love you)
I'ma tell you one time (girl I love, girl I love you)
Me plus you, I'ma tell you one time
Me plus you, I'ma tell you one time
Me plus you, I'ma tell you one time
One time
One time
Lyrics © BMG Rights Management, Universal Music Publishing Group, Peermusic Publishing
Written by: Christopher A. Stewart, Corron Cole, James Bunton, Thabiso Nkhereanye

Lyrics Licensed & Provided by LyricFind
To comment on specific lyrics,
highlight them