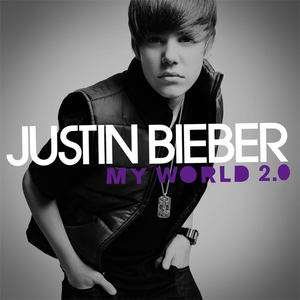 My World 2.0 is the debut studio album by Canadian singer-songwriter Justin Bieber. It was released on March 19, 2010, by Island Records. It is considered the second half of a two-piece project, being supplemented by his debut extended play My World (2009). After signing a recording contract in light of his growing popularity on YouTube, Bieber worked with collaborators including his mentor Usher, in addition to producers Tricky Stewart, The-Dream, and Midi Mafia. The record follows in the vein of My World, incorporating pop and R&B styles, and also experiments with hip hop elements. Lyrically, it discusses teen romance
Read Full Bio
My World 2.0 is the debut studio album by Canadian singer-songwriter Justin Bieber. It was released on March 19, 2010, by Island Records. It is considered the second half of a two-piece project, being supplemented by his debut extended play My World (2009). After signing a recording contract in light of his growing popularity on YouTube, Bieber worked with collaborators including his mentor Usher, in addition to producers Tricky Stewart, The-Dream, and Midi Mafia. The record follows in the vein of My World, incorporating pop and R&B styles, and also experiments with hip hop elements. Lyrically, it discusses teen romance and coming of age situations.

Upon its release, My World 2.0 received generally favorable reviews from music critics, who complimented its production. It debuted at number one on the US Billboard 200 with first-week sales of 283,000 copies. In doing so, Bieber became the youngest solo male artist to top the chart since Stevie Wonder in 1963. With My World peaking at number five that week, he became the first artist to occupy two top-five positions since Nelly in 2004. When the album sold more copies in its second week, it became the first album since The Beatles' 1 to debut at number one, and sell more the following week. Bieber also had his second consecutive number one album in Canada, and in its second week the album peaked at number one in Ireland, Australia, and New Zealand. It also charted in the top ten of fifteen other countries. Bieber supported the album with his very first headlining tour, the My World Tour.

The album was preceded by the lead single, "Baby", featuring Ludacris, which was released on January 18, 2010, and two digital singles, "Never Let You Go" on March 2, 2010, and "U Smile" on March 16, 2010. "Somebody to Love" impacted radio as the album's second single on April 20, 2010, and "U Smile" impacted radio as the album's third single on August 24, 2010. The album received a Grammy Award nomination for Best Pop Vocal Album at the 2011 ceremony.
Genre not found
Artist not found
Album not found
Search results not found
Song not found
Oh whoa, oh whoa, oh whoa
You know you love me, I know you care
Just shout whenever and I'll be there
You want my love, you want my heart
And we will never, ever, ever be apart
Are we an item? Girl, quit playin'
We're just friends, what are you sayin'
Said, "there's another," and looked right in my eyes
My first love broke my heart for the first time
And I was like baby, baby, baby, oh
Like baby, baby, baby, no
Like baby, baby, baby, oh
I thought you'd always be mine, mine
Baby, baby, baby, oh
Like baby, baby, baby, no
Like baby, baby, baby, oh
I thought you'd always be mine, mine
Oh, for you, I would have done whatever
And I just can't believe we ain't together
And I wanna play it cool
But I'm losin' you
I'll buy you anything
I'll buy you any ring
And I'm in pieces, baby, fix me
And just shake me 'til you wake me from this bad dream
I'm goin' down, down, down, down
And I just can't believe my first love won't be around
And I'm like baby, baby, baby, oh
Like baby, baby, baby, no
Like baby, baby, baby, oh
I thought you'd always be mine, mine
Baby, baby, baby, oh
Like baby, baby, baby, no
Like baby, baby, baby, oh
I thought you'd always be mine, mine
Luda, when I was thirteen, I had my first love
There was nobody that compared to my baby
And nobody came between us or one could ever come above
She had me goin' crazy
Oh, I was starstruck
She woke me up daily
Don't need no Starbucks
She made my heart pound
And skip a beat when I see her in the street and
At school on the playground
But I really wanna see her on the weekend
She know she got me dazin'
'Cause she was so amazin'
And now my heart is breakin'
But I just keep on sayin'
Baby, baby, baby, oh
Like baby, baby, baby, no
Like baby, baby, baby, oh
I thought you'd always be mine, mine
Baby, baby, baby, oh
Like baby, baby, baby, no
Like baby, baby, baby, oh
I thought you'd always be mine, mine
I'm gone
(Yeah, yeah, yeah)
(Yeah, yeah, yeah) now I'm all gone
(Yeah, yeah, yeah)
(Yeah, yeah, yeah) now I'm all gone
(Yeah, yeah, yeah)
(Yeah, yeah, yeah) now I'm all gone
(Gone, gone, gone, gone) I'm gone
Lyrics © Universal Music Publishing Group, Sony/ATV Music Publishing LLC, Peermusic Publishing, WORDS & MUSIC A DIV OF BIG DEAL MUSIC LLC, Warner Chappell Music, Inc.
Written by: Christopher Bridges, Justin Bieber, Christina Milian, Terius Nash, Christopher Stewart

Lyrics Licensed & Provided by LyricFind
To comment on specific lyrics,
highlight them