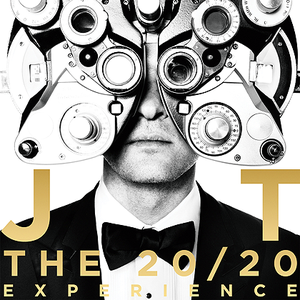 The 20/20 Experience is the third studio album by American recording artist Justin Timberlake. It was released on March 15, 2013 by RCA Records. It is his first album released since his musical hiatus in 2006 and change in labels in 2011. Its music incorporates neo soul styles with elements of older soul music; its lyrics discuss themes of romance and sex. As executive producer, Timberlake enlisted previous collaborator Timbaland to work alongside Jerome "J-Roc" Harmon and Rob Knox. Upon its release, The 20/20 Experience received generally favorable reviews from music critics, who complimented its musical diversity from his previous
Read Full Bio
The 20/20 Experience is the third studio album by American recording artist Justin Timberlake. It was released on March 15, 2013 by RCA Records. It is his first album released since his musical hiatus in 2006 and change in labels in 2011. Its music incorporates neo soul styles with elements of older soul music; its lyrics discuss themes of romance and sex. As executive producer, Timberlake enlisted previous collaborator Timbaland to work alongside Jerome "J-Roc" Harmon and Rob Knox.

Upon its release, The 20/20 Experience received generally favorable reviews from music critics, who complimented its musical diversity from his previous albums, while also criticizing a lack of variation within the album itself. The album debuted at number one on the U.S. Billboard 200 with first-week sales of 968,000 copies, becoming Timberlake's second number one album on the chart and best-selling debut week of his solo career. The album also became Timberlake's third consecutive number one album in the United Kingdom.
Genre not found
Artist not found
Album not found
Search results not found
Song not found
Hey little mama
Ain't gotta ask me if I want to
Tell me, can I get a light?
Roll you up and let it run through my veins
'Cause I can always see the farthest stars when I'm on you
I don't wanna ever come down from this cloud of loving you
Now you got me hopped up on that
Pusher love
So high I'm on the ceiling baby
Your my drug
So gon' and be my dealer baby
Roll me up
'Cause all I want is you, baby
One more time
Pusher love
So high I'm on the ceiling baby
Be my drug
So gon' and be my dealer baby
Look me up
'Cause all I want is you baby
You're my little pusher love girl (Ain't ya?)
Just my little pusher love girl
Now hey little mama
I love this high we're onto
And I know that you're somebody
Won't run out anytime soon
You gave me a taste, now I know there's no gettin' off you
I don't wanna ever come down off this type of lovin' you
Now you got me hopped up on that
Pusher love
So high I'm on the ceiling baby
Your my drug
So gon' and be my dealer baby
Roll me up
'Cause all I want is you, baby
One more time
Pusher love
So high I'm on the ceiling baby
Be my drug
So gon' and be my dealer baby
Look me up
'Cause all I want is you baby
You're my little pusher love girl (Ain't ya?)
Just my little pusher love girl
Since you came around, I've been living a different life
I don't wanna come down from this love I got on high
People call me a user, but I want you
To go on and use me too
Nothin' else will do, all I want you, baby
You know who you are
Now you got me hopped up on that
Pusher love
So high I'm on the ceiling baby
Your my drug
So gon' and be my dealer baby
Roll me up
Cause all I want is you, baby
One more time
Pusher love
So high I'm on the ceiling baby
Be my drug
So gon' and be my dealer baby
Look me up
Cause all I want is you baby
One more time
Pusher love
So high I'm on the ceiling baby
Be my drug
So gon' and be my dealer baby
Roll me up
'Cause all I want is you baby
Pusher love
So high I'm on the ceiling baby
Your my drug
So gon' and be my dealer baby
Look me up
'Cause all I want is you, baby
You're my little pusher love girl, so sweet, yes you are
Just my little pusher love girl (Ain't ya?)
She's my little pusher love girl
Sing it, pusher love
I'm just a, junkie for your love
I'm just a, junkie for your love (Come on)
Now I'm just a, junkie for your love (I'm hopped up on it)
And now I'm just a junkie for your love (Break it down)
My heroine, my cocaine, my plum wine, my MDMA
I'm hopped up on it, it won't go away
Now I can't wait 'til I get you home and get you in my veins (Pusher love)
I'm just a, junkie for your love (I'm hopped up on it)
And now I'm just a, junkie for your love (Pusher love)
I'm just a, junkie for your love (I'm hopped up on it)
And now I'm just a, I'm just a, junkie for your love
Uh, my nicotine, my blue dream, my hydroponic candy jelly bean
Did you fix me up, I'm your number one fiend
Be my little pill and just creep into my blood stream
Bloodshot eyes, I'm hoped up on it
You ain't gotta think twice, just hop up on it
There's a million names for your kind of chronic
Uh, that pusher love, that's what I call it (Pusher love)
I'm just a, junkie for your love (I'm hopped up on it)
Now I'm just a, junkie for your love
Let me hear you say pusher love
I'm just a, junkie for your love (I'm hopped up on it)
And now I'm just a, junkie for your love (Pusher love)
Lyrics © Universal Music Publishing Group, OLE MEDIA MANAGEMENT LP, Sony/ATV Music Publishing LLC, Warner Chappell Music, Inc.
Written by: Chris Godbey, Justin Timberlake, Timothy Mosely, James Fauntleroy, Jerome Harmon

Lyrics Licensed & Provided by LyricFind
To comment on specific lyrics,
highlight them