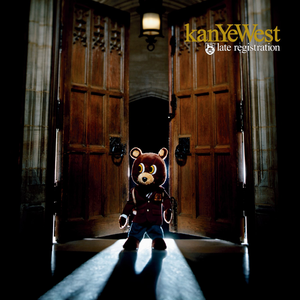 Late Registration is the second studio album by American hip-hop artist Kanye West, released on August 30, 2005, by Roc-A-Fella Records. Recording sessions for the album took place over the course of a year at Record Plant Studios, Chalice Recording Studios, and Grandmaster Recording Studios in Hollywood, and at Sony Music Studios in New York City. West collaborated with American record producer and composer Jon Brion to produce Late Registration, and the album features guest contributions from artists such as Jay-Z, Common, Lupe Fiasco, Jamie Foxx, Nas, Brandy, and Adam Levine, among others. The production is notably more lush and
Read Full Bio
Late Registration is the second studio album by American hip-hop artist Kanye West, released on August 30, 2005, by Roc-A-Fella Records. Recording sessions for the album took place over the course of a year at Record Plant Studios, Chalice Recording Studios, and Grandmaster Recording Studios in Hollywood, and at Sony Music Studios in New York City. West collaborated with American record producer and composer Jon Brion to produce Late Registration, and the album features guest contributions from artists such as Jay-Z, Common, Lupe Fiasco, Jamie Foxx, Nas, Brandy, and Adam Levine, among others.

The production is notably more lush and elaborate than West's previous album, The College Dropout. By collaborating with Jon Brion, West was able to utilize production styles and instruments not commonly associated with hip-hop music. More intricate sampling methods and the inclusion of string arrangements meant that the production featured on the album was unique to hip-hop music. West sought to deliver lyrics that allowed him to continue his style of storytelling during songs, and the album covers topics of social issues, such as poverty, drug trafficking, health care, and blood diamond trades.

The album produced five singles, including the international hits "Touch the Sky", "Heard 'Em Say" and "Gold Digger", the last of which topped the Billboard Hot 100 at number one. Music videos for all five singles were produced. Late Registration debuted at number one on the Billboard 200 chart, selling 860,000 copies in its first week. The album has sold over 3.1 million units in the United States and has been certified triple platinum by the Recording Industry Association of America.

Upon its release, Late Registration received rave reviews from music critics and earned West several accolades, including a Grammy Award for Best Rap Album at the 2006 Grammy Awards and an Album of the Year nomination. It appeared at the top of several publications year-end lists of top albums. Rolling Stone named it the best album of 2005, and included it at number 118 on its list of the "500 Greatest Albums of All Time" in 2012.
Genre not found
Artist not found
Album not found
Search results not found
Song not found
Wake Up Mr. West
Kanye West Lyrics
I knew I was gonna see ya, I knew I was gonna see you again!
I was gonna see you again
Where your god damn book bag at?
Always carryin' that lil' book bag
Nobody want to see that
God damn fourth grader
Sit yo' ass down
Now he want to play it again like he got something else to do
You ain't got nothin' else to do
You ain't doing nothing wit yo life
Nothing with your life
What do you think this is?
You better look at me when I'm talkin' to you!
You think this is easy don't you?
You think this is promised
Oh ain't nothin promised with you
Look at my face, do I got a promise face?
Does it look like promise you anything?
Kanye!
Nigga! Is you snorin' in my class?
Wake up Mr. West! Mr. West
Lyrics © Universal Music Publishing Group, Sony/ATV Music Publishing LLC
Written by: Gerry Goffin, Kanye West, Michael Masser

Lyrics Licensed & Provided by LyricFind
To comment on specific lyrics,
highlight them