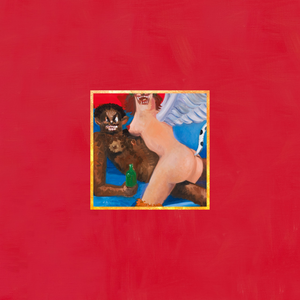 My Beautiful Dark Twisted Fantasy
My Beautiful Dark Twisted Fantasy is the 2010, fifth studio album by American hip hop rapper and producer Kanye West. Following a period of public and legal controversy, West retreated to a "self-imposed exile" in Hawaii in 2009. There, he worked on the album in a communal recording environment that involved numerous contributing musicians and producers. A widespread critical success, it was named the best record of 2010 by many publications and has since appeared on several lists ranking the greatest albums of all time. Guest vocalists on the album include Nicki Minaj, Rihanna, Bon Iver, Jay-Z, Pusha T, Rick
Read Full Bio
My Beautiful Dark Twisted Fantasy is the 2010, fifth studio album by American hip hop rapper and producer Kanye West. Following a period of public and legal controversy, West retreated to a "self-imposed exile" in Hawaii in 2009. There, he worked on the album in a communal recording environment that involved numerous contributing musicians and producers. A widespread critical success, it was named the best record of 2010 by many publications and has since appeared on several lists ranking the greatest albums of all time. Guest vocalists on the album include Nicki Minaj, Rihanna, Bon Iver, Jay-Z, Pusha T, Rick Ross, Kid Cudi, John Legend, Elton John and Raekwon.

Production was led by West himself, alongside a variety of high-profile record producers including Mike Dean, No I.D., Jeff Bhasker, RZA, S1, Bink and DJ Frank E. Noted by critics for its maximalist aesthetic, opulent production quality, and dichotomous themes, My Beautiful Dark Twisted Fantasy incorporates aspects of West's previous works, including soul, baroque, electro, and symphonic styles. The album deals with themes of excess and celebrity, and explores such issues as consumer culture, race, and the idealism of the American Dream.

My Beautiful Dark Twisted Fantasy was released on November 22, 2010, by Roc-A-Fella Records. To promote the album, West released free songs through his GOOD Fridays series and four singles: the Billboard hits POWER, Monster, Runaway, and the international hit All Of The Lights. The album was also promoted with a short film called "Runaway" set to the record's music. The album debuted at number one on the Billboard 200 and eventually sold 1,032,000 copies in the United States.
Genre not found
Artist not found
Album not found
Search results not found
Song not found
You might think you've peeped the scene
You haven't
The real one is far too mean
The watered down, the one you know
Was made up centuries ago
They it sound all wack and corny
Yes its awful blasted boring
Twisted fictions, sick addiction
Well gather 'round children
Zip it listen!
Can we get much higher?
So high
Oh, oh, oh, oh, oh, oh, oh, oh, oh
Can we get much higher?
So high
Oh, oh, oh, oh, oh, oh, oh, oh, oh
Can we get much higher?
So high
Oh, oh, oh, oh, oh, oh, oh, oh, oh
Can we get much higher?
So high
Oh, oh, oh, oh, oh, oh, oh, oh, oh
Yeah, yeah, yeah, yeah
I fantasized 'bout this back in Chicago
Mercy, mercy me, that Murcielago
That's me, the first year that I blow
How you say broke in Spanish? Me no hablo
Me drown sorrow in that Diablo
Me found bravery in my bravado
DJ's need to listen to the model's
You ain't got no fuckin' Yeezy in your Serato?
(You ain't got no Yeezy, nigga?)
Stupid, but what the hell do I know?
I'm just a Chi-town nigga with a Nas flow
And my bitch in that new Phoebe Philo
So much head, I woke up to Sleepy Hollow
Can we get much higher?
Oh, oh, oh, oh, oh, oh, oh, oh, oh
Look like a fat booty Celine Dion
Sex is on fire, I'm the King of Leon-a Lewis
Beyond the truest
Hey, teacher, teacher
Tell me how do you respond the students?
And refresh the page and restart the memory?
Re-spark the soul and rebuild the energy?
We stopped the ignorance, we killed the enemies
Sorry for the night demons that still visit me
The plan was to drink until the pain over
But what's worse, the pain or the hangover?
Fresh air, rolling down the window
Too many Urkels on your team, that's why your wins low
Don't make me pull the toys out, huh
Don't make me pull the toys
And fire up the engines huh
And then they make noise
Can we get much higher? So high
Oh, oh, oh, oh, oh, oh, oh, oh, oh
At the mall there was a seance
Just kids, no parents
Then the sky filled with herons
(I saw the devil) In a Chrysler LeBaron
And the hell, it wouldn't spare us
(And the fires did declare us)
(But after that, took pills, kissed an heiress)
(And moved her back in Paris)
Can we get much higher? So high
Oh, oh, oh, oh, oh, oh, oh, oh, oh
Oh
Can we get much higher? So high
Oh, oh, oh, oh, oh, oh, oh, oh, oh
Can we get much higher? So high
Oh, oh, oh, oh, oh, oh, oh, oh, oh
Can we get much higher? So high
Oh, oh, oh, oh, oh, oh, oh, oh, oh
Can we get much higher? So high
Oh, oh, oh, oh, oh, oh, oh, oh, oh
Lyrics © BMG Rights Management, Universal Music Publishing Group, Sony/ATV Music Publishing LLC, Kobalt Music Publishing Ltd., Warner Chappell Music, Inc.
Written by: Robert F. Diggs, Onika Tanya Maraj, Malik Yusef El Shabbaz Jones, Kanye Omari West, Michael Gordon Oldfield, Ernest Dion Wilson, John Roy Anderson, Mike Dean, Justin Deyarmond Edison Vernon

Lyrics Licensed & Provided by LyricFind
To comment on specific lyrics,
highlight them