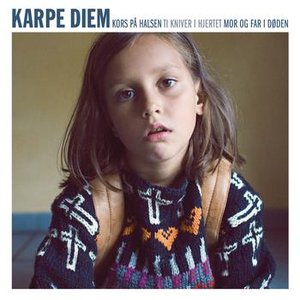 Kors på halsen, ti kniver i hjertet, mor og far i døden
Karpe Diem is a Norwegian hip-hop duo consisting of Magdi Omar Ytreeide Abdelmaguid (aka. Magdi) and Chirag Rashmikant Patel (aka. Chicosepoy or Chico). Magdi is half egyptian and half Norwegian, while Chirag is all Indian.

They formed in 2000 in Oslo, Norway and released their first EP in 2004, Glasskår. They later released their first full-lenght album titled Rett fra hjertet in 2006.

Karpe Diem was established when the two wanted to enter a music competition
Read Full Bio
Karpe Diem is a Norwegian hip-hop duo consisting of Magdi Omar Ytreeide Abdelmaguid (aka. Magdi) and Chirag Rashmikant Patel (aka. Chicosepoy or Chico). Magdi is half egyptian and half Norwegian, while Chirag is all Indian.

They formed in 2000 in Oslo, Norway and released their first EP in 2004, Glasskår. They later released their first full-lenght album titled Rett fra hjertet in 2006.

Karpe Diem was established when the two wanted to enter a music competition, which they ended up winning with the song "Hvor er Willy?" and have been rapping together ever since.

They have performed live at more than 200 shows and the number is just growing. Karpe Diem is notorious for their sarcastic and politically engaged lyrics, and for their down-to-earth and nobel personalities.

On March 5th, 2011, they received the greatest Norwegian musical prize there is, "Årets Spellemann".
This was the first time in history that a hip-hop/rap group received this award.

Discography:
2006 - "Rett fra hjertet"
2008 - "4 vegger"
2010 - "Aldri solgt en løgn"
2012 - "Kors på halsen, ti kniver i hjertet, mor og far i døden"
2015 - "Heisann Montebello"
Genre not found
Artist not found
Album not found
Search results not found
Song not found
[Vers Explain1: Magdi]
Og det skjedde I fjor
Bomben og revolusjonen og vårt bryllup
Tenker du på melodien
Da øyevippene var strengene på cello'n din?
Og denne vinden her var bunn
Livet vårt er kult når vi filmer I ett sekund
Øyelokka dine blir som vingene til fuglen
Over saltvann og bølgen, har sminken din I munnen
Ah, jeg ser på ringefinger'n til en brud
På himmel'n og mot Gud
Dagen jeg tør spørre "hvorfor griner ikke du?"
For det er sikkert ikke sunt det at ingenting kom ut
Hemninger
Bak øya mine er to demninger
Vet at det er sent, men jeg trykker på en trekant og strek
Og livet går I
[Hook x2: Chirag]
Sakte film
Alt er fint I sakte film
[Vers 2: Chirag]
Og det skjedde I fjor
Bomben og revolusjonen og mitt pisspreik
Broren min I sak for å se et barn
Som han har med en dame han hadde skilt seg fra
En svart mann mot en hvit chick, kompis
De ser på meg som et dyr der, kompis
Slow-mo som I romskip
Fylla for å fylle på et tomt sinn
Raggen e'kke fremmed for et krumspring
Og du kan si at hun var dumsnill
Broren min med en dunk vin
Sier demonen I meg må ut med en rom til
Mister alle hemninger
Bak øya mine er to demninger
Savner hun jeg svek I ett sek
Men legger meg I skje med et nek
Og livet går I
[Hook]
[Outro: Magdi]
Jeg var plommen I egget, men nå er jeg fugl
Contributed by Taylor F. Suggest a correction in the comments below.
To comment on specific lyrics,
highlight them