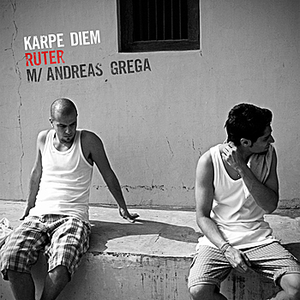 Ruter (feat. Andreas Grega)
Karpe Diem is a Norwegian hip-hop duo consisting of Magdi Omar Ytreeide Abdelmaguid (aka. Magdi) and Chirag Rashmikant Patel (aka. Chicosepoy or Chico). Magdi is half egyptian and half Norwegian, while Chirag is all Indian.

They formed in 2000 in Oslo, Norway and released their first EP in 2004, Glasskår. They later released their first full-lenght album titled Rett fra hjertet in 2006.

Karpe Diem was established when the two wanted to enter a music competition
Read Full Bio
Karpe Diem is a Norwegian hip-hop duo consisting of Magdi Omar Ytreeide Abdelmaguid (aka. Magdi) and Chirag Rashmikant Patel (aka. Chicosepoy or Chico). Magdi is half egyptian and half Norwegian, while Chirag is all Indian.

They formed in 2000 in Oslo, Norway and released their first EP in 2004, Glasskår. They later released their first full-lenght album titled Rett fra hjertet in 2006.

Karpe Diem was established when the two wanted to enter a music competition, which they ended up winning with the song "Hvor er Willy?" and have been rapping together ever since.

They have performed live at more than 200 shows and the number is just growing. Karpe Diem is notorious for their sarcastic and politically engaged lyrics, and for their down-to-earth and nobel personalities.

On March 5th, 2011, they received the greatest Norwegian musical prize there is, "Årets Spellemann".
This was the first time in history that a hip-hop/rap group received this award.

Discography:
2006 - "Rett fra hjertet"
2008 - "4 vegger"
2010 - "Aldri solgt en løgn"
2012 - "Kors på halsen, ti kniver i hjertet, mor og far i døden"
2015 - "Heisann Montebello"
Genre not found
Artist not found
Album not found
Search results not found
Song not found
Då kommer redslan
Jeg pleide å spille dødball og innelaget tapte
Når ingen av de løp da de var på et fristed
Lærte at umulig betydde mere kanskje
Hvis ingen av oss turte så vil'ke en dritt skje
Jeg var kanskje'n minste og jeg bomma to ganger
Traff på det siste men ingen sa løp for
Ingen av de visste at vi kunne løpe sammen
Før jeg traff linja, men ikke var død
Nå spiller broren min det samme jeg spilte
Og han går på samme skole men drømmen er'n annen
Håper han var positiv, da hele laget tvilte
Og han tenker at det er bullshit og løper som faen
Vi låser inn oss I rutor
Vi inte vågar gå ut ifrån
Då kommer rädslan och tar oss (Då kommer rädslan)
Tråkk ut av ruta og få blåveis
Det er lenge sia blåveis betydde et jævla vårtegn
Håndflata under haka når jeg drømmer meg vekk til
Onde tunger sier hva som sømmer seg
Og du har tapt da, skjønner du ikke det?
Man, jeg er drømmen, jeg er alt du ikke ble
Kaster meg fra fjellet, ligger nå I fritt fall
Jeg ser deg I ruta di, du har øya til en tiltalt
Vit at du er skyldig I å følge regler
Jeg skylder ingen ingenting, men jeg kan si jeg lever, mafakkas
Jeg gjør steinen til grus inni neven
Eneste ruta jeg kan fanges I er bussen eller TV'n
Du vet
Vi låser inn oss I rutor
Vi inte vågar gå ut ifrån
Då kommer rädslan och tar oss (Då kommer rädslan)
Let oss med oss själva, letar och förbättrar
Men ingenting är värt det, när leva blivit räddsla
Vi låser inn oss I rutor
Vi inte vågar gå ut ifrån
Då kommer rädslan och tar oss (Då kommer rädslan)
Lyrics © Sony/ATV Music Publishing LLC, Kobalt Music Publishing Ltd.
Written by: MAGDI ABDELMAGUID, TOBIAS JIMSON, ANDREAS OESTEMAN, CHIRAG RASHMIKANT PATEL, ANDREAS �STEMAN

Lyrics Licensed & Provided by LyricFind
To comment on specific lyrics,
highlight them