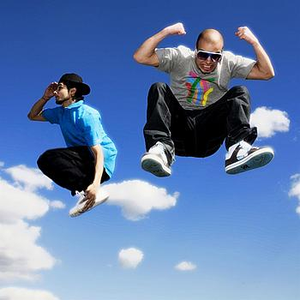 Under overflaten (som Marit Larsen)
Karpe Diem is a Norwegian hip-hop duo consisting of Magdi Omar Ytreeide Abdelmaguid (aka. Magdi) and Chirag Rashmikant Patel (aka. Chicosepoy or Chico). Magdi is half egyptian and half Norwegian, while Chirag is all Indian.

They formed in 2000 in Oslo, Norway and released their first EP in 2004, Glasskår. They later released their first full-lenght album titled Rett fra hjertet in 2006.

Karpe Diem was established when the two wanted to enter a music competition
Read Full Bio
Karpe Diem is a Norwegian hip-hop duo consisting of Magdi Omar Ytreeide Abdelmaguid (aka. Magdi) and Chirag Rashmikant Patel (aka. Chicosepoy or Chico). Magdi is half egyptian and half Norwegian, while Chirag is all Indian.

They formed in 2000 in Oslo, Norway and released their first EP in 2004, Glasskår. They later released their first full-lenght album titled Rett fra hjertet in 2006.

Karpe Diem was established when the two wanted to enter a music competition, which they ended up winning with the song "Hvor er Willy?" and have been rapping together ever since.

They have performed live at more than 200 shows and the number is just growing. Karpe Diem is notorious for their sarcastic and politically engaged lyrics, and for their down-to-earth and nobel personalities.

On March 5th, 2011, they received the greatest Norwegian musical prize there is, "Årets Spellemann".
This was the first time in history that a hip-hop/rap group received this award.

Discography:
2006 - "Rett fra hjertet"
2008 - "4 vegger"
2010 - "Aldri solgt en løgn"
2012 - "Kors på halsen, ti kniver i hjertet, mor og far i døden"
2015 - "Heisann Montebello"
Genre not found
Artist not found
Album not found
Search results not found
Song not found
Under overflaten
Karpe Diem Lyrics
Ref:
Jeg lurer på hva du har i bagasjen,
Hva du lurer under overflaten som Marit Larsen /
Jeg vil'ke vite det,
Men jeg vil vite det, så både si det og ikke si det, hey! /
Chirag:
Alle gutta bare glor og ser på henne danse /
Selve definisjonen av ordet eleganse /
Blikk sier mer enn ord, oh mami titter hit /
Hvit topp slitte jeans, jeans de sitter fint /
Hun sier: hey, jeg har sett deg et sted / ZTV?
Yeah, ta også sett deg ned /
Jeg har sett chicks på byen, jeg har angst etter alt det /
Så jeg må si jeg gleder meg til tvangsekteskapet /
Pappa er pimp, vet plassen å gå /
Så jeg kan få meg en som ikke har vært på dassen på RÅ /
Og det haster litt nå, og det er sant snuppa /
Hun var så sjokka putta pilsglassa i vrangstrupa /
Og du kan lett gjøre livet til mareritt /
Selv om gutta mine sa du minner om Marit /
Kjøper deg en sari, en hytte med en elefant /
Regn med knyttneve hvis du flytter eller et eller annet /
Ref.
Magdi:
Hun var som tatt rett ut av en film /
Chill, smart, pen kul og så snill /
Gud hadde gitt henne glatt ren hud /
Og en hjerne med utseendet til /
Vil gjerne si alt var sinnssykt bra /
Men helt ærlig det ødela meg innenfra /
Så jeg tok mot til meg, blodet pumpet til huet /
Dumt, men jeg gikk bort modig og spurte /
Hvor mange har lekt i underetasjen /
Har du overvekt i bunnen av bagasjen /
Hvem har du data, hvem har du ligget med /
Vent, ikke si det, jeg vil helst ikke vite det /
Jo, nei, eller kanskje, shit /
Kan vi heller bare glemme det å danse litt /
Men selv sjeiken sleit med å shake assen der /
Når du kanskje har sleika på noen jeg veit hvem er /
Ref.
Bridge:
Det vil'ke lønne seg om, jeg tør å spørre om hva du har i bagasjen /
Jeg vil'ke høre, men jeg føler for å spørre som
Hun derre, derre Marit Larsen /
Vi var på samme laget, vi hadde samme draget,
Vi så på samme dame, der har du sammendraget /
Ref.
Contributed by Luke M. Suggest a correction in the comments below.
To comment on specific lyrics,
highlight them