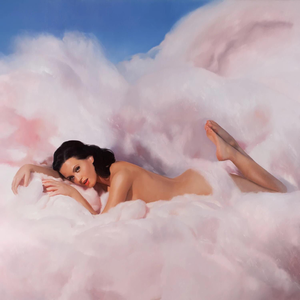 Teenage Dream is the third album from American pop artist, Katy Perry, and her sophomore pop release. It was released on August 24, 2010 in North America and August 30, 2010 world wide. The album has spawned six singles in total, "California Gurls (feat. Snoop Dogg)" and the album's title track, "Teenage Dream" amongst them. All of the songs released were #1 hits on Billboard's Hot 100 (with the exception of the last single, The One That Got Away" which peaked at #3). Before she began to record the album, Perry told Rolling Stones magazine, "The second record is really
Read Full Bio
Teenage Dream is the third album from American pop artist, Katy Perry, and her sophomore pop release. It was released on August 24, 2010 in North America and August 30, 2010 world wide. The album has spawned six singles in total, "California Gurls (feat. Snoop Dogg)" and the album's title track, "Teenage Dream" amongst them. All of the songs released were #1 hits on Billboard's Hot 100 (with the exception of the last single, The One That Got Away" which peaked at #3).

Before she began to record the album, Perry told Rolling Stones magazine, "The second record is really important to me because I think it shows whether I'm meant to do this, or I got lucky. Basically what I want to do is not alienate the audience that I have at all. I think some people feel like they have had success with one thing and one idea and one record and they want to pull a 180 and try a totally different thing, I definitely feel like that's the wrong move. I feel like you just have to grow from it, you can branch off of it but keep the tree the same in some ways. Some people get full of themselves, and they think that anything they do is going to work or turn to gold or be the right move, and the reason why you're here is because of the people that like your music and the fans, so you always should keep an ear open to what they're saying." Perry said she would "definitely keep it pop. "Lovefool" by the Cardigans meets "Into the Groove" by Madonna but a little more meat on the bones lyrically. I'm not just gonna talk about the beat and just dancing, I like to get into the meaning." She began recording the album in October 2009.

The album cover was released in mid-July on Katy Perry's official website. It is a painting of Katy naked lying down on pink clouds. The official cover also doesn't include text. However, text was added to the cover in some countries. In some areas, the album also will include a scratch-and-sniff cover which will have the scent of cotton candy.
Genre not found
Artist not found
Album not found
Search results not found
Song not found
You think I'm pretty
Without any make-up on
You think I'm funny
When I tell the punch line wrong
I know you get me
So I'll let my walls come down, down
Before you met me
I was alright
But things were kinda heavy
You brought me to life
Now every February
You'll be my Valentine, Valentine
Let's go all the way tonight
No regrets, just love
We can dance until we die
You and I
We'll be young forever
You make me feel like I'm living a, teenage, dream
The way you turn me on
I, can't, sleep
Let's run away
And don't ever look back
Don't ever look back
My, heart, stops
When you look at me
Just, one, touch
Now baby I believe
This, is, real
So take a chance
And don't ever look back
Don't ever look back
We drove to Cali
And got drunk on the beach
Got a motel and
Built a fort out of sheets
I finally found you
My missing puzzle piece
I'm complete
Let's go all the way tonight
No regrets, just love
We can dance until we die
You and I
We'll be young forever
You make me feel like I'm living a, teenage, dream
The way you turn me on
I, can't, sleep
Let's runaway
And don't ever look back
Don't ever look back
My, heart, stops
When you look at me
Just, one, touch
Now baby I believe
This, is, real
So take a chance
And don't ever look back
Don't ever look back
I'ma get your heart racing
In my skin-tight jeans
Be your teenage dream tonight
Let you put your hands on me
In my skin-tight jeans
Be your teenage dream tonight
You, make, me feel like I'm living a, teenage, dream
The way you turn me on
I, can't, sleep
Let's runaway
And don't ever look back
Don't ever look back
My, heart, stops
When you look at me
Just one touch
Now baby I believe
This, is, real
So take a chance
And don't ever look back
Don't ever look back
I'ma get your heart racing
In my skin-tight jeans
Be your teenage dream tonight
Let you put your hands on me
In my skin-tight jeans
Be your teenage dream tonight (tonight, tonight, tonight)
Lyrics © CONCORD MUSIC PUBLISHING LLC, Sony/ATV Music Publishing LLC, Spirit Music Group, Downtown Music Publishing, Kobalt Music Publishing Ltd., Warner Chappell Music, Inc.
Written by: Lukasz Gottwald, Benjamin Levin, Martin Max, Bonnie Leigh McKee, Katy Perry

Lyrics Licensed & Provided by LyricFind
To comment on specific lyrics,
highlight them