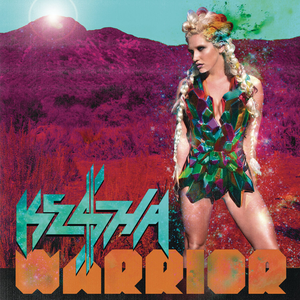 Warrior is the second studio album by American singer Kesha, released on November 30, 2012 by Kemosabe and RCA Records. Its music spans the electropop, technopop, pop rock, and hip hop genres; Kesha described the album as more personal than her previous material in addition to her attempt at reviving the rock genre, calling it a "cock pop" record. Its theme is said to be magic. Writing for Warrior began in late 2011 and ended in early 2012, with recording taking place from January through August 2012. Kesha wrote the majority of the album while touring internationally and during her
Read Full Bio
Warrior is the second studio album by American singer Kesha, released on November 30, 2012 by Kemosabe and RCA Records. Its music spans the electropop, technopop, pop rock, and hip hop genres; Kesha described the album as more personal than her previous material in addition to her attempt at reviving the rock genre, calling it a "cock pop" record. Its theme is said to be magic.

Writing for Warrior began in late 2011 and ended in early 2012, with recording taking place from January through August 2012. Kesha wrote the majority of the album while touring internationally and during her spiritual journey. Contributions to the album's production came from longtime collaborators Dr. Luke (who was also the executive producer of the project), Max Martin, Shellback, Ammo and Benny Blanco. It features guest vocals from American rock singer Iggy Pop, who has been cited as a major influence on the album, as well as writing contributions from Nate Ruess from American indie rock trio Fun, American rapper will.i.am, singer-songwriter Bonnie McKee, The Black Keys drummer Patrick Carney, American rock bands The Strokes and The Flaming Lips and Kesha's own mother, Pebe Sebert. Upon its release, Warrior received generally favorable reviews from music critics, who commended its rock-influenced material, lyrical content, and collaborations whilst others criticized its use of Auto Tune and formulaic content. The album reached number 6 on the U.S. Billboard 200, also charting within Canada, Australia, United Kingdom, Japan and others.

The album's lead single "Die Young" achieved commercial success, peaking at number 2 on the Billboard Hot 100 and charting in multiple countries worldwide. "C'mon" initially served as a promotional single, and peaked at number 27 after its release as the second single. An acoustic extended play (EP) Deconstructed was exclusively released through her website to promote the fan edition of the album, and features re-record tracks from her previous releases and a cover of "Old Flames Can't Hold a Candle to You" by American country recording artist Dolly Parton, which was co-written by Kesha's mother, Pebe Sebert. "Crazy Kids" was released as the third and final single from Warrior. In total, the album has spawned three Top 40 hits in USA, Canada, and Australia.

Background
In June 2010, Kesha discussed her second studio album with MTV News. During the interview she revealed that she was already beginning to think about her second album and explained that it was going differ from her first record, specifically commenting that it would reflect her growth: "There's definitely going to be a difference. I'm always changing and evolving and because I write all of my own music it will be reflective of the record. It'll still stay fun and young and irreverent." After the release of her first album Kesha embarked on her first worldwide tour, the Get Sleazy Tour throughout 2011. While touring she began writing songs for her second album but recording and other work on the album was not commenced until she had completed the tour.

In 2011, the singer took a hiatus from music to embark on other ventures. She was hired by the Humane Society and became their first global ambassador, which consumed her time as she made a documentary for National Geographic that revolved around "animals being abused and how to stop that, or animals that are going extinct and how to help those animals." The album includes a variety of different musical participants, which was explained by the singer: "The range of artists I want to work with is so vast it's bizarre. If someone is a real artist, you can't confine them to a particular genre. It's my mission to make it all make sense somehow." Along with expanding her collaborations, the singer expanded her musical repertoire, as she began playing the guitar significantly more with the plans of incorporating it into her new material. In February 2012, while being interviewed by Glamour, Kesha stated that while she was currently in the process of writing songs for her album, she was also taking a variety of instrument lessons, emphasizing specifically that she was taking guitar lessons.
Genre not found
Artist not found
Album not found
Search results not found
Song not found
Warrior
Ke$ha Lyrics
We were born to break the doors down
Fightin' till the end
It's something that's inside of us
It's how we've always been
Warrior-ior-ior
Warrior-ior
Warrior-ior-ior
Warrior-ior
We are the misfits
We are the bad kids
The degenerates
We ain't perfect but that's alright
Love us or hate us
Nothin' can break us
Better believe us
Times, they are changing tonight
We don't want to flirt with disaster
On your ass we'll pounce like a panther
Cut the bullshit out with a dagger
With a dagger
With a dagger
Do or die we all gonna stay young
Shoot the lights out with a machine gun
Think it's time for a revolution
Revolution
Revolution
We were born to break the doors down
Fightin' till the end
It's something that's inside of us
It's how we've always been
Warrior-ior-ior
Warrior-ior
Warrior-ior-ior
Warrior-ior
Now this is our time
Our generation
And we're impatient
Animals you ready to fight!
Fight for the fuck ups
Stand up for true love
We'll never give up
Live like it's our last night alive
We don't want to flirt with disaster
On your ass we'll pounce like a panther
Cut the bullshit out with a dagger
With a dagger
With a dagger
Do or die we all gonna stay young
Shoot the lights out with a machine gun
Think it's time for a revolution
Revolution
Revolution
We were born to break the doors down
Fightin' till the end
It's something that's inside of us
It's how we've always been
Warrior-ior-ior
Warrior-ior
Warrior-ior-ior
Warrior-ior
We were born to break the doors down
Fightin' till the end
It's something that's inside of us
It's how we've always been
Warrior-ior-ior
Warrior-ior
Warrior-ior-ior
Warrior-ior
Lyrics © Sony/ATV Music Publishing LLC
Written by: HENRY WALTER, KESHA SEBERT, LUKE GOTTWALD, MAX MARTIN, PEBE SEBERT

Lyrics Licensed & Provided by LyricFind
To comment on specific lyrics,
highlight them