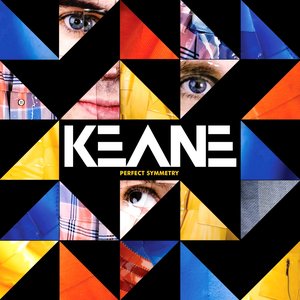 Perfect Symmetry is the third studio album by English rock band Keane, released on 13 October 2008 in the United Kingdom. The album's title was released on 31 July 2008. The band had completely transformed their look and their new album was said to be also very unexpected. According to international Island Records manager, Jon Turner, "the general international feel is of excitement and "Spiralling" is a favourite track of the US company." Musically, Perfect Symmetry is a departure from Keane's established piano-pop sound, with the band employing guitars for the first time since their early musical beginnings and a
Read Full Bio
Perfect Symmetry is the third studio album by English rock band Keane, released on 13 October 2008 in the United Kingdom. The album's title was released on 31 July 2008. The band had completely transformed their look and their new album was said to be also very unexpected. According to international Island Records manager, Jon Turner, "the general international feel is of excitement and "Spiralling" is a favourite track of the US company."

Musically, Perfect Symmetry is a departure from Keane's established piano-pop sound, with the band employing guitars for the first time since their early musical beginnings and a larger reliance on synthesizers than their previous effort Under the Iron Sea, as well as experimenting with other instruments such as the musical saw, saxophone and string arrangements. Also most notable is the emergence of a 1980s' synth pop-influenced style on most songs such as "Spiralling" and "Again and Again". The album is the result of a more relaxed and creative recording process in comparison to the tense sessions for Under the Iron Sea. One of the only piano-driven songs on the album is the track of the same name. Jesse Quin joined Keane from this album as a studio and live support member. He became an official member 3 years later.

The cover for the album was revealed on 5 September. Tim Rice-Oxley explained that the imagery of the band are photographs of bigger than life-size sculptures of the band members, made by Korean artist Osang Gwon. It was implied that these sculptures will form the basis of the album's image and promotion up to the date of release. If you look closely at the photos, you can see the non-sculpture versions of the band. You can also see some "shiny" parts; those are the sculptures.
Genre not found
Artist not found
Album not found
Search results not found
Song not found
Spiralling
Keane Lyrics
I'm waiting for my moment to come
I'm waiting for the movie to begin
I'm waiting for a revelation
I'm waiting for someone to count me in
'Cause now
I only see my dreams
In everything I touch
Feel their cold hands on
Everything that I love
Cold like some
Magnificent skyline
Out of my reach
But always
In my eye line now
We're tumbling down
We're spiraling
Tied up to the ground
We're spiraling
I fashioned you
From jewels and stone
I made you
In the image of myself
I gave you
Everything you wanted
So you would never know
Anything else
But every time
I reach for you
You slip
Through my fingers
Into cold sunlight
Laughing at the things
That I had planned
The map of my world gets
Smaller as I sit here
Pulling at the loose
Threads now
We're tumbling down
We're spiraling
Tied up to the ground
We're spiraling
When we fall in love
We're just falling
In love with ourselves
We're spiraling
Did you wanna be a winner?
Did you wanna be an icon?
Did you wanna be famous?
Did you wanna be the president?
Did you wanna start a war?
Did you wanna have a family?
Did you wanna be in love?
Did you wanna be in love?
I never saw the light
I never saw the light
I waited up all night
But I never saw the light
When we fall in love
We're just falling
In love with ourselves
We're spiraling
We're tumbling down
We're spiraling
Tied up to the ground
We're spiraling
Lyrics © Universal Music Publishing Group
Written by: RICHARD DAVID HUGHES, TIMOTHY JAMES RICE-OXLEY, TOM CHAPLIN

Lyrics Licensed & Provided by LyricFind
To comment on specific lyrics,
highlight them