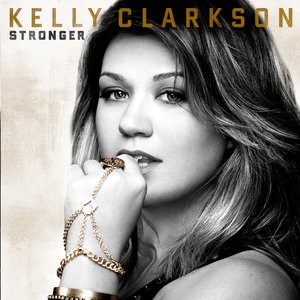 Stronger (Deluxe Version)
Stronger is the Grammy award-winning fifth studio album by Kelly Clarkson, released on October 21, 2011, by RCA Records. Wanting to stray away sonically from her previous albums, Clarkson's main objective was to record her vocal performances as it is heard in her live sets, and used as little auto-tune processing as possible. The album also marked the first release by Clarkson that did not cause a conflict with RCA; her previous records, most notably My December, were released amidst conflict and controversy. The record is predominantly a pop rock album, with several music critics noting the predominant R&B and
Read Full Bio
Stronger is the Grammy award-winning fifth studio album by Kelly Clarkson, released on October 21, 2011, by RCA Records.

Wanting to stray away sonically from her previous albums, Clarkson's main objective was to record her vocal performances as it is heard in her live sets, and used as little auto-tune processing as possible. The album also marked the first release by Clarkson that did not cause a conflict with RCA; her previous records, most notably My December, were released amidst conflict and controversy. The record is predominantly a pop rock album, with several music critics noting the predominant R&B and country influences Clarkson explored in Thankful and All I Ever Wanted, as well as dance-pop themes which she had recently developed.

The album's lyrical content mainly explores themes about heartbreak, vengeance, forgiveness, and empowerment through metaphors about Clarkson's relationships around people. Clarkson began writing new material for the album in November 2009 while touring and finished recording in February 2011. Despite its original intent to be released in late 2010, the release date of the album was pushed back several times. Upon its release, Stronger received generally favorable reviews from critics, who praised Clarkson's vocal performance.

In the United States, Stronger debuted at number two on the Billboard 200 and became her first record to be certified platinum in five years by the Recording Industry Association of America (RIAA) since My December. The album produced three singles. "Mr. Know It All" topped the charts in Australia and South Korea and attained top-ten positions in four countries, including the Billboard Hot 100 in the United States. "Stronger (What Doesn't Kill You)" became the album's most successful release and Clarkson's most successful single overall. It topped the charts in the United States, Poland, Denmark, and Slovakia and attained top-ten positions in over twenty countries around the world. The final single, "Dark Side", was released to moderate success, attaining top-ten positions in three countries. Clarkson promoted Stronger in two concert tours, the Stronger Tour and the 2012 Summer Tour with American alternative rock band, The Fray. Stronger received four nominations at the 55th Grammy Awards: It won Best Pop Vocal Album and was nominated for Record of the Year, Song of the Year, and Best Pop Solo Performance for "Stronger (What Doesn't Kill You)".
Genre not found
Artist not found
Album not found
Search results not found
Song not found
Mr Know It All
Well ya think you know it all
But ya don't know a thing at all
Ain't it something y'all
When somebody tells you something bout you
Think that they know you more than you do
So you take it down another pill to swallow
Mr bring me down
Well ya like to bring me down don't ya
But I ain't laying down, baby
I ain't going down
Can't nobody tell me how it's gonna be
Nobody gonna make a fool out of me
Baby you should know that I lead not follow
Oh you think that you know me, know me
That's why I'm leaving you lonely, lonely
'Cause baby you don't know a thing about me
You don't know a thing about me
You ain't got the right to tell me
When and where to go, no right to tell me
Acting like you own me lately
Yeah baby you don't know a thing about me
You don't know a thing about me
Mr Play Your Games
Only got yourself to blame
When you want me back again
But I ain't falling back again
'Cause I'm living my truth without your lies
Let's be clear baby this is goodbye
I ain't coming back tomorrow
Oh you think that you know me, know me
That's why I'm leaving you lonely, lonely
'Cause baby you don't know a thing about me
You don't know a thing about me
You ain't got the right to tell me
When and where to go, no right to tell me
Acting like you own me lately
Yeah baby you don't know a thing about me
You don't know a thing about me
So what, you've got the world at your feet
And you know everything about everything
But you don't
You still think I'm coming back but baby you'll see
Oh you think that you know me, know me
That's why I'm leaving you lonely, lonely
'Cause baby you don't know a thing about me
You don't know a thing about me
You ain't got the right to tell me
When and where to go, no right to tell me
Acting like you own me lately
Yeah baby you don't know a thing about me
You don't know a thing about me
Mr Know It All
Well ya think you know it all
But ya don't know a thing at all
Yeah baby you don't know a thing about me
You don't know a thing about me
Lyrics © Universal Music Publishing Group, Downtown Music Publishing
Written by: BRETT JAMES, ESTER DEAN, DANTE JONES, BRIAN SEALS, BRIAN KENNEDY SEALS, DANTE LAMIRE JONES

Lyrics Licensed & Provided by LyricFind
To comment on specific lyrics,
highlight them