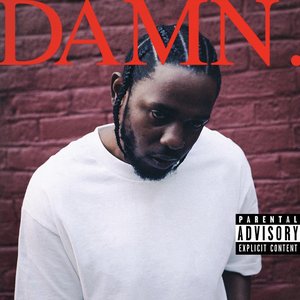 DAMN. is the fourth studio album by Kendrick Lamar. It received widespread critical acclaim and debuted at #1 on the US Billboard 200, earning Lamar his third consecutive number-one album in the United States. The album features production from a variety of record producers, including executive producer from the Top Dawg Entertainment label-head Anthony "Top Dawg" Tiffith, Sounwave, DJ Dahi, Mike WiLL Made-It and Ricci Riera; as well as production contributions from James Blake, Steve Lacy, BADBADNOTGOOD, Greg Kurstin, The Alchemist and 9th Wonder, among others. The album was supported by three singles: "HUMBLE.", "DNA." and "LOYALTY." featuring Rihanna. In
Read Full Bio
DAMN. is the fourth studio album by Kendrick Lamar. It received widespread critical acclaim and debuted at #1 on the US Billboard 200, earning Lamar his third consecutive number-one album in the United States. The album features production from a variety of record producers, including executive producer from the Top Dawg Entertainment label-head Anthony "Top Dawg" Tiffith, Sounwave, DJ Dahi, Mike WiLL Made-It and Ricci Riera; as well as production contributions from James Blake, Steve Lacy, BADBADNOTGOOD, Greg Kurstin, The Alchemist and 9th Wonder, among others. The album was supported by three singles: "HUMBLE.", "DNA." and "LOYALTY." featuring Rihanna. In May 2018, "DAMN." was certified triple Platinum by the Recording Industry Association of America (RIAA). It is also the second album in history and first album in Hip-Hop to have the entirety of its tracks go Gold or higher. The album's lead single, "HUMBLE.", released March 30, 2017, debuted at #2 on the US Billboard Hot 100 chart and the Canadian Hot 100.
Genre not found
Artist not found
Album not found
Search results not found
Song not found
Is it wickedness?
Is it weakness?
You decide
Are we gonna live or die?
So I was takin' a walk the other day
And I seen a woman, a blind woman
Pacin' up and down the sidewalk
She seemed to be a bit frustrated
As if she had dropped somethin' and
Havin' a hard time findin' it
So after watchin' her struggle for a while
I decide to go over and lend a helping hand, you know?
"Hello, ma'am, can I be of any assistance?
It seems to me that you have lost something
I would like to help you find it"
She replied
"Oh yes, you have lost something, you've lost your life"
Is it wickedness?
Uh, Lamar stated his views
Uh, Lamar stated his views
Uh, Lamar stated his views
Uh, Lamar stated his views
Uh, Lamar stated his views on police brutality with that line in the song
Quote "and we hate the popo, wanna kill us in the street fo' sho'"
Oh please, ugh, I don't like it
Lyrics © Universal Music Publishing Group, Warner Chappell Music, Inc.
Written by: Daniel Tannenbaum, Kendrick Lamar

Lyrics Licensed & Provided by LyricFind
To comment on specific lyrics,
highlight them