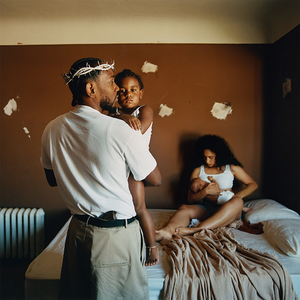 Mr. Morale & the Big Steppers
Mr. Morale & the Big Steppers is the fifth studio album by American rapper Kendrick Lamar. Released on May 13, 2022 in association with pgLang and Top Dawg Entertainment along with Aftermath Entertainment and Interscope Records. Lamar has stated that the album will be his last with Top Dawg Entertainment. The album features narration by Whitney Alford and Eckhart Tolle, and guest appearances from Blxst, Amanda Reifer, Sampha, Taylour Paige, Summer Walker, Ghostface Killah, Baby Keem, Kodak Black, Sam Dew, Tanna Leone, and Beth Gibbons of Portishead. Lamar, who executive produced the album under the pseudonym Oklama, reunited with frequent
Read Full Bio
Mr. Morale & the Big Steppers is the fifth studio album by American rapper Kendrick Lamar. Released on May 13, 2022 in association with pgLang and Top Dawg Entertainment along with Aftermath Entertainment and Interscope Records. Lamar has stated that the album will be his last with Top Dawg Entertainment.

The album features narration by Whitney Alford and Eckhart Tolle, and guest appearances from Blxst, Amanda Reifer, Sampha, Taylour Paige, Summer Walker, Ghostface Killah, Baby Keem, Kodak Black, Sam Dew, Tanna Leone, and Beth Gibbons of Portishead. Lamar, who executive produced the album under the pseudonym Oklama, reunited with frequent collaborators Sounwave, J. Lbs, DJ Dahi, and Bekon for the majority of the album's production.

Upon release, Mr. Morale & the Big Steppers was met with widespread acclaim from critics, who praised Lamar's lyricism and the album's scope, although a few found it inconsistent. The album has so far spawned three singles: "N95", "Silent Hill", and "Die Hard". It debuted at number one on the US Billboard 200, becoming Lamar's fourth US number-one album.
Genre not found
Artist not found
Album not found
Search results not found
Song not found
I hope you find some peace of mind in this lifetime
(Tell them, tell 'em, tell them the truth)
I hope you find some paradise
(Tell them, tell 'em the truth, tell 'em, tell 'em, tell 'em, tell 'em your)
I've been goin' through somethin'
One thousand, eight hundred and fifty-five days
I've been goin' through somethin'
Be afraid
What is a bitch in a miniskirt?
A man in his feelings with bitter nerve
What is a woman that really hurt?
A demon, you're better off killin' her
What is a relative makin' repetitive narratives on how you did it first?
That is a predator hit reverse
All of your presidents evil thirst
What is a neighborhood reputable?
That is a snitch on a pedestal
What is a house with a better view?
A family broken invariables
What is a rapper with jewelry?
A way that I show my maturity
What if I call on security?
That mean I'm callin' on God for purity
I went and got me a therapist
I can debate on my theories and sharin' it (whoa)
Consolidate all my comparisons
Humble enough because time was imperative (whoa)
Startin' to feel like it's only one answer to everything
I don't know where it is (whoa)
Poppin' a bottle of Claritin (whoa)
Is it my hate or my arrogance? (whoa)
Shakin' and movin', like, what am I doin'?
I'm flippin' my time through the Rolodex
Indulgin' myself and my life and my music
The world that I'm in is a cul-de-sac
The world that we in is just menacin'
The demons portrayed as religionous
I wake in the mornin', another appointment
I hope the psychologist listenin'
The new Mercedes with black G-Wagon
The "Where you from?" it was all for rap
I was twenty-eight years young, twenty mil' in tax
Bought a couple of mansions, just for practice
Five hunnid in jewelry, chain was magic
Never had it in public, late reaction
50K to cousins, post a caption
Pray none of my enemies hold me captive
I grieve different
I grieve different (huh)
I met her on the third night of Chicago
North America tour, my enclave
Fee-fi-fo-fum, she was a model
Dedicated to the songs I wrote in her Bible
Eyes light green penetratin' the moonlight
Hair done in a bun, energy in the room like
Big Bang for theory, God, hopin' you hear me
Phone out to ring, but tell the world I'm busy
Fair enough, green eyes said her mother didn't care enough
Sympathize when her daddy in the chain gang
Her first brother got killed, he was twenty-one
I was nine when they put Lamont in the grave
Heartbroken when Estelle didn't say goodbye
Chad left his body after we FaceTimed
Green eyes said you'd be okay, first tour, sex the pain away
I grieve different
I grieve different (huh)
The new Mercedes with black G-Wagon
The "Where you from?" it was all for rap
I was twenty-eight years young, twenty mil' in tax
Bought a couple of mansions, just for practice
Five hunnid in jewelry, chain was magic
Never had it in public, late reaction
50K to cousins, post a caption
Pray none of my enemies hold me captive
So what, paralyzed, the county buildin' controlled us
I bought a Rolex watch, I only wore it once
I bought infinity pools I never swimmed in
I watched Keem buy four cars in four months
You know the family dynamics on repeat
The insecurities locked down on PC
I bought a .223, nobody peace treat
You won't doo-doo me, I smell TNT
Dave bought him a Porsche, so I bought a Porsche
Paid lottery for it, I ain't want it in portions
Poverty was the case, but the money wipin' the tears away
I grieve different
(Everybody grieves different)
(Everybody grieves different)
I grieve different (huh)
Lyrics © Universal Music Publishing Group, Sony/ATV Music Publishing LLC
Written by: Duval Kojo Bankole Timothy, Jake Kosich, Jason Kevin Pounds, Johnny Kosich, Kendrick Lamar Duckworth, Mark Anthony Spears, Matthew Schaeffer, Sam Dew, Timothy Maxey

Lyrics Licensed & Provided by LyricFind
To comment on specific lyrics,
highlight them